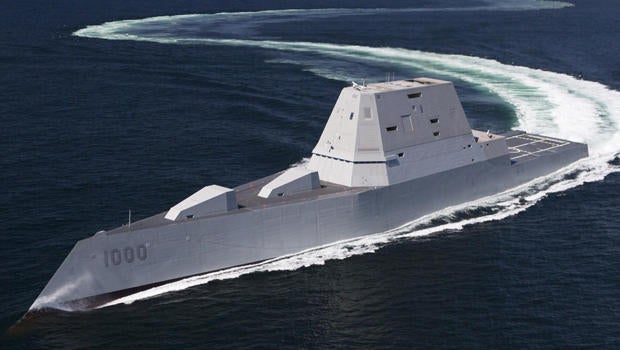 USS Zumwalt: The next generation destroyer
Seventy-three years ago today, the famous World War II battleship Missouri was christened in New York. It was state-of-the-art back then, but a far cry from a brand new -- and somewhat more controversial -- addition to the nation's fleet. Our Sunday Morning Cover Story is reported by David Martin:
If Batman had a warship, one admiral said, it would look like the USS Zumwalt -- the newest, most advanced warship that the Navy is bringing to the fleet.
Martin rode with Captain James Kirk (no relation to "Star Trek"'s Captain Kirk, although plenty of people have noted the coincidence) from Norfolk, Virginia up to Baltimore, where the Zumwalt -- with its one-of-a-kind look -- was officially commissioned as a destroyer in the United States Navy.
"The Zumwalt looks radically different," Kirk said. "It's part of the design of the ship to be stealthy -- a sleek exterior without a lot of metal sticking up in different places, a smooth surface."
But what will President Trump think when he finds out the Zumwalt cost an astronomical $4 billion? Ray Mabus, who served as President Obama's Secretary of the Navy, admits the Navy tried to cram in too much new technology in too little time.
"We were designing while we built them," Mabus said. "That's just not a smart way to build a ship.
"The original concept was to have this very advanced destroyer that was primarily in a land-attack role, so supporting ground troops, taking out enemy positions inland, having hyper-precise weapons that could reach a long way inland, and to do it with the most advanced technology that we had."
The innocuous-looking boxes house gun barrels capable of firing a rocket-assisted shell more than 60 miles with pinpoint accuracy.
"So if there's an enemy of the United States within the range of the ship, if we're ordered to, that person has about two to three minutes before they will no longer be an enemy of the United States," said Kirk.
But like the ship, its ammunition turned out to be ruinously expensive -- $800,000 per shell -- so the Navy is looking for a cheaper round, one that would have a significantly shorter range.
"Today it's still a little bit unclear exactly what round is going on that ship, what that gun system will be able to do," Mabus said.
There are only 147 crew members aboard the highly-automated Zumwalt -- about half what a traditional destroyer carries. And instead of lookouts, there are video monitors.
"Where we typically would have lookouts 24/7 on the port side, the starboard side and aft, on this ship we have camera systems, so that we don't have to have sailors do it; we have cameras do it for us," Kirk said.
Still, says Chief Petty Officer David Aiken, there is more than enough work to do. "The systems on board this ship are brand new to the Navy, most of them, so we have to learn them from scratch for the most part," Aiken said.
Martin asked, "Is this a sweet duty assignment?
"It's sweet, but you got to work for it. You're trying to catch up and keep up with all the new technologies on board the ship and understand what's going on on board."
The Zumwalt has already suffered two mechanical breakdowns -- one in the Panama Canal as it was transiting from the East Coast to its permanent home port in San Diego.
"This is the first ship of a class," said Mabus. "This is the first time it got underway. You're going to have things happen."
Maybe so, but right now, the Navy owns a $4 billion destroyer that cannot perform as advertised. How did that happen?
"It's a brand-new concept, new technology," said Mabus. "Number one, it's going to be expensive because some of the technology is not going to work or it's going to take longer to develop."
Ron O'Rourke, who has tracked the Zumwalt for the Congressional Research Service, said the Navy's program was started in the early 1990s: "Originally as many as 32 of these ships were planned, but that number was cut back in subsequent years."
And now how many ships are being built? Three.
"What happens if you only build a small number," Mabus said, "is the price just goes through the roof."
Everything about the Zumwalt is controversial -- its cost, its look, even its name.
The late Admiral Elmo "Bud" Zumwalt was Chief of Naval Operation from 1970 to 1974. Zumwalt shook up what at the time was a very hidebound service. Zumwalt was famous for messages he sent to the fleet -- called "Z-grams" -- ordering an end to racism and sexism. Those Z-grams are on display for the ship's crew to read.
"Because Dad was so controversial in what he had done, we knew that there were many people in the Navy that did not want the name Zumwalt attached to a Navy ship," said one of Zumwalt's daughters, Ann. "He was that controversial in terms of integrating the Navy with minorities and women.
"If you look at the Zumwalt, you will see all religions, all races represented in this ship. It's ironic, the Navy was furthest behind among the services."
History has come to recognize Admiral Zumwalt as the leader who transformed the Navy of the 20th century. The USS Zumwalt is easy to recognize, but it will take a while for the Navy to figure out how to use it -- and for history to know what to think of it.

For more info:
Thanks for reading CBS NEWS.
Create your free account or log in
for more features.