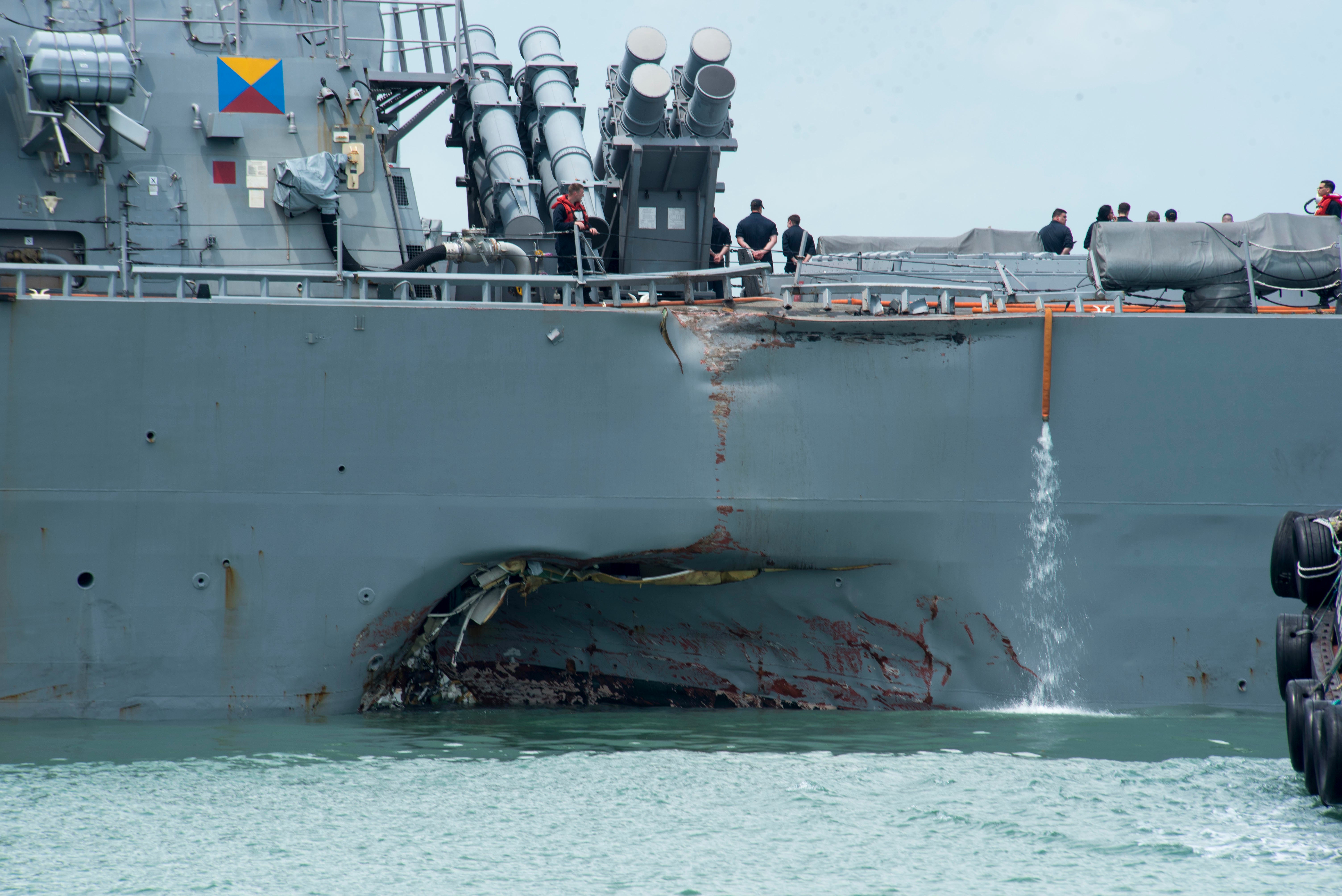 Remains found in search for U.S. sailors missing after collision
BEIJING -- The commander of the U.S. Pacific Fleet said Tuesday that divers had located bodies inside the stricken USS John S. McCain, a day after that American warship collided with a merchant vessel near the busy shipping lanes of the Strait of Malacca.
Admiral Scott Swift did not say how many bodies had been found inside the ship or where there were located in the vessel, but added that Malaysian Navy vessels had also discovered a body, and that work to confirm that discovery, and to remove and identify the remains found inside the McCain, was continuing.
Swift said the search for the 10 American sailors left missing after Monday's collision remained the focus of the Navy's efforts.
On Monday, hours after the U.S. Navy is temporarily suspending all ship operations worldwide after two collisions this summer between destroyers and merchant vessels.
A collision early on Monday with an oil tanker tore a large hole in the side of the USS John S. McCain. U.S. Marine Corps. and Navy divers joined the search effort on Tuesday, accessing flooded compartments of the stricken ship, which is now docked at Singapore's Changi Naval Base.
"Equipped with surface supplied air rigs, divers will access sealed compartments located in damaged parts of the ship," the Navy's 7th Fleet said in a statement. "Additionally, they will conduct damage assessments of the hull and flooded areas."
As CBS News correspondent Ben Tracy reports, the Navy is calling it an "operational pause." It will give ship commanders a chance to review basic seamanship and teamwork after a series of incidents in the Pacific which have called into question the level of training on U.S. Naval vessels.
The fear is that the gaping hole in the side of yet another U.S. warship could be a sign of a bigger problem in the Pacific. The guided-missile destroyer USS John S. McCain suffered extensive damage when it collided on Monday with an oil and chemical tanker while en route for a routine port visit in Singapore.
Navy officials have not confirmed details from an initial investigation which pointed to a possible loss of steering, but they've said there were no obvious signs of sabotage or a cyberattack.
Adm. Swift reiterated on Tuesday that there had been no indications of a cyberattack and he said any negligence on the part of the U.S. Navy crew aboard the McCain, or the other vessel involved, would be a "determination of the investigation" which was ongoing.
The chief of Naval operations officially called for all U.S. Navy ships worldwide to halt operations and review basic training in a video posted online.
"I've directed a more comprehensive review to ensure we get at the contributing factors… the root causes of these incidents," Adm. John Richardson said.
Just two months ago, another ship from the 7th fleet, the USS Fitzgerald, collided with a merchant ship off the coast of Japan. Seven Navy sailors died in that incident.
On Friday, the Fitzgerald's captain, Cmdr. Bryce Benson, was relieved of his duties and several other sailors were punished -- a sign that mistakes were made on the U.S. warship.
"It does show there's still some kind of systemic issues on the deck," retired Army Maj. Mike Lyons tells CBS News. "Whether or not there are people that are qualified, whether they are certified or they are using all of the things at their disposal to make sure this does not happen again."
There have now been four incidents this year involving ships from the 7th fleet. In May, a guided missile cruiser collided with a South Korean fishing vessel, and in January another cruiser ran aground in Tokyo Bay.
"I think every commander will look at their specific units, evaluate the culture, evaluate the climates, and make sure and make changes when they feel that, in order to make that unit better," Lyons said.
China is taking advantage of these incidents with U.S. Navy ships. An editorial in the state-owned China Daily bluntly said on Tuesday that, "the U.S. Navy is becoming a dangerous obstacle in Asian waters" and "posing a threat to navigation."
That rhetoric stems from China's stern opposition to the U.S. Navy sailing through disputed waters that China claims as part of its territory.
Thanks for reading CBS NEWS.
Create your free account or log in
for more features.