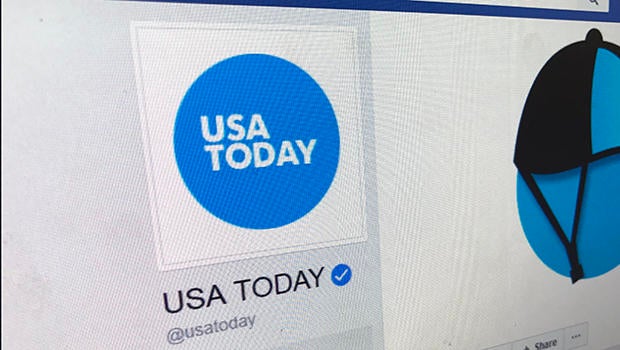 USA Today asks FBI to investigate millions of fake Facebook accounts
NEW YORK -- USA Today's parent company is asking the FBI to investigate an international spamming operation that was the target of a crackdown by Facebook in April, resulting in the removal of millions of fake users from the newspaper's Facebook page.
Gannet Co., the nation's largest newspaper publisher, reached out to federal authorities after Facebook deleted millions of fake and automated accounts that had "liked" the pages of major media outlets. USA Today saw the sharpest drop in likes to its page -- 6 million users were wiped out in April, reducing the outlet's total number of likes from 15.2 million to 9.5 million, according to Gannett executives who spoke to USA Today.
The publisher said the remaining likes on its Facebook pages still include millions of fake accounts. Gannett contacted the FBI Wednesday after realizing the influx of fake accounts was "not stopping," chief transformation officer Maribel Wadsworth told USA Today. The outlet's Facebook page continues to gain approximately 1,000 phony likes per day.
Gannett owns 109 local media properties in addition to flagship property USA Today, the largest newspaper by circulation in the U.S. Wadsworth said a total of 12 million likes had been erased from Gannett's network of Facebook pages.
A representative from Gannett confirmed to CBS News the company has reached out to the FBI regarding the spam operation. A Facebook representative declined to say whether the social network has been contacted by the FBI. A spokeswoman with the FBI declined to confirm or deny the existence of an investigation, citing the bureau's standard practice.
Gannett's request for federal assistance in fighting the swarm of phony accounts comes three weeks after Facebook purged 200 million likes from the official pages of dozens of media outlets. The company said the targeted accounts were part of a sophisticated effort to spam the audiences of major publishers by using automated bots that mimic the behavior of real users.
"The apparent intent of the campaign was to deceptively gain new friend connections by liking and interacting primarily with popular publisher pages on our platform, after which point they would send spam," Facebook said in April. "We observed that the bulk of these accounts became dormant after liking a number of pages, suggesting they had not been mobilized yet to actually make connections and send spam to those people."
The profiles swept up in the crackdown largely originated in Bangladesh, Indonesia, Saudi Arabia and a handful of other countries.
On Saturday, a Facebook representative told CBS News it had recently detected additional activity similar to the operation targeted in the April purge. The company said it notified USA Today and is "taking action against these accounts."
USA Today was the largest outlet affected in the purge of fake likes three weeks ago. An analysis by CBS News found 38.3 percent of the paper's total Facebook likes were eliminated in the days after Facebook announced the action. The company said most news outlets with more than 10,000 likes would experience a decline of less than 3 percent.
Both Gannett and Facebook said Saturday that the motivation behind targeting USA Today remains unknown.
"We don't know why the scope of impact on USA Today's Facebook Page appears greater than any other publisher, but we have been working closely with our partners to shut down this spam operation and remove the fake accounts associated with it," the Facebook representative said.
---
Got news tips about digital privacy, social media or online marketing? Email KatesG@cbsnews.com, or for encrypting messaging, grahamkates@protonmail.com (PGP fingerprint: 4b97 34aa d2c0 a35d a498 3cea 6279 22f8 eee8 4e24).
Thanks for reading CBS NEWS.
Create your free account or log in
for more features.