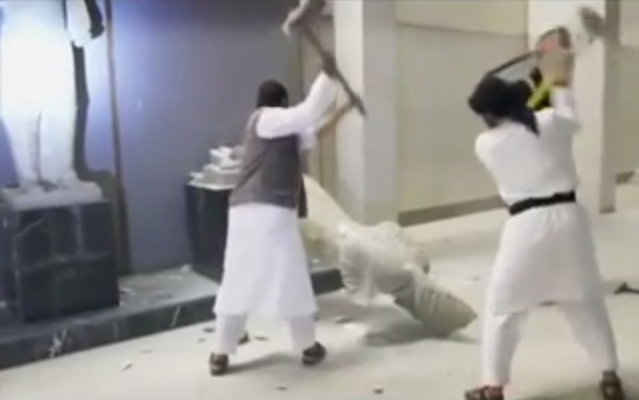 U.S., U.A.E. launch anti-ISIS messaging center in Dubai
DUBAI, United Arab Emirates - The U.S. and Emirati governments launched a new Mideast digital communications center Wednesday focused on using social media to counter Islamic State of Iraq and Syria (ISIS) propaganda efforts online.
ISIS supporters have deftly harnessed social media to spread the group's slickly produced Hollywood-style film clips and other messages aimed at recruiting and drawing support from plugged-in young Muslims.
The Obama administration has urged Arab allies to do more to combat the media blitz, characterizing the fight on the communications front as a key pillar in the overall effort to defeat the group.
The new Sawab Center is one of the most concrete responses to that call yet in the region. Named for the Arabic word for "the right or proper way," it will be based in Abu Dhabi, the oil-rich capital of the United Arab Emirates, a key American ally and a member of the U.S.-led coalition against the ISIS group.
Richard Stengel, a former Time magazine managing editor who is the U.S. undersecretary of state for public diplomacy and public affairs, traveled to the Emirates for the launch.
He and Anwar Gargash, the Emirati minister of state for foreign affairs, said in a joint statement the center's aim is to support coalition efforts, challenge ISIS propaganda and "amplify moderate and tolerant voices from across the region."
Speaking later to The Associated Press, Stengel expressed hope the project will help "reverse the narrative" about the ISIS group and could serve as a template for similar centers elsewhere.
"What the Sawab Center will do is, it will begin to rectify the wrong impression that ISIL is beating us in the information war and the social media war," he said, using an alternate name for the militant group.
The center released YouTube videos and Twitter messages Wednesday in Arabic and English announcing its launch.
Journalists were not allowed to attend the project's unveiling or visit the center, which has been testing its operations and developing its branding over the past three months.
More work still needs to be done. The center does not yet have an active website of its own, and a planned Facebook presence and a dedicated YouTube channel are expected to take several more weeks to develop. Officials say they hope the center will eventually launch "proactive online messaging campaigns" to target ISIS propaganda.
About 15 to 20 full-time staff, mostly Emiratis, will work at the center for now, said Rashad Hussain, the U.S. special envoy and coordinator for strategic counterterrorism communications.
He did not have precise details on the price tag, saying it was in the tens of millions of dollars, but said the "Emiratis are taking the lead on the cost."
Separately, the United States has been expanding an existing U.S. State Department division, which Hussain heads and which was set up in 2011. It is known as the Center for Strategic Counterterrorism Communications (CSCC.)
Alberto Fernandez, who used to head the CSCC, told CBS News correspondent Margaret Brennan last month that until now, the U.S. has been far too weak fighting against ISIS' messaging.
"There is a fantasy which exists in Washington, which is this," Fernandez said. "Somehow if you put magic social media or public diplomacy pixie dust on a problem, it will go away."
His staff of fifty workers struggled to compete against ISIS' virtual online army which posts videos and messages from as many as 90,000 twitter accounts around the world. Despite being outnumbered, Fernandez thinks that the social media space is too valuable to abandon.
It is also designed to counter jihadist messages online by sharing stories of defectors and former radicals, highlighting Muslim victims of terrorism, and showcasing living conditions and battlefield realities in ISIS militant-held areas, Hussain said.
The Abu Dhabi center's staff will engage social media users on various platforms and partner with prominent individuals and organizations to counter IS messaging, according to Hussain. It will also host a content-sharing platform so partners can upload and download files.
Hussain said it sends a powerful message when Muslim communities publicly reject extremists' messages, and he expressed appreciation for the Emiratis' leadership in supporting the new center.
"It's important that our partners step up in the messaging space in a way that reflects the Muslim communities around the world," he said.
Thanks for reading CBS NEWS.
Create your free account or log in
for more features.