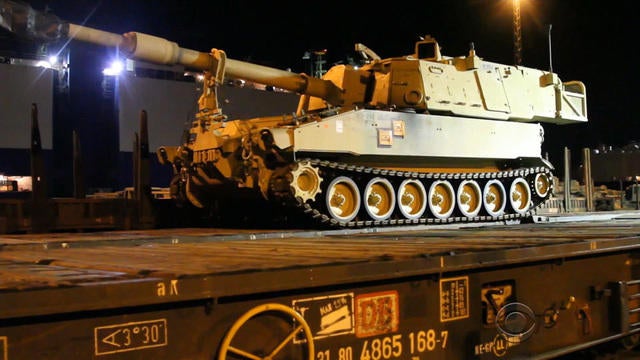 U.S. tanks roll into Germany to protect against potential Russian invasion
NORTHERN GERMANY -- U.S. Tanks rolled into Germany this weekend.
The deployment -- which also includes 3,500 U.S. Troops -- is to protect Eastern Europe against a potential Russian invasion.
In the dock area of the German city of Bremerhaven all around is American military hardware just off the boat -- everything from Humvees to tanks.
The official name for this display of military muscle is Operation Atlantic Resolve.
Its purpose is to reassure America's nervous European allies that the U.S. military will stand with them against any aggressive moves by Russia. Moves, like the 2014 invasion of Crimea, when Russian troops arrived in what had been Ukraine -- and seized it for the Kremlin.
America's response is a decision to stop the draw down of U.S. troops in Europe, and reverse it -- in the first buildup since the end of the Cold War.
"We intend to reassure all those here in Europe that we are committed to peace and security, and to send a signal to anybody else who would differ with that, that that's not gonna work," said Lt. General Timothy Ray, deputy commander of the U.S.'s European command.
That anybody else would be Vladimir Putin, who is on record as saying its stupid and unrealistic to think that Russia would attack anyone.
But just in case, Operation Atlantic Resolve is big and very visible deterrent.
Over the next week all the equipment will leave Germany and be sent to Poland, and from there, be deployed across Eastern Europe.
Thanks for reading CBS NEWS.
Create your free account or log in
for more features.