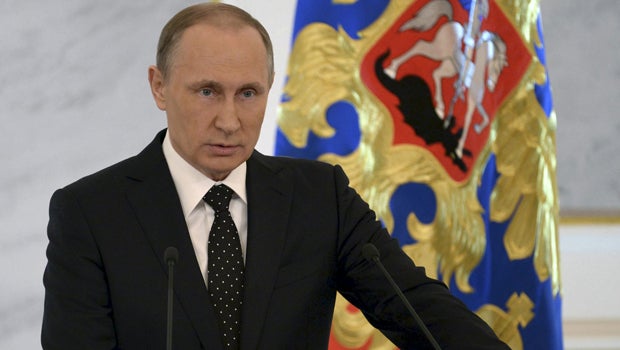 U.S. imposes sanctions on Russia over election interference
The Obama administration announced Thursday a new series of sanctions against Russian intelligence entities and agents they say are responsible for hacks into the Democratic National Committee and related servers.
In addition to the sanctions, 35 Russian operatives will be expelled from the country and listed as "persona non grata." The operatives, who are based out of the Russian embassy in Washington and the Russian consulate in San Francisco, have been informed they have 72 hours to leave the United States along with their families.
A senior administration official said Thursday afternoon that the U.S. is "responding here to a pattern of Russian behavior that has been evident for some time." The official also said that the announced punishments are "not the sum total of everything we are doing in response to Russia's actions … as President Obama and others have said, some of those actions will be public and some of them will not."
President-elect Donald Trump, who has repeatedly called for better relations with Moscow, has been largely dismissive of claims that Russian intelligence was responsible for the hacks. However, in a statement released shorty after the announcement of sanctions, Republican House Speaker Paul Ryan called the administration's response an "overdue" yet "appropriate way to end eight years of failed policy with Russia."
"Russia does not share America's interests," Ryan's statement says. "In fact, it has consistently sought to undermine them, sowing dangerous instability around the world."
For his part, Mr. Trump said he wanted the nation to "move on" from the election but that he would still meet with intelligence officials to discuss the matter.
"It's time for our country to move on to bigger and better things," Trump said in a statement on Thursday evening. "Nevertheless, in the interest of our country and its great people, I will meet with leaders of the intelligence community next week in order to be updated on the facts of this situation."
A joint statement from Republican Sens. Lindsey Graham and John McCain echoed Ryan's point that the measures were "overdue" yet "a small price for Russia to pay for its brazen attack on American democracy." The pair also said that they "intend to lead the effort in the new Congress to impose stronger sanctions on Russia."
According to White House spokesman Eric Schultz, Mr. Trump's team was notified about the sanctions earlier on Thursday.
Specific sanctions are being applied to the leadership of GRU, Russia's military intelligence agency. A total of nine Russian entities and persons have been targeted by the sanctions.
"Sanctioned individuals include Igor Valentinovich Korobov, the current Chief of the GRU; Sergey Aleksandrovich Gizunov, Deputy Chief of the GRU; Igor Olegovich Kostyukov, a First Deputy Chief of the GRU; and Vladimir Stepanovich Alexseyev, also a First Deputy Chief of the GRU," said a statement from the White House released Thursday afternoon.
The FSB, Russia's other major foreign intelligence agency, is also the recipient of sanctions. According to a White House fact sheet, the FSB assisted the GRU in "tampering, altering, or causing a misappropriation of information with the purpose or effect of interfering with the 2016 U.S. election processes."
The president amended a previous executive order allowing him to respond to cyberattacks in order to apply these sanctions.
The U.S. government will also shut down two Russian government-owned compounds –one in Maryland, and the other in New York. According to the fact sheet, the shut downs and expulsions are in response to "harassment of our diplomatic personnel in Russia" that have gone "far beyond international diplomatic norms of behavior."
Meanwhile, two private individuals have been designated by the U.S. government for hacking American companies for financial gain.
A spokesman for Russian President Vladimir Putin said Thursday that the country would consider retaliating to the sanctions, according to the Associated Press. Russia's embassy in London responded to the sanctions announcement by tweeting a picture of a "lame duck" and referred to the Obama administration as "hapless":
After the sanctions were announced, the FBI and Department of Homeland Security released a report "providing details of the tools and infrastructure used by Russian intelligence services to compromise and exploit networks and infrastructure associated with the recent U.S. election, as well as a range of U.S. government, political and private sector entities."
"This activity by Russian intelligence services is part of a decade-long campaign of cyber-enabled operations directed at the U.S. Government and its citizens," said a statement from the FBI and DHS. "These cyber operations have included spearphishing, campaigns targeting government organizations, critical infrastructure, think tanks, universities, political organizations, and corporations; theft of information from these organizations; and the recent public release of some of this stolen information"
The CIA has also been ordered to release its own report.
Thanks for reading CBS NEWS.
Create your free account or log in
for more features.