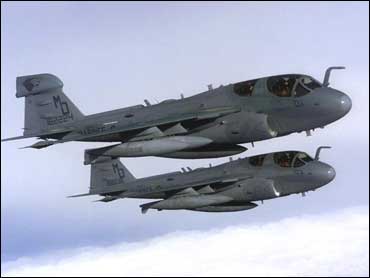 U.S. Propaganda Push In Iraq
The United States has launched a propaganda assault on Saddam Hussein's subjects and soldiers, with a radio station and a massive drop of leaflets this week.
The outbreak of psychological warfare comes as weapons inspections — which carry with them the threat of war — continue. Secretary of State Colin Powell said Monday that Iraq's weapons declaration bears out U.S. skepticism that Saddam would come clean, which is one thing the Bush administration has said would be required to avert a war.
The leaflets do not preview an American-led invasion. Instead, they seek to discourage attacks on coalition aircraft patrolling the no-fly zones. Those attacks frequently lead to American and British bombing runs of Iraqi installations.
"Coalition air power can strike at will. Any time, any place," warns one of the 480,000 leaflets distributed Monday. "The attacks will destroy you at any location of Coalition choosing. Will it be you or your brother? You decide."
Another warns Iraqi troops: "You could be next." Still another intones: "Think about your family. Do what you must to survive." In a warning not repair fiber optic cables destroyed in earlier attacks, a leaflet showing jets blasting a whole in the ground stresses: "Repairing them places your life at risk."
One leaflet depicts Saddam gripping a map of Iraq in his hand, saying the fiber optic cables are "tools" Saddam uses to suppress the Iraqi people.
Some of the leaflets advertised an anti-Saddam radio station that began broadcasting last week.
"People of Iraq ... the amount of money Saddam spends on himself in one day would be more than enough to feed a family for a year," said an English translation of one radio broadcast released by the U.S. Central Command. "How much longer will this corrupt rule be allowed to exploit and oppress the Iraqi people?"
"Soldiers of Iraq. Saddam does not care for the military of Iraq," said another of several radio messages. "Saddam uses his soldiers as puppets ... for his own personal glory.
Transmitted five hours a night from American planes flying Iraq's southern no-fly zone, the broadcasts are the first of their kind since those used in the 1991 Persian Gulf War when Iraqi forces were ousted from Kuwait, defense officials said.
The radio programs aim to "dissuade the Iraqi military from supporting Saddam," said Lt. Daniel D. Hetlage. Other versions include ones on Saddam's past use of weapons of mass destruction and explaining the world's view of weapons inspections now under way in Iraq.
They are being transmitted from an Air Force EC-130E Commando Solo aircraft, according to another official.
The mass drop of nearly half a million leaflets is the seventh distribution of flyers over southern Iraq in three months - and the largest.
Officials said other drops have had little effect in getting Iraqi forces to stop harassing British and American planes that have been monitoring no-fly zones set up a decade ago over the country. The northern zones protect the Kurdish minority and the southern zones protect the Shiites. Saddam considers the zones a violation of his sovereignty.
In his remarks Monday, Powell withheld a detailed assessment of the Iraqi declaration on weapons until chief U.N. weapons inspector Hans Blix reports to the U.N. Security Council on Thursday, but said the declaration appears suspect.
"We said at the very beginning that we approached it with skepticism, and the information I've received so far is that skepticism is well-founded," Powell said in his first public comments on the declaration.
Powell told reporters at the State Department that the United States was in consultation with international weapons inspectors and other Security Council members on what to do next.
If Iraq refuses to disarm, Powell said, "The international community has an obligation to act and do whatever is necessary to disarm Iraq of its weapons of mass destruction, and that includes the use of military force."
Iraq has denied harboring chemical and biological weapons and having programs to develop nuclear weapons and long-range missiles.
Last week, Bush administration officials dismissed the 12,000-page declaration as woefully short of facts. "We know that Iraq has weapons of mass destruction and has programs to create more," State Department spokesman Richard Boucher said Friday.
In related news, the Pentagon says 9,000 Army National Guard troops are being mobilized "to augment security at 163 Air Force installations in the United States."
Meanwhile, in London, a conference of Iraqi opposition groups in London is ending on a sour note, reports CBS News Correspondent Steve Holt.
Five Iraqi Shiite groups have stormed out of the U.S. sponsored meeting, charging that the largest Shiite party wants to dominate a possible post-Saddam Iraq.
The delegates were trying to come up with a leadership committee that could take over in Baghdad if Saddam is ousted. They had agreed on the size and rough makeup of the committee, but the proposal that one party should exclusively represent all Iraqi Shiites led to the walkout.
Also, in Iraq, inspectors continued their monitoring visits. They fanned out at Baghdad University, a day after their biological weapons experts searched a genetics institute on the campus in response to a tip from Iraq's voluminous weapons declaration.

Thanks for reading CBS NEWS.
Create your free account or log in
for more features.