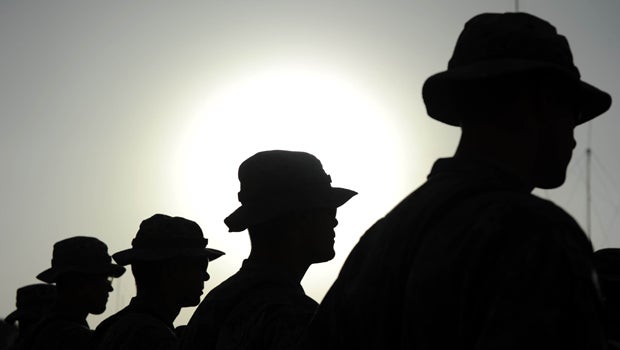 U.S. military transgender ban ended by Pentagon
WASHINGTON -- The Pentagon announced Thursday that transgender people will be allowed to serve openly in the U.S. military, ending one of the last bans on service in the armed forces.
Saying it's the right thing to do, Defense Secretary Ash Carter laid out a yearlong implementation plan declaring that "Americans who want to serve and can meet our standards should be afforded the opportunity to compete to do so."
Speaking at a Pentagon press conference, Carter said, "Our mission is to defend this country, and we don't want barriers unrelated to a person's qualification to serve preventing us from recruiting or retaining the soldier, sailor, airman or Marine who can best accomplish the mission."
Under the new policy, by Oct. 1, transgender troops should be able to receive medical care and begin formally changing their gender identifications in the Pentagon's personnel system.
And a year from now, he said, the military services will begin allowing transgender individuals to enlist, as long as they meet the required standards and have been stable in their identified gender for 18 months.
Carter's announcement comes despite concerns from senior military leaders that the department is moving too fast and that more time is needed to work through the changes. He said he discussed the plans extensively with his military leaders, and based on their recommendations, he made adjustments to the timeline. He said he has been told that the services now support the timeline.
Last July, Carter said he intended to rescind the ban, calling it outdated. He has long argued that the military must be more inclusive to bring in the best and brightest.
At the time he ordered a six-month study to include extensive medical and scientific research and discussions with other nations and companies with experience in the process. He extended the study because the military wanted more time. Officials told The Associated Press he wanted to insure there was no impact on military readiness, but over time he became frustrated with the slow progress.
The new policy provides broad guidelines for transgender service members. They will be able to use the bathrooms, housing, uniforms and fitness standards of their preferred gender only after they have legally transitioned to that identity, according to officials.
The policy change was welcomed by Navy veteran Landon Wilson, who was forced to take an honorable discharge after his commanding officer discovered in 2013 that Wilson was transgender.
"It's a big relief. It's been a long time coming," Wilson told CBS News chief medical correspondent Dr. Jon LaPook, who reported on his case last year.
"I'm beyond relieved that no one will have to go through what I went through," Wilson said, adding that he felt "a little bit of shock, a little bit of disbelief" at hearing the news. "It was always a matter of when, not if. But it happened much faster than anyone involved expected."
The new rules, however, give commanders the discretion to make decisions on a case-by-case basis, including for job placement, deployments and training delays, based on the needs of the military mission and whether the service member can perform their duty.
The policy also allows commanders to approve certain accommodations when possible, such as when troops are showering. That could include installing shower curtains, towel hooks or allowing transgender troops to shower at different times or wear minimal clothing.
The military policy differs from civilian gender transitions, where transgender individuals often dress, live socially and work fulltime in their preferred gender during the process. Under the new policy, service members would only be able to do that when off-duty and away from their duty station.
Thanks for reading CBS NEWS.
Create your free account or log in
for more features.