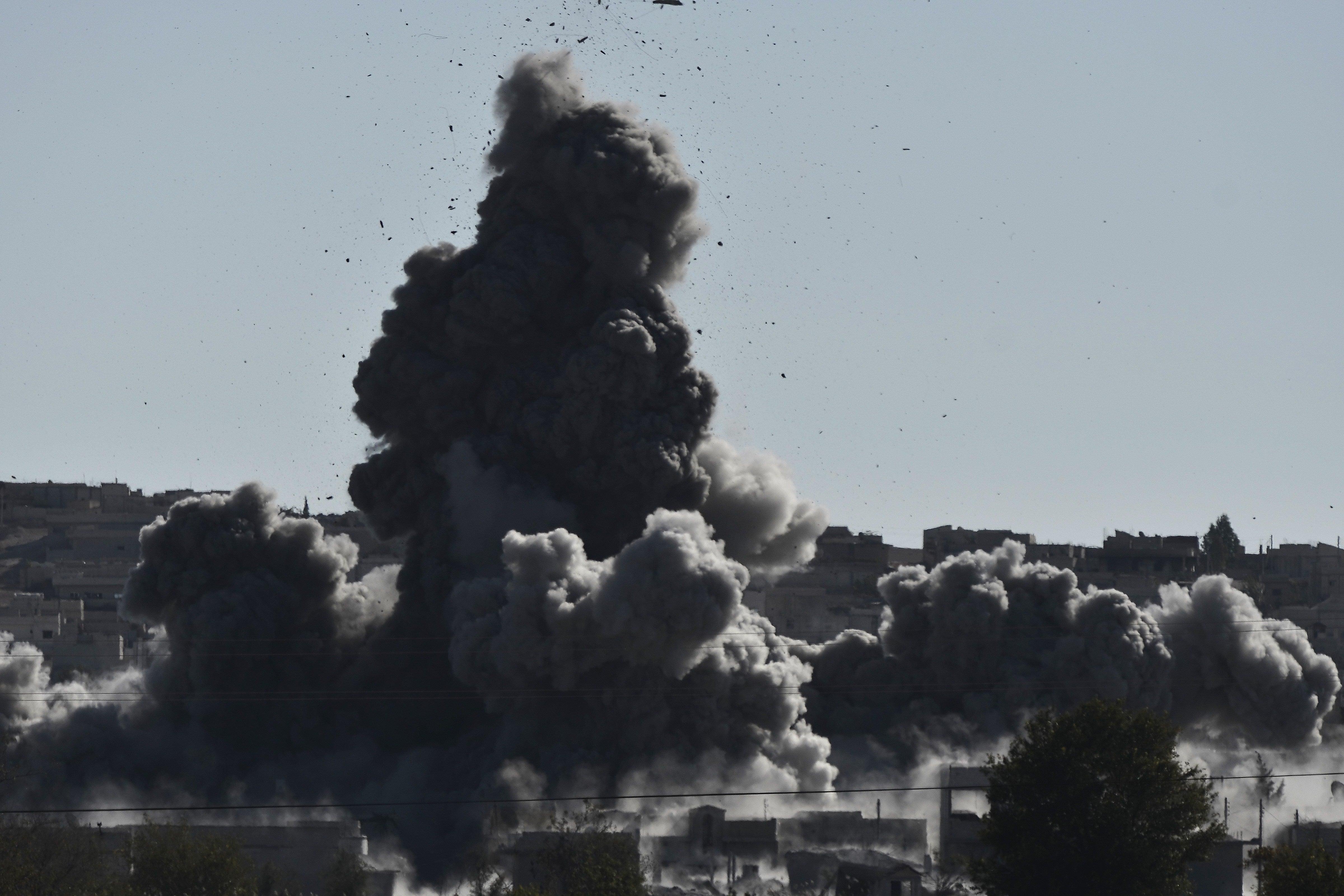 U.S. bombs ISIS foes in Syria
BEIRUT -- U.S. aircraft bombed al Qaeda's Syrian branch as well as another hard-line rebel faction in northwestern Syria early on Thursday, activists said, in an apparent widening of targets of the American-led coalition against the Islamic State of Iraq and Syria (ISIS) extremist group.
The series of airstrikes overnight targeted three different areas near the Turkish border, hitting a headquarters and a vehicle belonging to the al Qaeda-affiliated Nusra Front as well as a compound of the deeply conservative Ahrar al-Sham rebel group. It marked only the second time the United States had expanded its aerial campaign against Islamic State militants to hit other extremists in Syria.
There was no immediate confirmation from U.S. officials, but the apparent strikes took place amid a Nusra Front offensive that has routed Western-backed rebel groups from their strongholds in Syria's Idlib province near the Turkish border. The timing suggests that Washington could be trying to curb the militant assault and destroy weapons supplies of hard-line rebels and al Qaeda fighters.
But by striking groups whose primary focus is fighting Syrian President Bashar Assad, the U.S. risks further enraging many Syrians in opposition-held areas who believe Washington is aiding Assad in his struggle to hold onto power in the country's 3 ½-year-old civil war. Purported civilian casualties have only compounded those frustrations, and activists said Thursday that at least two children were killed in the overnight strikes.
"We are tired of people saying they are coming to help us, and then they kill us," said activist Asaad Kanjo, based in Idlib.
The latest strikes hit a Nusra Front compound in the village of Harem and a vehicle near the town of Sarmada, said two other Idlib-based activists, Abu Abdul-Qader and Ahmad Kaddour. The Britain-based Syrian Observatory for Human Rights also reported the strikes.
Nusra Front fighters seized Sarmada and a series of other communities throughout Idlib province earlier this month from a Western-backed and funded rebel group known as the Syrian Revolutionaries Front. The militants have since been massing in Sarmada, closing in on the strategic Bab al-Hawa border crossing with Turkey without physically taking it over.
"Of course they (Americans) would be worried that Nusra could take Bab al-Hawa or seize arm stockpiles going in for other groups, if they are doing that," said Aron Lund, editor of Syria in Crisis, a website run by the Carnegie Endowment.
The Nusra Front is a fierce rival of the Islamic State group, despite their shared extremist ideology. The two factions have been locked in a bloody conflict since early this year, during which Islamic State militants routed Nusra fighters from eastern Syria as they consolidated their hold on a vast tract of territory spanning Syria and neighboring Iraq.
The U.S. targeted the Nusra Front in the first wave of airstrikes in Syria in late September, accusing it of harboring a militant cell plotting attacks against American and Western interests. But the Americans had not gone after the group since then, until Thursday.
The strikes overnight also marked the first time the U.S. has bombed the hard-line Ahrar al-Sham group. Activists said several missiles hit a compound belonging to the group in the village of Babiska in Idlib province.
Ahrar al-Sham is part of the Islamic Front, an alliance of seven powerful conservative and ultraconservative rebel groups that merged in November last year. The Islamic Front wants to create an Islamic state in Syria governed by Shariah law and rejects the Western-backed Syrian National Coalition, but cooperates with some Western-backed rebel groups on the ground.
Babiska had one of the Syrian rebels' main arms depots, and the Islamic Front seized control of it in December from Western-backed rebels, Lund said. It is located about a 1 kilometer (1/2 mile) from the Bab al-Hawa border crossing, which several rebel groups use to bring in military supplies and aid for Syrians.
The activist who goes by the name of Abu Abdul-Qader witnessed the blasts in Babiska, and said "the moment of the explosion turned the dark night into day."
He said six strikes targeted a facility widely known to belong to Ahrar al-Sham, leaving a crater that he estimated as 20-meters (yards) wide, and seven meters deep. At least three men were killed, he said, and more were buried under the rubble. The structure was located next to another that belonged to the Nusra Front, said Abdul-Qader.
In total, Abdul-Qader said the strikes collectively killed four children and four fighters. The Britian-based Observatory reported that at least two children died. Conflicting death tolls following such incidences are routine.
Targeting Ahrar al-Sham could further strain relations between Washington and the Western-backed opposition. It was likely to infuriate many Syrians, who view them as important allies in their fight against Assad, and see the U.S. strikes as an attack on their nearly four-year-old uprising.
"Ahrar al-Sham was one of the biggest fighting groups against the (Assad) regime, and it proved its ability to liberate many areas. They (the Americans) said they would shell the strongholds of terrorists - who they think are terrorists," said Abu Abdul-Qader.
Others in the Syrian opposition have said it wasn't strategically wise to widen the scope of US strikes against other rebel groups, because it gives the impression - at the very least - that the U.S. and its allies are siding with Assad forces.
"Extremism is completely contradictory to the nation-building project we have," said a Syrian opposition official, Abdul-Basit Sieda. "But (the bombings) are causing doubts among Syrians .... Fighting terrorism must be part of a complete strategy, built on the basis that the (Assad) regime is the source of terrorism, and created it."
The United States insists it still supports Assad's removal from power but is not targeting government forces.
Thanks for reading CBS NEWS.
Create your free account or log in
for more features.