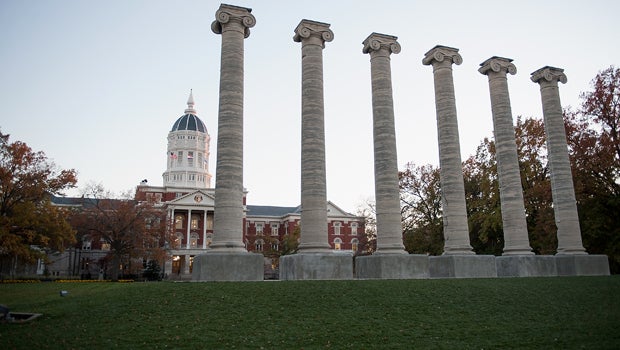 Report gives new details on U. of Missouri swastika story
COLUMBIA, Mo. -- A report filed by a campus police officer confirms that one of the most disturbing incidents of racial intimidation cited by University of Missouri protesters in recent weeks actually happened.
The university system's president and the Columbia campus chancellor announced their resignations Monday after racial unrest that included protests, a hunger strike and the football team's threatened boycott of its next game. Activists felt administrators had not done enough to address racial concerns.
One of the most disturbing reported incidents was Oct. 24, when a swastika, scrawled in feces, was found in a dorm bathroom. Several online postings have questioned if that really happened.
It did, according to a report filed by a campus police officer who saw the swastika.
The report from an officer identified only as "Bakerb7" said the officer was called to a coed restroom that served five private dorm rooms in Gateway Hall. The officer "noticed there was a swastika drawn on the wall by someone using feces," the report stated. Feces were on the floor as well, the officer wrote.
The confirmation comes as a 19-year-old man accused of making online threats against black students and faculty at the campus is scheduled to make his first court appearance.
Boone County's chief sheriff's deputy, Maj. Tom Reddin, said Hunter M. Park of Lake St. Louis is scheduled to be arraigned about 1:30 p.m. Thursday, likely by closed-circuit video from the county jail where he is being held without bond. Park is charged with felony making a terroristic threat.
Park is a student at the University of Missouri Science and Technology in Rolla, where he was arrested early Wednesday in a dorm.
The online posts on Yik Yak and other social media Tuesday threatened to "shoot every black person I see."
Thanks for reading CBS NEWS.
Create your free account or log in
for more features.