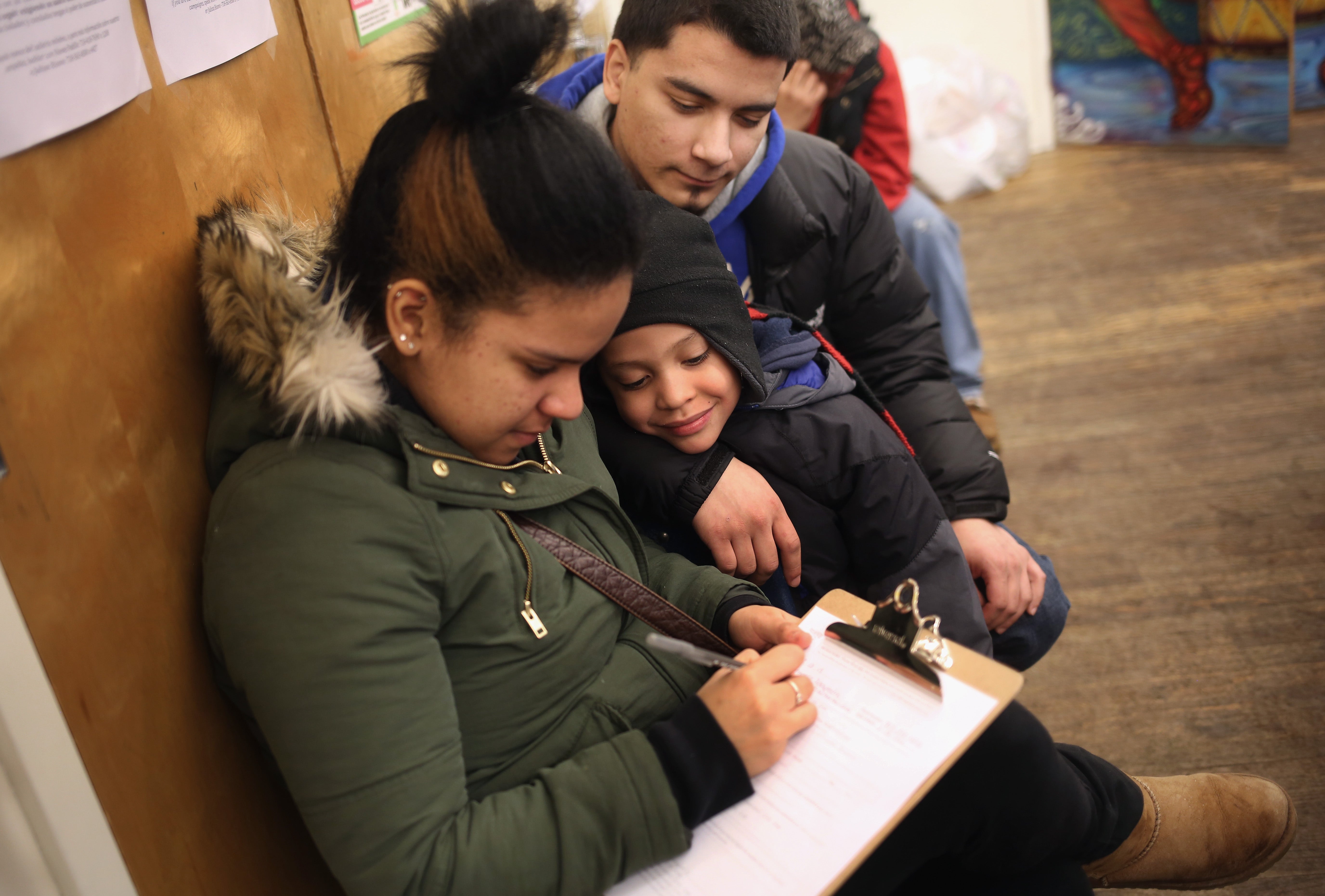 What can Obama do to help protect DREAMers from Donald Trump?
As Inauguration Day approaches, among those wondering what a Donald Trump presidency holds for them are the immigrants living in the U.S. as "DREAMers," that is, those who have qualified to remain in the U.S. under the Development, Relief, and Education for Alien Minors Act.
On the campaign trail, Mr. Trump vowed he'd quickly terminate the immigration executive actions of his predecessor. That includes President Obama's 2012 Deferred Action for Childhood Arrivals (DACA), which protects immigrants who were brought to the U.S. illegally by their parents when they were young children. Under the action, they are given temporary legal status that they must renew every two years.
Should Mr. Trump follow through on this threat, he could effectively guarantee the deportation of the nearly 750,000 immigrants who qualified for DACA.
It's not yet clear what action he'll take. In an interview with Time magazine, Mr. Trump said of DACA recipients, "We're going to work something out that's going to make people happy and proud," though a Trump transition aide told the AP that he didn't intend to set new policy.
But with weeks until the transition, Democrats and immigration advocates are still hoping that the White House will find a way to shield these undocumented immigrants from deportation.
The question they're asking now is, how much can the president really do to protect DREAMers these once President-elect Trump takes the White House?
Advocates have urged Mr. Obama to use what influence he has at the bully pulpit to convince his successor that rolling back DACA is against the country's best interests. Some are asking Mr. Obama for an executive order safeguarding the personal information of DREAMers, obtained by the federal government through detailed DACA applications. Others still are pressuring the Obama administration to use grant presidential pardons to protect these undocumented immigrants. (A presidential pardon would be binding, and neither Congress nor a new president could undo it.)
But some scholars and presidential pardon experts caution that these actions may not work. Here's a breakdown of the options President Obama has to shield DREAMers -- and why the president could ultimately fail to enact any of them.
A presidential pardon:
Reps. Zoe Lofgren and Lucille Roybal-Allard of California and Luis Gutiérrez of Illinois sent a letter to the White House within days of Mr. Trump's Election Night victory, urging the president to use his pardon authority to forgive DREAMers' civil immigration offenses.
"Using your pardon authority, which is not subject to reversal, to protect these young people who relied on the program you implemented is quite literally a matter of life and death," they wrote. "We urge you to exercise your Constitutional authority to provide pardons to DREAMers both retroactively and prospectively."
The White House issued a swift response, indicating that it would not consider a pardon en masse.
"[T]he clemency power could not give legal status to any undocumented individual. As we have repeatedly said for years, only Congress can create legal status for undocumented individuals," an administration official said in a statement.
House Democrats remained undeterred. In a statement to CBS News, Rep. Gutiérrez, a member of the House Judiciary Committee, says the White House still needs to explore its options.
"The White House response completely avoided the question. We knew when we asked the White House to pardon people in the DACA program that presidential pardons are primarily used in criminal matters and do not confer legal immigration status on any individuals," he said. "We want the White House to explore all the options before they say no to an idea that could help keep a lot of American families from being split up through deportation."
The Illinois Democrat went on to note that pardons have been used in the past to forgive offenses committed by large groups, citing President Jimmy Carter's pardon of those who fled to Canada to avoid the Vietnam War-era draft.
And on Wednesday, Gutiérrez escalated his call to pardon DREAMers with another letter, signed by 63 other Democratic legislators.
Still, advocates recognize the limits of this pardon power. For these undocumented immigrants, this clemency wouldn't allow them the work permits currently granted to them under DACA.
"We're not saying this is a great option," Rep. Lofgren of California told CBS News. "It's just that given the alternative, it's better than a million kids living in fear of deportation."
But even if Mr. Obama considered granting a pardon, some scholars argue that such an action is not only unprecedented -- it could be unconstitutional.
Sam Morison, an expert on federal executive clemency who worked for over a decade with the Justice Department's Office of the Pardon Attorney, noted that the U.S. Constitution specifically allows for the president to pardon for federal crimes and not civil offenses.
"Merely being an undocumented alien -- that's not a crime, even if it's commonly colloquially referred to as an illegal alien," Morison told CBS News. "So there's no criminal offense for the president to pardon in that case."
Some, like Rep. Lofgren, who is also an immigration attorney, have argued for an interpretation of the Constitution that says "the power to parole is not limited to criminal offenses."
But even if the president could forgive civil offenses, P.S. Ruckman, a professor of political science at Northern Illinois University and an expert on presidential pardons, warned that clemency applies to the past, not to the future.
"What doesn't seem likely to me is that the president could pardon persons for past offenses and, at the same time, immunize them from ever being punished again for repeated, separate violations," Ruckman told CBS News. "Clemency in perpetuity does strike me very much as granting [and] declaring status."
Protect the personal information gathered under DACA:
On a technical level, Rep. Judy Chu, D-California is concerned about the possibility that the Trump administration could DACA recipients' information against them. She wants to make sure the information DACA recipients have already given the government won't be used to deport them.
As a result, Chu is asking the president to protect the personal information, including fingerprints and relatives' home addresses, gathered when undocumented immigrants applied for DACA.
"We are looking for an executive order," Chu told CBS News. "It's to protect the personal information of the DREAMers and to ensure that it is not used for later deportation proceedings."
An executive order to secure the information provided to U.S. Citizenship and Immigration Services, however, faces the same threat of rollback by the incoming administration.
Convince President-elect Trump to keep DACA:
David Leopold, an immigration attorney who has advised advocacy groups like America's Voice, suggested that the most effective route President Obama could take is to convince Mr. Trump, who seems open to amending his initial hardline immigration proposals, of DACA's benefits.
"The most important thing that the president could do is to, in either private discussions or public statements, use any influence he might have with the president-elect to see to it that DACA is not removed," Leopold said.
The president-elect might entertain suggestions from his predecessor -- Mr. Trump said this week that he continues to consult with Mr. Obama, and he has previously said the president has influenced his thinking on keeping certain aspects of the Affordable Care Act.
Manuel Bartsch, a DACA recipient who was brought to the U.S. from Germany when he was 11 years old, told CBS News that the president-elect's flexible promises have given him some measure of hope.
"He's already flip flopped on a few things, such as Obamacare," Bartsch said, "so why not immigration?"
In his interview with Time magazine for their "Person of the Year" feature, Mr. Trump addressed the possibility.
"I want Dreamers for our children also," the president-elect told Time. "We're going to work something out. On a humanitarian basis it's a very tough situation. We're going to work something out that's going to make people happy and proud. But that's a very tough situation."
A legislative fix?
Immigration advocates retain some hope that the Senate can deliver some relief for DACA recipients.
Sen. Lindsey Graham, R-South Carolina, is currently working towards a bipartisan bill aimed specifically at those granted reprieve under DACA, according to a recent Politico report. Other senators who have appeared to commit to the push include Republican Sen. Jeff Flake of Arizona and Democratic Sen. Dick Durbin of Illinois.
"The worst outcome is to repeal the legal status that these kids have," Graham told the news outlet in November. "Whether you agree with them having it or not, they've come out of the shadows."
Thanks for reading CBS NEWS.
Create your free account or log in
for more features.