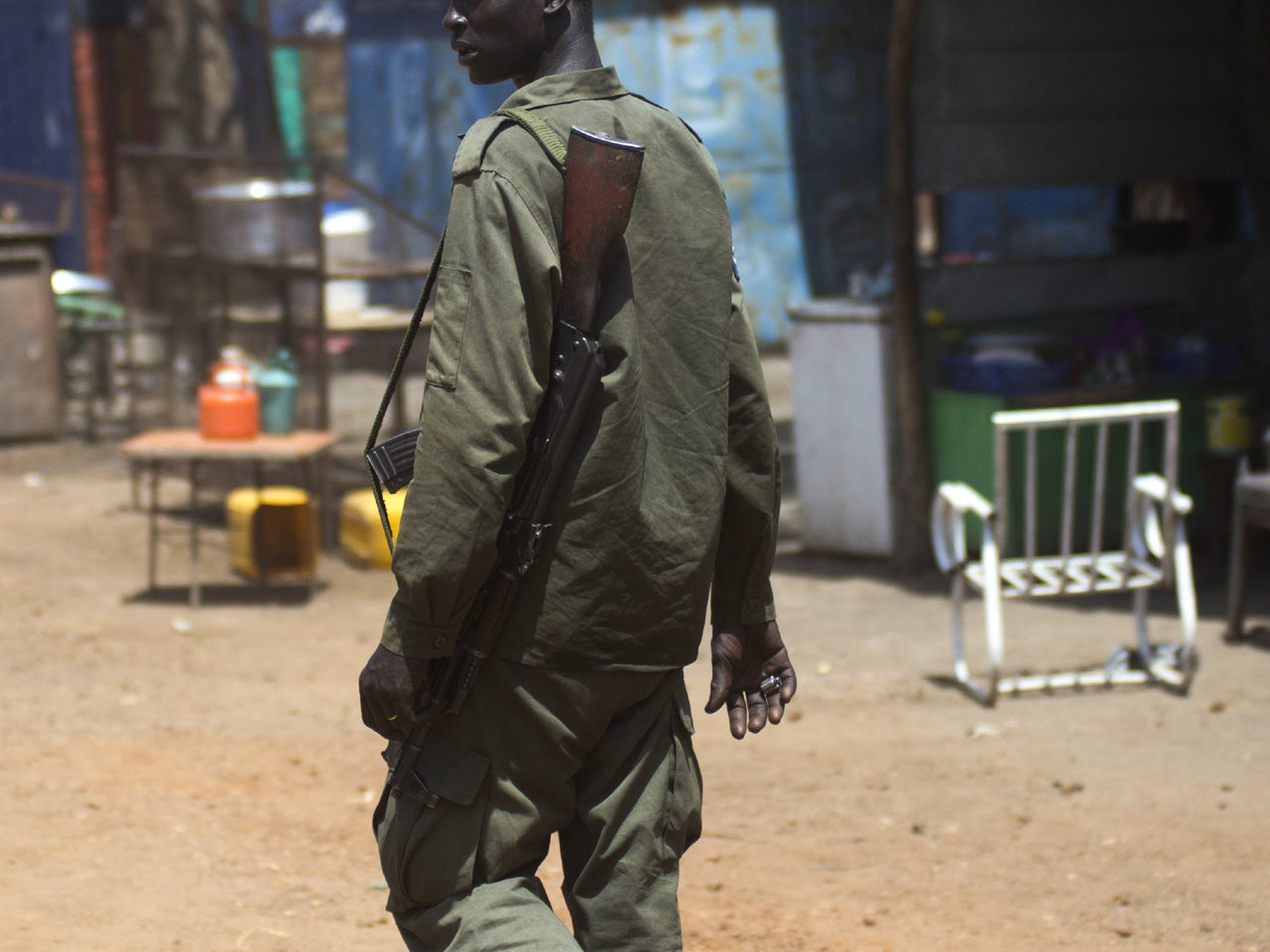 Girls raped as payment to militia fighters, U.N. says
GENEVA -- A U.N. report describing sweeping crimes against children, the disabled being burned alive and fighters being allowed to rape women as payment shows South Sudan is facing "one of the most horrendous human rights situations in the world," the U.N. human rights chief said Friday.
Zeid Raad al-Hussein lamented the crisis in the nearly 5-year-old country has been largely overlooked by the international community, and his office said attacks against civilians, forced disappearances, rape and other violations could amount to war crimes and crimes against humanity.
The U.N report released Friday is the work of an assessment team deployed in South Sudan between October and January, and says "state actors" bear most responsibility for the crimes. It said Zeid recommends that the U.N. Security Council consider expanding sanctions already in place by imposing a "comprehensive arms embargo" on South Sudan and consider referring the matter to the International Criminal Court if other judicial avenues fail.
In scorching detail, the report cited cases of parents being forced to watch their children being raped, and said investigators had received information that some armed militias affiliated with government forces "raided cattle, stole personal property, raped and abducted women and girls" as a type of payment.
"The quantity of rapes and gang-rapes described in the report must only be a snapshot of the real total," Zeid said in a statement. "This is one of the most horrendous human rights situations in the world, with massive use of rape as an instrument of terror and weapon of war, yet it has been more or less off the international radar."
At U.N. headquarters in New York, Assistant Secretary General Ivan Simonovic said the report underscores the need to break the cycle of violence and the fact that rape is accepted, reported CBS News' Pamela Falk.
Simonovic said that it is important to bring perpectrators to justice, recommending the establishment of a hybrid court consisting of domestic and foreign judges.
David Marshall, coordinator of the UN human rights assessment mission to South Sudan, referred to the government's "scorched-earth" policy, which included deliberate and widespread destruction of property and resources.
Also Friday, human rights watchdog Amnesty International accused the South Sudanese government of war crimes after its troops allegedly suffocated 60 boys and men in a cargo container at a Catholic church and then dumped their bodies in an open field.
Amnesty said researchers spoke to 42 witnesses to the October incident, including 23 who said they saw the men and the boys being forced into one or more shipping containers and dead bodies being removed.
"We take seriously these allegations as a responsible government," presidential spokesman Ateny Wek Ateny said of the Amnesty report. "The government has dispatched a team to investigate."
He insisted government soldiers do not kill civilians.
However, Malaak Ayuen, director of information for the South Sudanese military, acknowledged that civilians had been killed amid the fighting.
"If the fighting takes places with you and your family in your room, certain things can get broken," he said, adding that the rebels themselves are civilians because they do not wear uniform.
"When fighting takes place in the residential area definitely there will be casualties because of stray bullets," Ayuen said. He said people being burned alive was the result of tracer bullets hitting grass huts by accident. To the reports of rape he said there was no evidence that government forces were involved.
The U.N. report said the human rights situation has "dramatically deteriorated" since South Sudan erupted into civil war in December 2013. The crisis stemmed from a falling-out between President Salva Kiir and his deputy, Riek Machar, that boiled over into an armed rebellion. Tens of thousands have died and at least 2 million people have been displaced from their homes.
Machar has been reinstated as vice president part of a peace deal signed in August, but sporadic fighting and extra-judicial killings persist.
The 17-page report notes that U.N. Secretary-General Ban Ki-moon had already in May 2014 pointed to "reasonable grounds" to consider that crimes against humanity had been committed in South Sudan. In a sign that little has been done since then, the report said "the killings, sexual violence, displacement, destruction and looting that were the hallmarks of the conflict through 2014 continued unabated through 2015."
Recommendations in previous reports to the U.N.'s Human Rights Council, a 47-member body currently in session in Geneva, "remain largely unimplemented," it said.
Thanks for reading CBS NEWS.
Create your free account or log in
for more features.