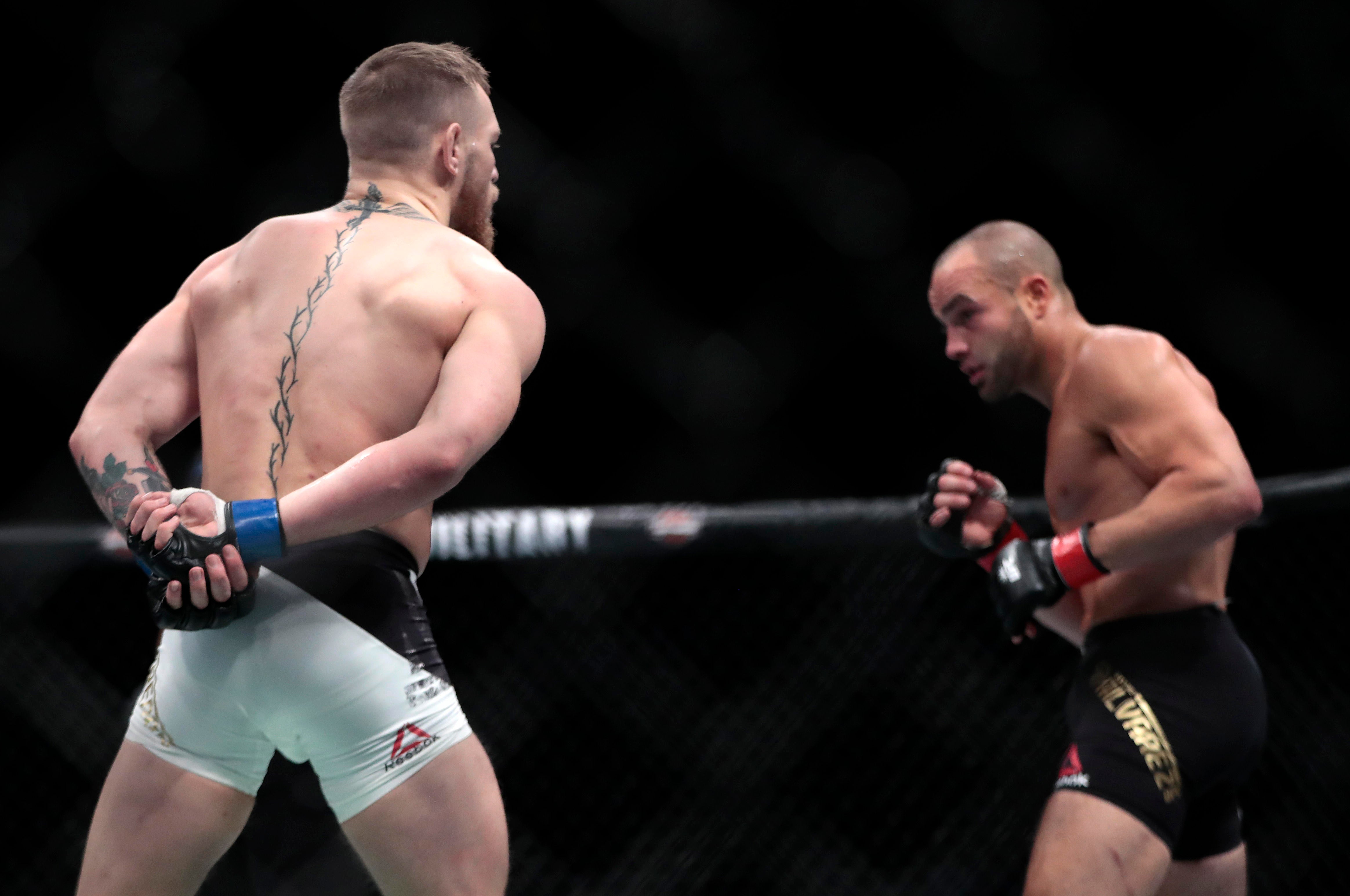 UFC 205: Conor McGregor becomes UFC's first 2-division champ, seeks equity stake
NEW YORK - Conor McGregor raised his arms in triumph before he stepped inside the cage, the cocky Irishman playing to a crowd going wild for UFC's greatest champion.
McGregor ran a circle around the mat, a victory lap of sorts before he even threw a punch. McGregor packed fans to the Madison Square Garden rafters and drove them into a frenzy as he packed a vicious punch against Eddie Alvarez.
McGregor used a brash and brilliant performance to knock out the overwhelmed Alvarez in the second round to win the UFC lightweight title Saturday in the main event of UFC 205 on a record night.
He dubbed himself this week the King of New York.
Now, he's been crowned a two-class champ.
"What's next for me," McGregor bellowed inside the cage.
The easy answer: Whatever the "Notorious" one wants.
McGregor dominated from the opening bell of the biggest card in UFC history - on pace to set an MMA pay-per-view record - and the sold-out crowd of 20,427 loaded with A-listers from Madonna to Hugh Jackman went wild with each punishing blow.
McGregor, also UFC's featherweight champ following a 13-second knockout of Jose Aldo, had predicted a fourth-round KO.
Unlike UFC's laborious legal battle to reach New York, McGregor wouldn't make anyone wait.
UFC has not decided if McGregor (21-3) will be allowed to defend both championships. UFC President Dana White said McGregor could be about the only fighter in the promotion to handle that kind of grueling fight load.
"Who knows," White said. "I'm going to let him enjoy his night."
McGregor crouched inside the cage waiting for the bell to ring and attack Alvarez (28-5). McGregor was the clear aggressor from the start, dropping Alvarez three times in the first round. Alvarez, out of Philadelphia, bounced up the first two times and took a severe beating on the third. McGregor forced Alvarez to fight with his back to the cage and never absorbed a serious strike.
The 28-year-old McGregor put his hands behind his back in the second, taunting and toying Alvarez to hit him. McGregor, UFC's biggest box office star, unloaded a left and ended the fight at 1:52 of the second. McGregor lay waste to a battered Alvarez and brazenly demanded in a speech peppered with profanities his second UFC championship belt.
"I was literally losing my head in there," he said.
McGregor snatched his new lightweight championship belt, paired it with his featherweight title, and UFC's first two-class champion in the promotion's history plopped himself on top of the cage and absorbed the scene of his historic night.
"I've spent a lot of time slaying everybody in the company," McGregor said.
Alvarez is the latest victim on the list.
"Eddie is a warrior but he shouldn't be in there with me," he said. "I'm at a different level. Now, I celebrate as champion of two divisions."
UFC was live and legal in New York for the first time since an MMA ban was lifted earlier this year.
To celebrate, UFC stacked the card with three title fights that set a promotion and MSG gate record with $17.7 million. The 1999 boxing match between Lennox Lewis and Evander Holyfield drew a record $13.5 million.
"Jesus is going to have to fight the devil to break that record," White said.
Tyron Woodley defeated Stephen Thompson via majority draw to retain his welterweight title in a fantastic fight and Joanna Jedrzejczyk successfully defended her UFC women's strawweight championship with a unanimous decision win over Karolina Kowalkiewicz.
But the New York stage belonged to McGregor.
McGregor, as he had been all week in New York, was the undisputed star of the card. McGregor's fans swathed themselves in Irish flag capes and his fellow countrymen sang "Ole Ole Ole" in the concourse and stands throughout the show.
"It was obvious the crowd was here to see Conor McGregor," Woodley said.
The New York crowd could not wait one more night to see him.
The two-decade ban imposed by New York left only unsanctioned MMA fights in the state. State lawmakers and Gov. Andrew Cuomo agreed in April to end the ban following years of failed efforts by supporters. The law authorizing the sport took effect in September and UFC optimistically already had MSG booked.
UFC last ran a major show in the state at UFC 7: The Brawl in Buffalo on April 7, 1995. UFC, under Lorenzo and Frank Fertitta, exploded into a global phenomenon, become a staple on network television and ran PPV cards that hit 1 million buys during the ban. UFC 205 was expected to reach around 1.5 million PPV buys. UFC sold for approximately $4 billion to a group led by Hollywood entertainment conglomerate WME-IMG in July.
McGregor told reporters after the fight he wanted an equity stake in UFC.
"Whoever runs this place now has to come to me and give me my slice," McGregor said. "Bring me on board for real. I need to be set for life on this."
Tickets at face value and on StubHub only seemed to be selling for as much as UFC's selling price.
The fans saw UFC fighters deliver more kicks than the Radio City Rockettes in the 11-fight card.
McGregor might need an extra ticket for his next fight: The two-division champ is set to become a first-time father in May.
"I feel like I'm just reaching my prime," he said.
Thanks for reading CBS NEWS.
Create your free account or log in
for more features.