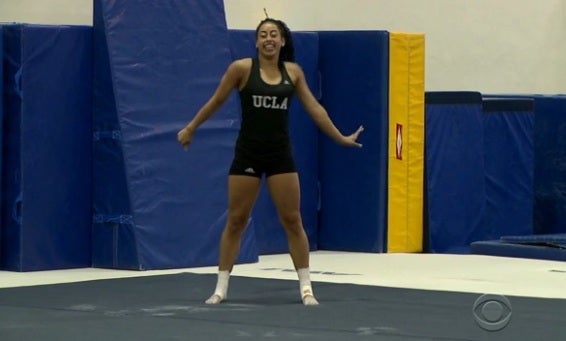 UCLA gymnast a viral sensation, dancing to the top
LOS ANGELES -- Talk about gymnastics and many picture something like ballet set to classical music, but at UCLA there's a college gymnast stretching the limits -- to a different beat.
Gymnastics is all about grace, power and...hip-hop?
It's not just the high notes that UCLA gymnast Sophina DeJesus hits. It's those moves.
In this very traditional sport, what DeJesus does is very nontraditional.
"Not traditional at all," she said.
She and her teammates are transforming the image of the sport, said Valorie Kondos Field, now in her 26th year as the UCLA head gymnastics coach.
"I feel that it's much more about entertainment now than about the rigid sport of perfection," she said.
DeJesus is getting high marks from judges, and even higher marks on social media -- where her floor exercise earlier this month, the first time she ever performed it, went viral.
"I woke up and my mom called me and she's like 'oh honey, did you know that you have like five million views on your floor routine?" she recalled.
It's now been viewed more than 40 million times.
DeJesus said she didn't even know the video was posted, and she has been getting quite the response from it.
"Well some of my favorite ones have been some marriage proposals and prom proposals," she said.
Reese Witherspoon even tweeted at DeJesus.
DeJesus' teammates have even gotten into the groove, along with her coach, who admits you can please a crowd, but still not please everyone.
"I think there are judges who still don't like it," said Kondos Field. "I've always just compared it to a Picasso. You know a Picasso's worth $30 million, but there are a lot of people who would not put a Picasso in their home, because they don't like it. But that doesn't mean it's not excellent art."
DeJesus has danced professionally, and said her future remains in dance. You will not find her dance moves this summer in Rio, but to the millions who have now viewed her routine, it may not matter.
"That one performance that I did, it was like, that was my Olympics," DeJesus said.
It was a moment as good as gold.
Thanks for reading CBS NEWS.
Create your free account or log in
for more features.