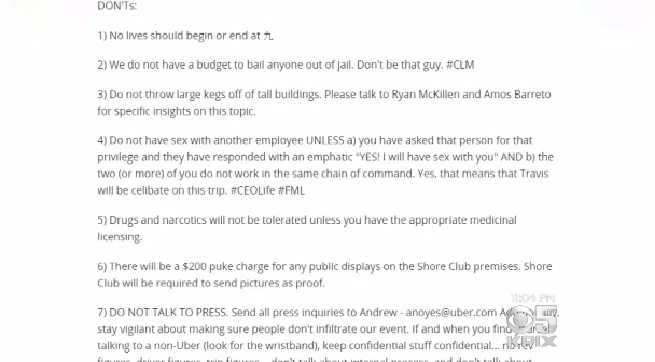 Uber CEO's email detailing company sex guidelines surfaces
SAN FRANCISCO -- A racy rule book for Uber that includes guidelines for having sex with co-workers has surfaced, CBS San Francisco reports.
In 2013, hundreds of Uber employees received an internal email from CEO Travis Kalanick as they were headed to Florida's Shore Club to celebrate the company's success. The subject line of the email read: "Urgent, urgent -- read this now or else!!!!!" The email, known as the "Miami letter," was first published this week by the tech news site Recode.
The email included a list of do's and don'ts for employees going on the trip. Among the do's are: "Have a great f***ing time. This is a celebration! We've all earned it."
But the don'ts were a lot more specific, including: "Do not have sex with another employee UNLESS a) you have asked that person for that privilege and they have responded with an emphatic 'Yes I will have sex with you' AND b) the two (or more) of you do not work in the same chain of command. Yes, that means that Travis will be celibate on this trip. #CEOLife #FML."
Kalanick was reportedly advised not to send out the letter due to its tone.
News of the rule book come just days after the company fired more than 20 employees over sexual harassment allegations. Uber has hired former U.S. attorney general Eric Holder to lead an investigation into claims of rampant sexual harassment that made headlines earlier this year.
Thanks for reading CBS NEWS.
Create your free account or log in
for more features.