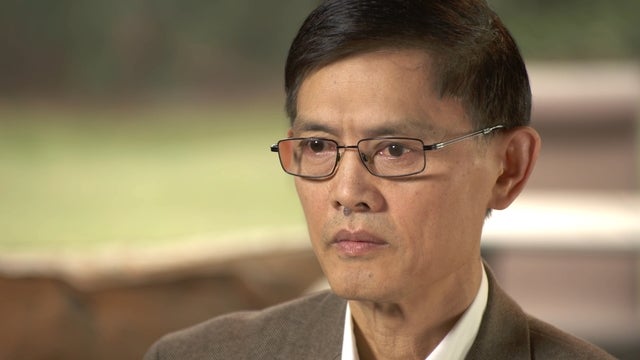 U.S. fight against Chinese espionage ensnares innocent Americans
The U.S. Justice Department bungled the economic espionage case against Xiaoxing Xi. It investigated him for contact with Chinese scientists that was required by his U.S. funded research grants. Now cleared, Xi, a naturalized citizen of the U.S., fears the false accusations may have lingering repercussions on his promising career. Xi appears in his first television interview in a Bill Whitaker story about Chinese-American citizens wrongly accused of economic espionage-related crimes for China. Whitaker's report will be broadcast on 60 Minutes Sunday, May 15 at 7 p.m. ET/PT.
Last May, Xi was arrested at his home in a raid by armed FBI agents wearing bullet-proof vests. At first he thought it was a mistake. Soon he learned otherwise. "I was saying to myself, they're going to put me in jail, and all of these things that I've been working for years was coming to an end," he tells Whitaker.
The government accused Xi of providing Chinese scientists with a piece of proprietary American technology used for superconductor research. It turned out Xi was collaborating with the Chinese scientists on a completely different device that he was developing himself. It wasn't proprietary and it had no economic value. Still, it took four months and $200,000 in legal fees before his lawyer, Peter Zeidenberg, could make the government recognize its mistake. Xi is back at Temple, but he will no longer chair the physics department. The Justice Department has not apologized. "I didn't do anything wrong but my family and myself had to go through this. I think we deserve some kind of apology," he says. "And, you know, it's not over, right? The scars from this traumatic experience is so deep that it's going to be with us for the rest of our life."
Zeidenberg, a former federal prosecutor, blames government alarm about a legitimate problem. Chinese economic espionage costs the U.S. economy hundreds of billions of dollars. "I think prosecutors are feeling pressure to bring these cases. I think investigators are excited about bringing cases that may be high profile," he says.
Zeidenberg also represents Sherry Chen, a naturalized American citizen and former National Weather Service hydrologist who was suspected of passing government data on U.S. infrastructure to China. As in Xi's case, prosecutors eventually dropped the charges against Chen. But she was fired from her job. In her first television interview, Chen tells Whitaker, "I'm a dedicated worker. I didn't do anything wrong. And I love my job."
The Justice Department would not be interviewed on camera but gave 60 Minutes this statement: "We investigate and prosecute individuals based on known or suspected criminal activities or threats to national security, not based on race, ethnicity or national origin."
Thanks for reading CBS NEWS.
Create your free account or log in
for more features.