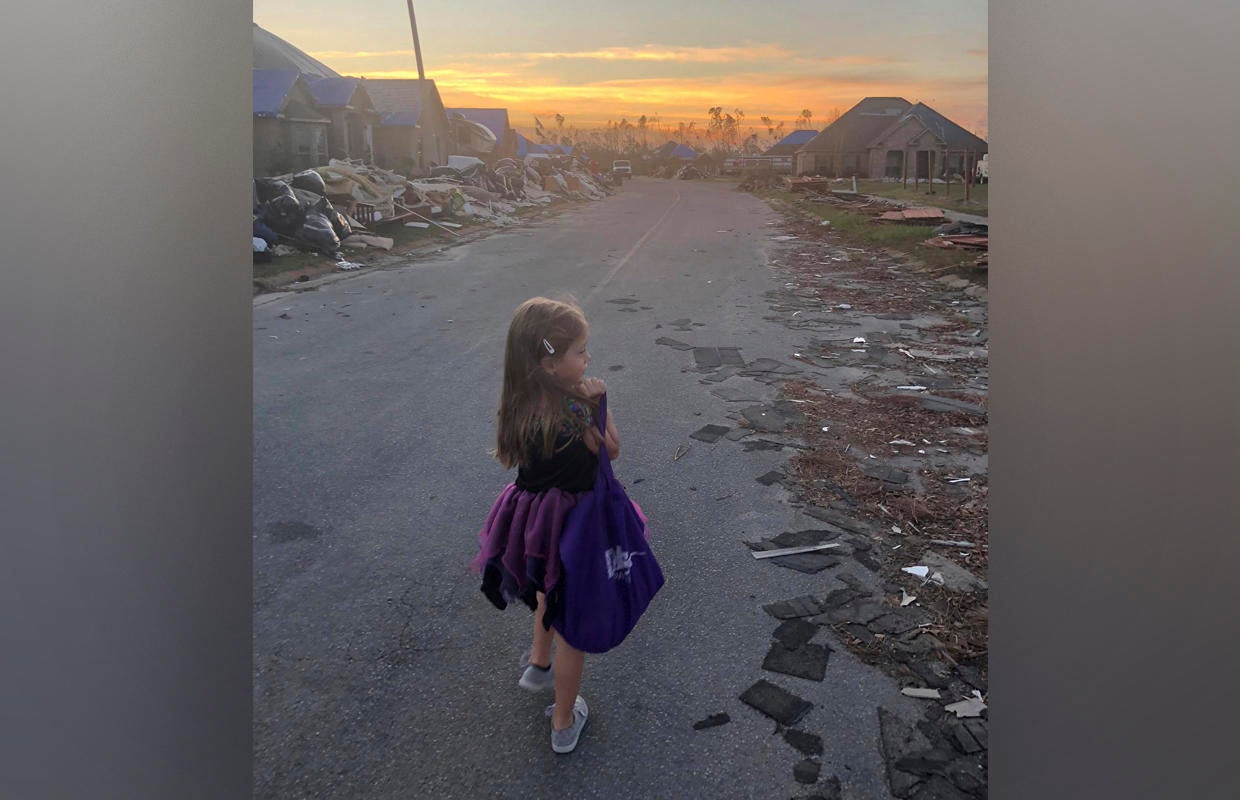 Hurricane-ravaged community comes together to help kids trick-or-treat on Halloween
An Air Force family in Panama City, Florida, made the most of Halloween — even though they had to go trick-or-treating among debris left over by Hurricane Michael. Heather D'Agostino Piddington didn't want the storm to ruin her kids' Halloween, so she got the whole community together to celebrate on Wednesday.
"The military made us evacuate and we just got back Sunday," Piddington told CBS News. Her husband is in the Air Force, stationed at Tyndall AFB, and she is a teacher at the elementary school on the base. "While being away in Alabama in a hotel I reached out to my neighbors via our neighborhood Facebook page to see who was around and interested in still doing Halloween," Piddington said.
Despite the neighborhood being wrecked by the powerful storm, community members were eager to get back to normal. "Many replied that they wanted to make Halloween happen for the kids," the mother said.
Piddington scheduled the trick-or-treating with other residents and took her daughters out around 5:30 p.m. The turnout was surprising. "My daughters sure got a lot of candy! The trash didn't even phase them," she said. The mother snapped a picture of her 4-year-old daughter, Alivia, trick-or-treating in a witch costume on a street still strewn with debris, and it has gone viral.
As the the little girl walked down the street, she passed by mounds of trash and signs of destruction. Shingles lay on the sidewalk and garbage bags filled with ruined household items were piled up by the curb. But it was Halloween, and the kids didn't care what their neighborhood looked like, they just wanted one thing. "Every time they saw someone in their driveway, they yelled, 'Candy!'" Piddington told CBS News.
"Those that were there sat in their driveways close to the road so we could avoid all the debris on the sidewalks. It was amazing. Some even decorated their house and driveway. One even put orange lights all around their trash," Piddington said of her neighbors.
Hurricane Michael hit the state on October 10 as the first Category 4 hurricane to make landfall in Florida's Panhandle since record-keeping began in 1851. The storm killed at least 16 people and left at least 1 million residents in Florida and Virginia without power.
Piddington said they weren't allowed to return to the military base until October 28 because it was deemed too dangerous.
The family is grateful to be home, and thankful that their fellow community members came together to help kids celebrate Halloween.
Thanks for reading CBS NEWS.
Create your free account or log in
for more features.