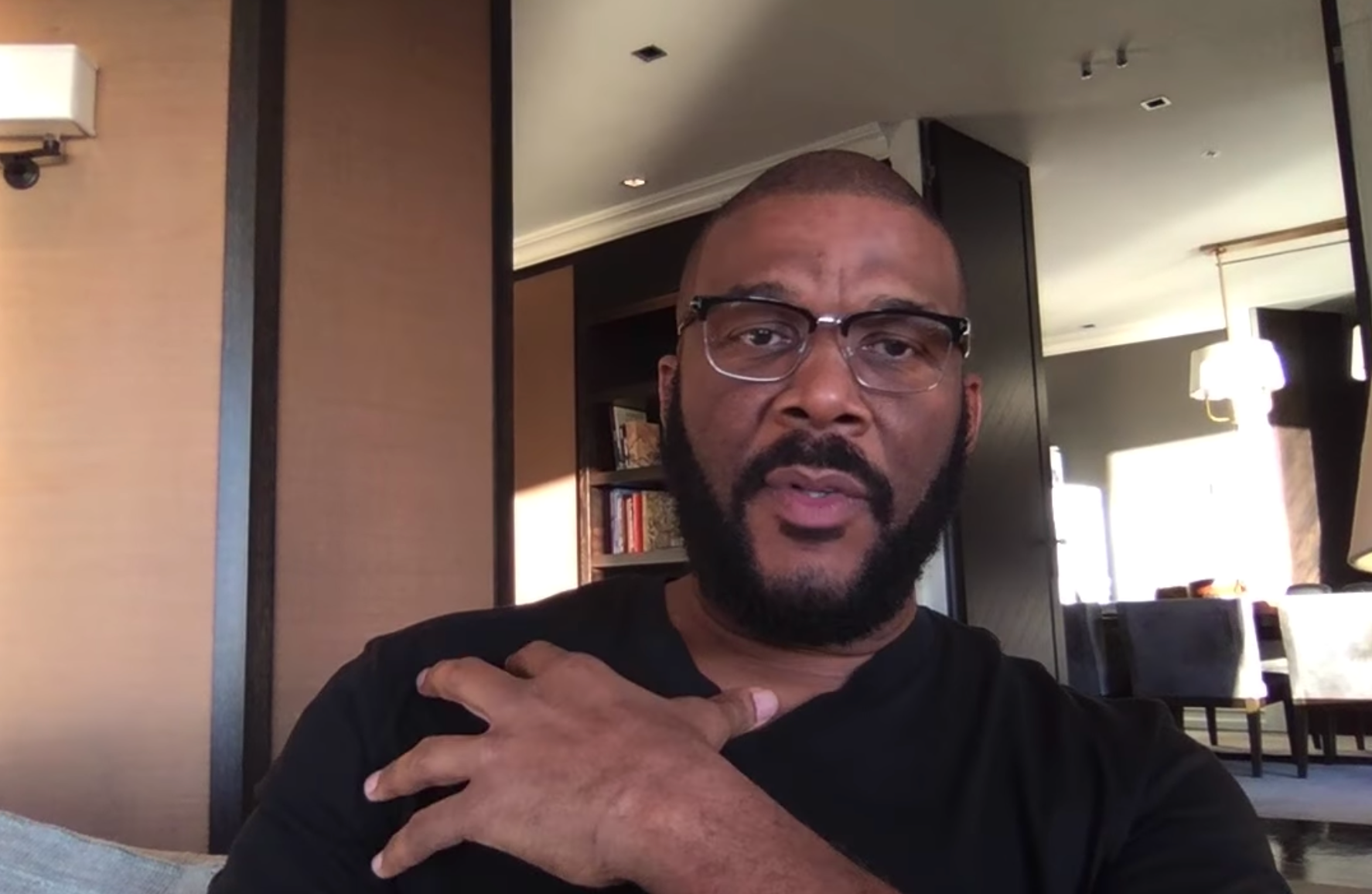 Tyler Perry warns fans not to fall for Facebook scams using his name
"It's Tyler Perry. I'm not giving away anything," the movie mogul proclaimed on Facebook on Tuesday. Tyler Perry took to social media to warn his fans about "scams" using his name and face in promotions on Facebook.
"I am not giving away anything on Facebook. I am not giving away any money. My team has to shut down these things every day," the "Madea" creator and actor said in the video.
Within 15 hours of Perry posting the warning message, it was viewed more than 4 million times. Perry urged people to share it with others and help spread the word about these scams.
"Please do me a favor, post this everywhere so people will know that is not true," he said. "Do not give your information to any of these people, do not give them anything. I don't know who they are but every day we have to get 10, 20, 30 of those things shut down on Facebook."
Perry did not specify the nature of the scams, but he kept reiterating that unauthorized people were using his name for "giveaways."
"In my life, I'm a giver. I give a lot of things to a lot of people to a lot of employees -- random things, cars, houses -- I do. But that is not true. The Facebook stuff, I'm not giving away anything. Stop it, devil." Perry ended the video. A search of "Tyler Perry" Facebook pages shows there are hundreds of unauthorized accounts using the actor's name. His true accounts are verified by blue checkmarks.
This is not the first time the star has combatted what he calls "scams" on Facebook. Four years ago, he posted a similar warning message to his followers, in which he wrote: "There are some scams going around the Internet asking people to pay money to have an audition for me. THAT IS NOT TRUE. You never have to pay for an audition."
In the post, Perry assured followers that he "nor any professional company, will make you pay for an audition. DON'T GET SCAMMED." He urged people against scholarship scams as well. "Also, I DO NOT HAVE A SCHOLARSHIP PROGRAM. Do not let anyone tell you that I have a scholarship program that you have to pay to be a part of, ok?"
He wrote that he has put many people through college, but it's not something you can request or pay him for.
Perry is not the first or only star to be used in unauthorized promotions and scams. In December 2017, Oprah Winfrey warned fans about social media imposters using her name in a "like-farming" scam, CBS Miami station WFOR reports. "Like-farming" is a common tactic where someone shares a heartbreaking photo accompanied by a post that pleads with users to "like," "comment" or "share" in order to raise money or awareness for a person in need.
Fake Instagram accounts began to pop up using Winfrey's photos and videos to attract new followers. Some of the fake accounts even promised to give $5,000 to each of their first 100,000 followers. The accounts claimed they were affiliate with Winfrey's television channel, OWN, but the star took to social media to clear that up.
"I just wanted you to know you that somebody is trying to scam you using my name and my avatar on social media, asking for money if you sign up for an OWN account on Instagram," Winfrey said in the video, posted four days before Christmas. "It's a fraud, it's a fraud, it's a fraud."
Like Perry, she urged followers not to give up any personal information -- even if it seemed like the appeal was coming from her.
In 2006, Winfrey's name was used in an investment scam. Police discovered the scam which used the star's name days after she interviewed prospective pupils in South Africa for her new all-girls school. Some 500 people in the South African city of Grahamstown were told if they made simple payment of $1.40, they would then receive $168 per month for 10 years. Police said Winfrey knew nothing about it.
The best way to avoid social media imposters claiming to be stars is to ensure the profile you're looking at is verified by a blue checkmark. As both Winfrey and Perry have reiterated, do not give personal information out online, unless it is going to a verified company.
Thanks for reading CBS NEWS.
Create your free account or log in
for more features.