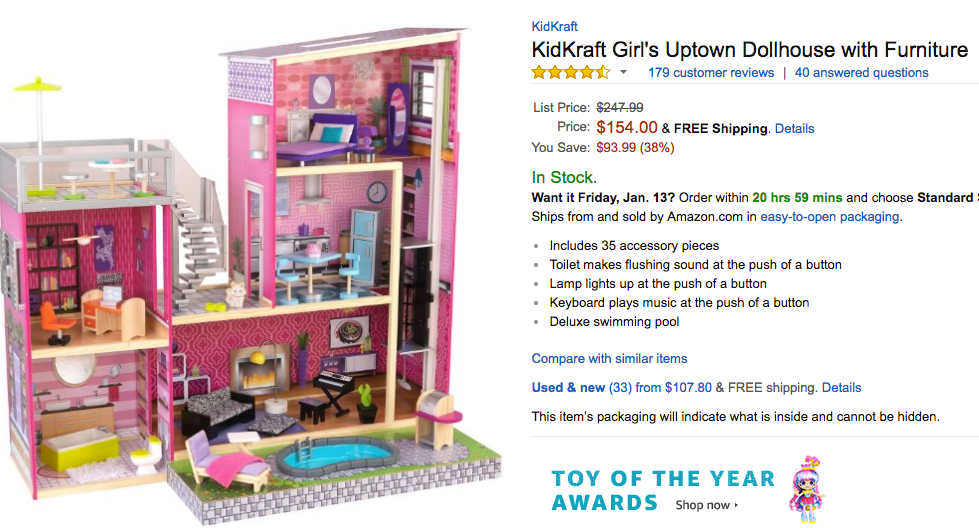 TV news anchor's report accidentally sets off viewers' Amazon's Echo Dots
Dallas mom Megan Neitzel's cautionary tale involving her 6-year-old daughter accidentally ordering pricey gifts through "Alexa," Amazon's voice-activated Echo Dot, went viral last week as stories about the incident were shared by news organizations across the country.
But San Diego residents listening to local TV station CW6 claim they didn't just hear the report, they lived it.
Anchors Jim Patton and Lynda Martin discussed the hilarious mishap that led to the purchase of a $160 KidKraft Sparkle Mansion dollhouse and a 4-pound tin of sugar cookies on their morning show.
"I love the little girl, saying 'Alexa ordered me a dollhouse,'" Patton joked.
Unfortunately, Amazon's Alexa didn't get Patton's joke. And afterward, viewers began complaining that their devices had tried to order dollhouses, CW6 reported.
"These devices don't recognize your specific voice and so then we have the situations where you have a guest staying or you have a child who is talking and accidentally order something because the device isn't aware that it's a child versus a parent," Stephen Cobb, senior security researcher for ESET North America, told CW6 after the station explained what happened.
Neitzel found herself in a similar situation when her daughter, Brooke, casually expressed her love for sweets and dollhouses while talking with with Alexa and days later both of those items appeared at her doorstep.
The confused mom double-checked her Amazon app, which she uses to monitor her kids' interactions with the Echo Dot, and uncovered Brooke's conversation with the gadget.
"Can you play dollhouse with me and get me a dollhouse?" Brooke asked the tool, according to CBS Dallas. After confirming the order, Brooke told Alexa, "I love you so much!"
After reading the conversation, Neitzel had to laugh, admitting that this was a good reminder to activate parental controls and turn off voice purchasing. To ensure something like this doesn't happen again, she set a four-digit code on the device for purchases and went over some ground rules with the kids on how to properly use the item.
It's safe to assume Neitzel won't be the only one changing settings on her device for the future.
Amazon clarified to CBS News that there was not an influx of dollhouse orders after the newscast.
"You must ask Alexa to order a product and then confirm the purchase with a "yes" response to purchase via voice. If you asked Alexa to order something on accident, simply say "no" when asked to confirm," a spokesman said. "You can also manage your shopping settings in the Alexa app, such as turning off voice purchasing or requiring a confirmation code before every order.
Thanks for reading CBS NEWS.
Create your free account or log in
for more features.