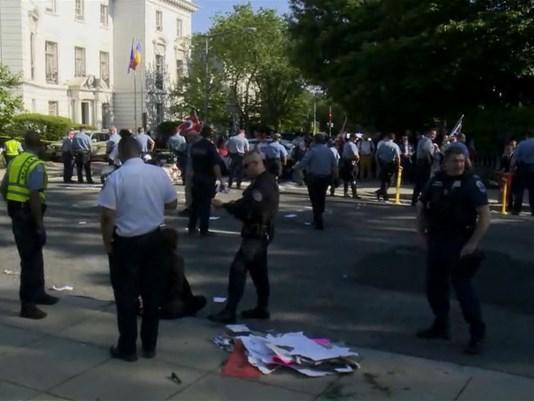 Turkey protests "aggressive" U.S. action in embassy clash
ANKARA, Turkey -- Turkey's government officially summoned the U.S. ambassador to the Foreign Ministry on Monday to protest what it called the "aggressive" action taken against Turkish bodyguards in Washington last week.
It appeared to be a tit-for-tat response to the State Department's official summoning of Turkey's ambassador in Washington last week, following a violent clash between protesters and members of visiting Turkish leader's security detail.
"A written and verbal protest was delivered due to the aggressive and unprofessional actions taken, contrary to diplomatic rules and practices, by U.S. security personnel," Turkey's Ministry of Foreign Affairs said in a written statement on Monday.
On Tuesday, as Turkish President Recep Tayyip Erdogan visited Washington to meet President Trump, Turkish security personnel attacked protesters outside of the Turkish ambassador's residence. Eleven people were injured, including one police officer.
The State Department also said two members of the Turkish security detail were briefly detained during the altercations.
On Thursday, Voice of America's Turkish Service released video showing Erdogan observing from the back seat of a car while the Turkish security team pursued and attacked the protesters.
The Turkish ambassador was summoned to the State Department after the incident -- a standard diplomatic slap on the wrist used by nations to express disapproval with the behavior of another country. The U.S. government said it had expressed its "strongest possible" concern about the incident to Turkey.
The two Turkish security personnel taken into custody in D.C. were released the same evening, without charge.
Thanks for reading CBS NEWS.
Create your free account or log in
for more features.