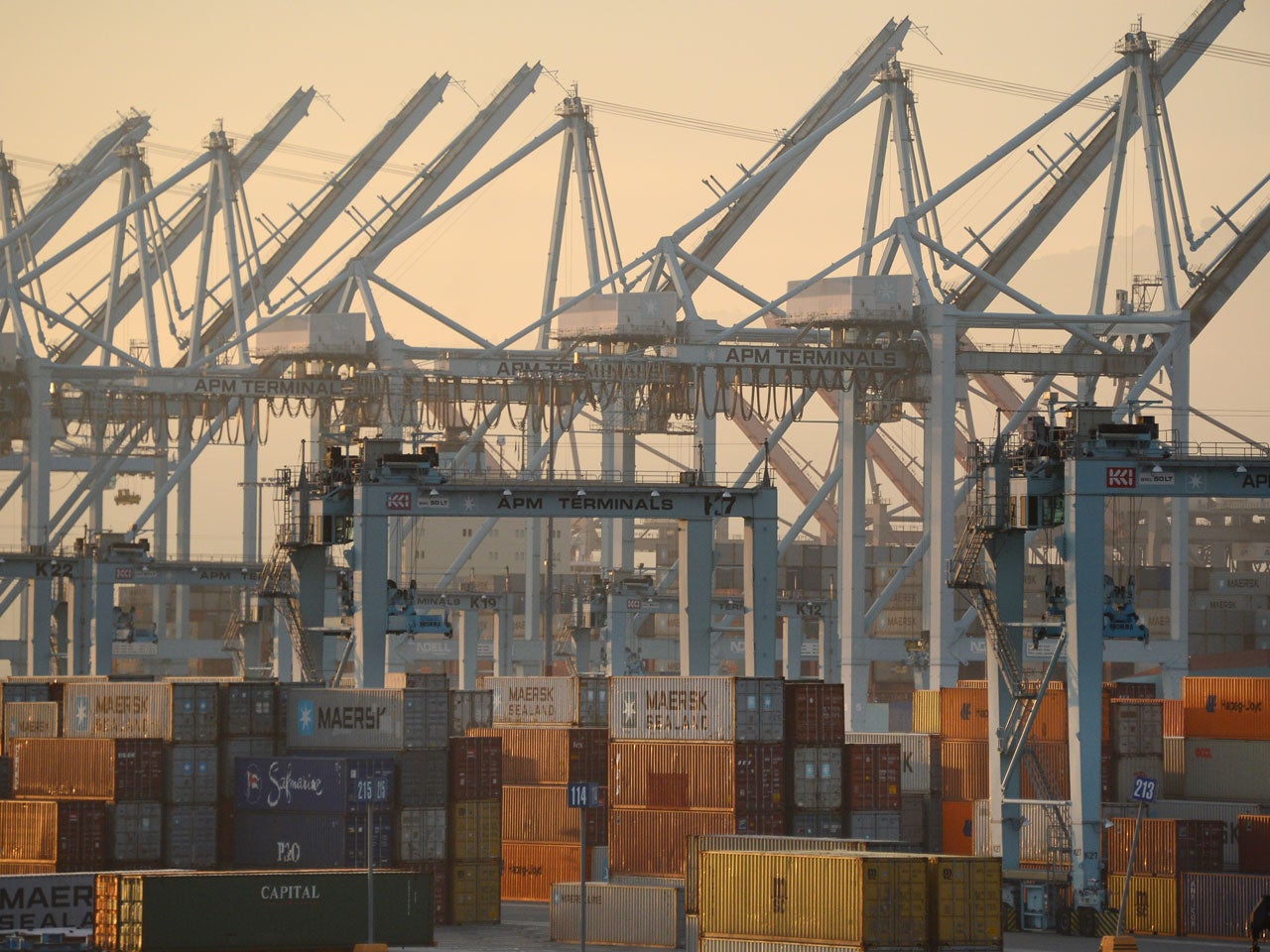 Tsunami in store for Los Angeles and San Diego?
Californians can be forgiven for being obsessed with the San Andreas Fault, especially while a new disaster movie showcases its potential for devastation.
But just off the coast, scientists say another danger lurks: several major faults capable of producing major earthquakes that could send tsunamis crashing into Los Angeles and San Diego.
In a study published Friday in the Journal of Geophysical Research: Earth Surface, a journal of the American Geophysical Union, researchers identified a little known, fault-riddled undersea landscape off of Southern California and northern Baja, California with the capability of producing magnitude 7.9 to 8.0 earthquakes.
"There is no need to panic and worry but you should be prepared now that we know there is a local tsunami potential," said geologist Mark Legg, the study's lead author and a geologist at Legg Geophysical in California.
"We know in the recent past, probably in the last few hundred years, there have been large magnitude 7-plus earthquakes on these offshore faults," he continued. "So, we should not be surprised if we have another one."
But Legg said scientists don't have the data to say when the next big one could hit and whether it would produce a deadly tsunami. The last big quake generated by these faults was the magnitude 7 Lompoc earthquake in 1927 that generated a 6-foot tsunami. That was mostly a remote area at the time and is located about 100 miles west of Santa Barbara.
He said scientists are working toward a detailed seismic forecast, but that they don't yet have the data they need to make one.
And it may be some time before they get it.
"Offshore studies are more expensive," he said.
Plans to map the Pacific seafloor within 200 miles of the coast were shelved in the 1990s due to federal budget cuts. There are no plans to revive them.
"We've got high resolution maps of the surface of Mars," Legg said, "yet we still don't have decent bathymetry (seafloor depth measurements) for our own backyard."
But even without the detailed forecast, Legg said it is necessary to send out a warning about these offshore faults.
"It's a serious problem and we need to be prepared," he said, adding that a 6-foot tsunami would have the potential to wreak havoc on California's ports and even have implications for the national economy since 25 percent of imports come through the Port of Long Beach.
"We should not ignore the faults off shore," he continued. "Yes, we should put our priorities on the faults onshore that go directly through cities and have the highest slip rates and most likely to produce large earthquakes ... But the offshore faults are a major player in the movement of the Pacific plate along the North American coast."
Legg, who has spent decades trying to understand the seismic picture off California's famous beaches, described a tectonic slugfest between the North American tectonic plate and the Pacific plate.
"We're dealing with continental collision," Legg said. "That's fundamental. That's why we have this mess of a complicated logjam."
Blocks of the Earth's crust are wedged together all the way from the San Andreas Fault on the east, to the edge of the continental shelf on the west, from 150 to 200 kilometers (90 to 125 miles) offshore. These chunks of crust get squeezed and rotated as the Pacific plate slides northwest, away from California, relative to the North American plate. The mostly underwater part of this region is called the California Continental Borderland, and includes the Channel Islands.
To get a closer look at the structure of the larger seafloor faults in the Borderland - the Santa Cruz-Catalina Ridge Fault and the Ferrelo Fault, Legg and his colleagues combined older seafloor data and digital seismic data from earthquakes, along with 4,500 kilometers (2,796 miles) of new seafloor depth measurements.
Along the Santa Cruz-Catalina Ridge Fault, they found ridges, valleys and other clear signs that the fragmented, blocky crust has been lifted upward. They also found evidence it was slipping sideways like the plates along the San Andreas Fault.
Further out to sea, the Ferrelo Fault zone showed thrust faulting, which is an upward movement of one side of the fault. The vertical movement means that blocks of crust are being compressed as well as sliding horizontally relative to each other - what Legg describes as "transpression."
Coupled with that are the plate movements that build up seismic stress on the San Andreas, sending additional stress to the long Santa Cruz-Catalina Ridge and Ferrelo Faults.
"Such large faults could even have the potential of a magnitude 8 quake," said geologist Christopher Sorlien of the University of California at Santa Barbara, who was not part of the study. And unlike most continental shelves in the word, he said this one is one of the least mapped and understood.
"It's essentially terra incognita," he said.
Thanks for reading CBS NEWS.
Create your free account or log in
for more features.