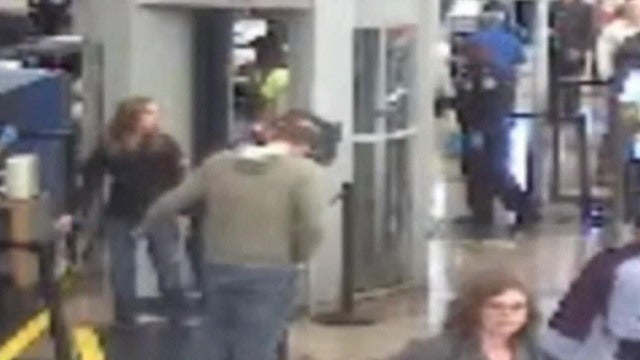 Security cam captures alleged TSA groping
Newly-released video shows the alleged groping by a former TSA screener that led to a scandal at Denver International Airport, reports CBS News correspondent Kris Van Cleave.
An airport security camera footage obtained by CBS Denver station KCNC captured the controversial pat-downs.
Footage from the morning of Feb. 9 shows former TSA workers Ty Spicha, 27, patting down travelers the Colorado airport, while Yasmeen Shafi, 22, operated the scanner.
According to one TSA employee who reported the pair, Shafi would manipulate the scanning machine to identify males Spicha found attractive as female. That would trigger the machine to detect an anomaly in the passenger's genital area and permit Spicha to perform a pat-down.
Three months after that tip, the TSA began an investigation and eventually fired the pair.
The Denver airport refused to release the video to CBS Denver for months, citing an ongoing criminal investigation.
Shafi admitted to participating in the plot, saying it involved at least 10 passengers.
The TSA called the incidents "shocking and egregious." The agency has not been able to confirm potential victims and no criminal charges have been filed against Shafi or Spicha.
"CBS This Morning" reached out to the former officers, but they have not responded.
Last week, a similar incident occurred at New York's LaGuardia airport. According to documents, former TSA agent Maxie Oquendo is facing "sexual abuse and harassment" charges for groping a 21-year-old female foreign exchange student from Korea in a "an airport bathroom."
Prosecutors say Oquendo told the women he was screening her for weapons. The TSA has since fired Oquendo.
In a statement the agency said it "holds its employees to the highest standards."
Thanks for reading CBS NEWS.
Create your free account or log in
for more features.