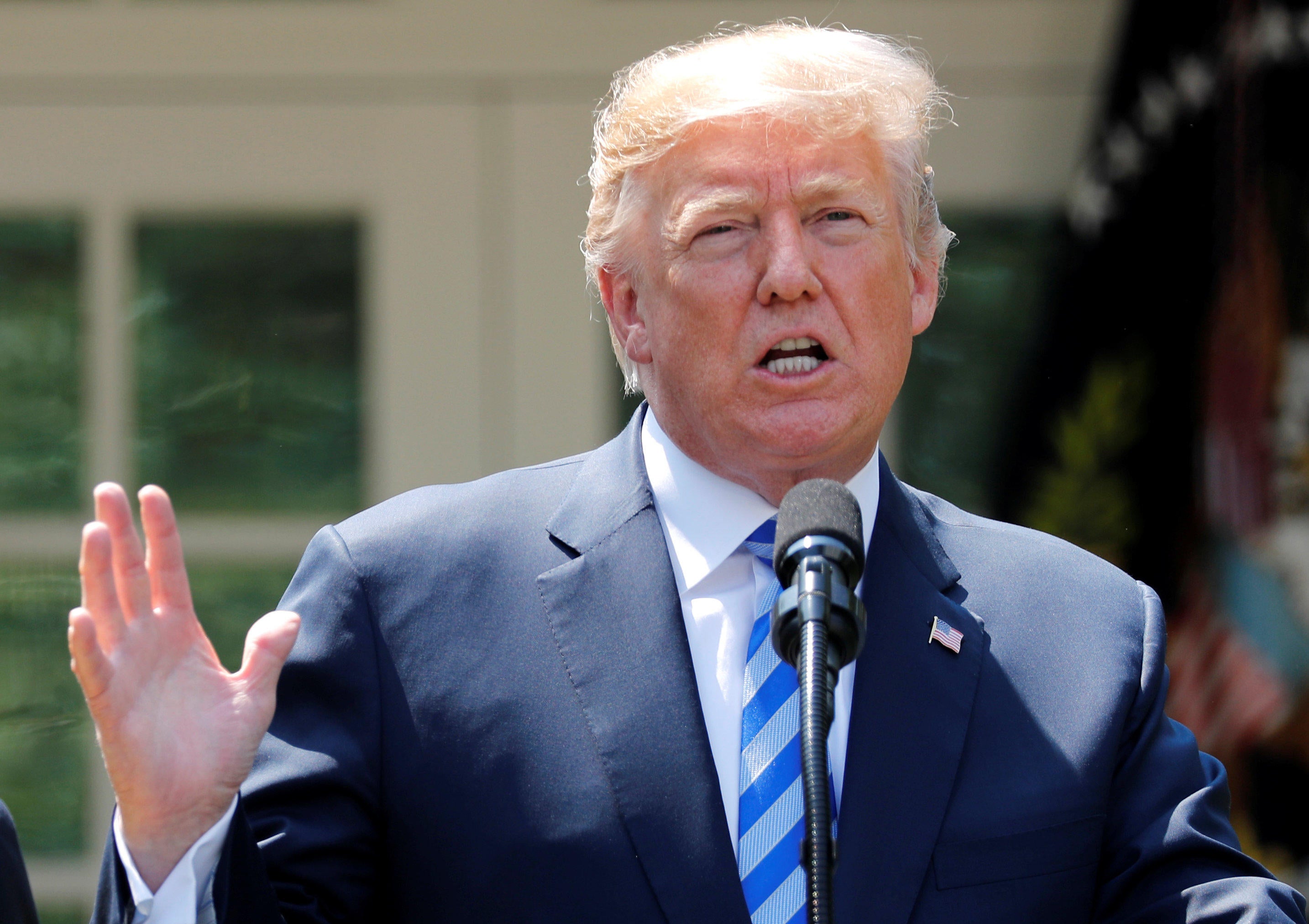 Acting ethics chief flags Trump financial disclosure form for Rod Rosenstein
President Trump's latest annual financial disclosure form released Wednesday reveals something undisclosed on Mr. Trump's previous financial disclosure form -- Mr. Trump's reimbursement of his then-attorney Michael Cohen. The disclosure was made as a footnote in a section on Mr. Trump's liabilities.
The head of the Office of Government Ethics (OGE) flagged that discrepancy to deputy Attorney General Rod Rosenstein in case it is "relevant to any inquiry you may be pursuing."
"In the interest of transparency, while not required to be disclosed as 'reportable liabilities' on Part 8, in 2016 expenses were incurred by one of Donald J. Trump's attorneys, Michael Cohen. Mr. Cohen sought reimbursement of those expenses and Mr. Trump fully reimbursed Mr. Cohen in 2017. The category of the value would be $100,001 - $250,000 and the interest rate would be zero," a footnote in the president's financial disclosure form reads.
A note in the document says "OGE has concluded that the information related to the payment made by Mr. Cohen is required to be reported and that the information provided meets the disclosure requirement for a reportable liability." This means that the ethics office deemed that the payment to Cohen, made in 2016, should have been reported last year.
David Apol, the acting director of the Office of Government Ethics, sent a letter to Deputy Attorney General Rod Rosenstein Wednesday, saying that, "based on the information provided as a note ... the payment made by Mr. Cohen is required to be reported as a liability." Apol wrote to Rosenstein and provided him with those financial disclosure reports, "because you may find the disclosure relevant to any inquiry you may be pursuing regarding the president's prior report."
Rudy Giuliani, Mr. Trump's newest personal attorney, revealed the reimbursement in a shock interview with Fox News' Sean Hannity earlier this month. Mr. Trump seemed to confirm the claim on Twitter the following morning. But then Mr. Trump said Giuliani was new to the team and would "get his facts straight." Weeks earlier, Mr. Trump had said he was unaware Cohen paid adult film star Stormy Daniels $130,000 shortly before the election. But the president's latest disclosure seems to support Giuliani's original statement.
The latest disclosure form details Mr. Trump's financial interests and is 92 pages long, due to Mr. Trump's vast business empire. The president submitted his form to OGE for review Tuesday, according to the White House.
Mr. Trump's golf clubs also had substantial revenue: his golf club in Jupiter, Florida made $14 million, while Bedminster brought in $15 million. The president's Florida club, Mar-a-Lago, also took in $25 million (down from $37 million the prior year), while his Turnberry club in Scotland grossed $20 million. His Doral club, as was the case last year, dwarfed the rest of his golf properties, with revenues of almost $75 million.
The Trump Hotel in Washington, D.C., which opened during his presidential campaign in 2016, saw $40 million in revenues. Mr. Trump is also still picking up a Screen Actors Guild pension of nearly $65,000 from his years as a reality TV host and sometime bit player in movies.
First Lady Melania Trump made money, too -- a former model, she earned royalties from Getty Images between $100,000 and $1 million for its use of photos of her. She received no such royalties last year, according to Mr. Trump's financial disclosure then.
Mr. Trump listed liabilities of at least $250 million, with Deutsche Bank as his biggest creditor. Mr. Trump also owes Ladder Capital at least $110 million.
Details of Mr. Trump's disclosure report from last year can be found here.
Thanks for reading CBS NEWS.
Create your free account or log in
for more features.