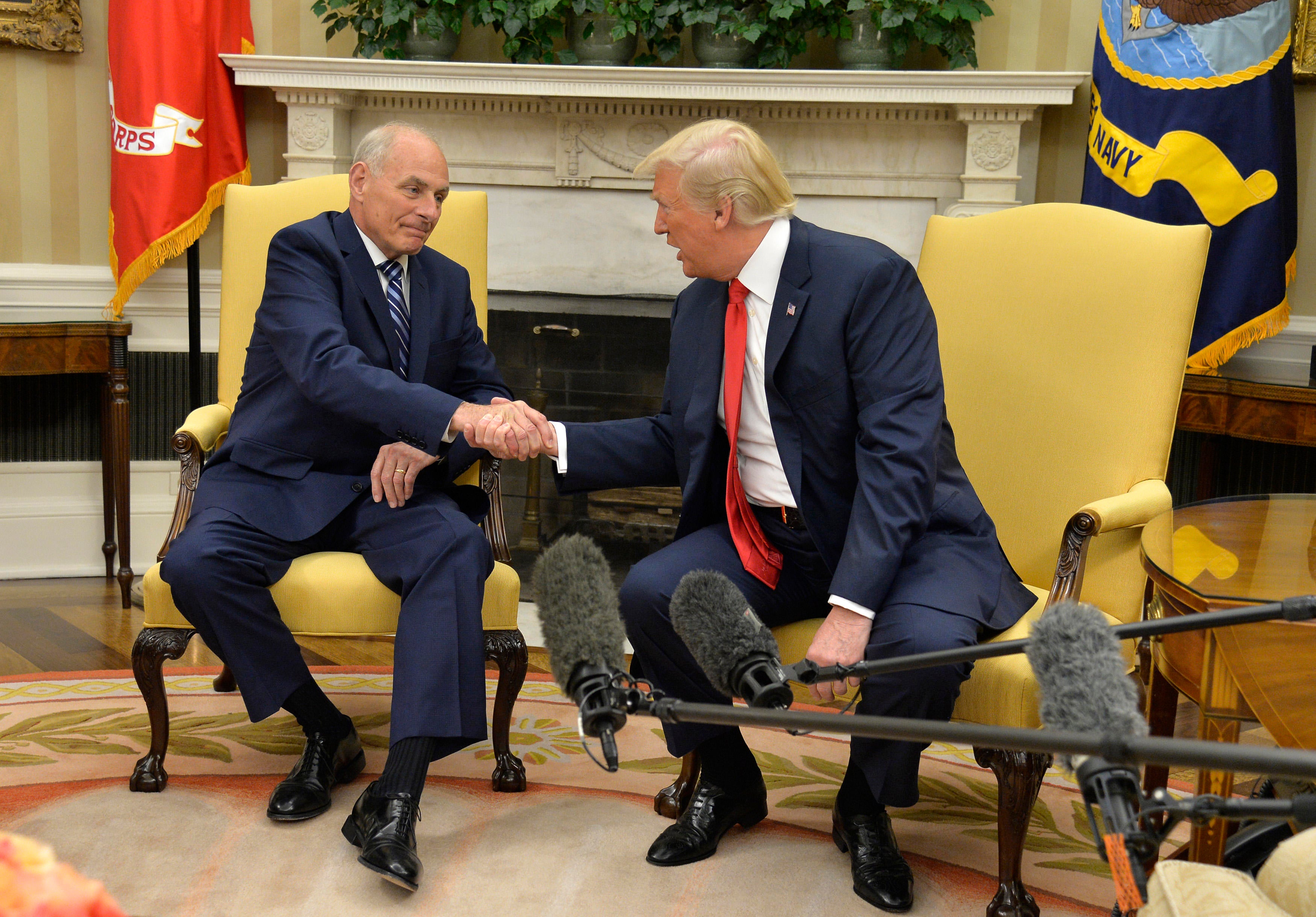 Trump swears in Gen. Kelly as new chief of staff
President Trump praised Gen. John Kelly as he was sworn in to be the new White House chief of staff, declaring that he'll do a "spectacular job."
The former Homeland Security secretary fills the vacancy left by Reince Priebus, who was forced out last week.
"What he's done in terms of homeland is record shattering," said Mr. Trump, continuing to lavish praise on his new chief of staff. "We look forward to, if its possible, an even better job as chief of staff."
The president went on to applaud the "records shattered" within his administration, saying "business spirit is the highest it's ever been, according to polls."
"We're doing very well, we have a tremendous base, we have a tremendous group of support. The country is optimistic. And I think the general would just add to it," he said.
Following their meeting, Kelly attended his first cabinet meeting as chief of staff, in what Mr. Trump referred to as "the boardroom." He predicted Kelly would go down as "one of the greats" in the history of chiefs of staff.
Mr. Trump made the announcement of his new hire on Twitter last last week, calling Kelly a "Great American and a Great leader" and saying he he has been a "true star" of the Trump administration.
Priebus released a statement shortly after the announcement, saying "It has been one of the greatest honors of my life to serve this president and our country."
He added, "I want to thank the president for giving me this very special opportunity. I will continue to serve as a strong supporter of the president's agenda and policies. I can't think of a better person than General John Kelly to succeed me and I wish him God's blessings and great success."
The announcement that Kelly would take the job was applauded by many in the political world, who hailed the former Marine Corps general's leadership skills as an asset for the new role.
Sen. Dianne Feinstein, D-California, told CBS' "Face the Nation" on Sunday that she felt Kelly could be instrumental in the administration's fight against North Korea's nuclear provocations.
It is unclear who will be replacing Kelly at DHS. For now, Elaine Duke, the deputy DHS secretary, has been named acting DHS secretary.
The most recent shakeup came soon after White House press secretary Sean Spicer announced his resignation, a result of the naming of Anthony Scaramucci to be communications director. Late last week, Scaramucci lambasted Priebus in an conversation with the New Yorker's Ryan Lizza.
Thanks for reading CBS NEWS.
Create your free account or log in
for more features.