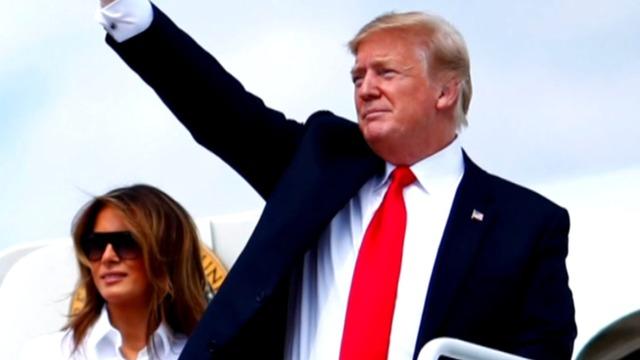 2 federal judges seen as Trump's leading contenders for Supreme Court
President Trump says he will begin interviewing potential Supreme Court justices Monday and that he intends to officially nominate his candidate to the nation's highest court in just one week.
If this timeline plays out, Mr. Trump will have named his nominee ahead of Justice Anthony Kennedy's retirement, which goes into effect July 31. Kennedy announced his retirement last Wednesday.
CBS News has learned that D.C. Circuit Court Judge Brett Kavanaugh and Chicago Circuit Court Judge Amy Coney Barrett are currently Mr. Trump's leading contenders for the appointment to the nation's highest court.
Kavanaugh and Barrett both appear on Mr. Trump's list of 25 possible nominees and he's said he plans to interview about half a dozen potential candidates before announcing his selection.
Sen. Susan Collins, a moderate Republican from Maine, said that Mr. Trump told her during a private meeting that he would not question his potential nominees about Roe v. Wade, the landmark decision establishing abortion as a right for women.
The expected addition of another conservative justice to the Supreme Court has stirred speculation that the case could be overturned.
Collins and Sen. Lisa Murkowski, R-Alaska, are the only GOP senators who support abortion rights and they have expressed concern about the possibility of Roe being overturned. This puts Collins and Murkowski in the spotlight: their votes to confirm Mr. Trump's nominee may be crucial in the Senate.
Collins said she believes Roe v. Wade to be "settled law" and "precedent," and said she looks "for judges who respect precedent."
Recently, Mr. Trump said that he "probably" will not ask his potential nominees about Roe v. Wade, although in an October 2016 debate, just ahead of his election to the presidency, Mr. Trump said that he thought Roe v. Wade would overturn "automatically" if he were able to appoint multiple justices to the bench.
Over the weekend, Mr. Trump was in Bedminster, New Jersey. Although the president hinted last week that he might meet with potential nominees there, CBS News has confirmed that no candidates were present on the weekend trip.
The White House said that Mr. Trump has been discussing the Supreme Court vacancy with White House Counsel Don McGahn.
Thanks for reading CBS NEWS.
Create your free account or log in
for more features.