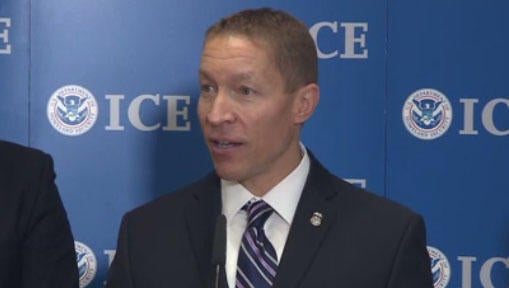 Trump suddenly replaces acting Customs head Daniel Ragsdale with Thomas Homan
Soon after firing Acting Attorney General Sally Yates Monday night, President Trump removed the acting director of U.S. Immigration and Customs Enforcement (ICE), the Department of Homeland Security says.
While the White House said emphatically that Yates was fired -- for ordering Justice Department lawyers not to defend the president's controversial temporary travel ban in court -- no explanation was given for Daniel Ragsdale's job being given to Thomas Homan.
Ragsdale's brief stint as acting director began on Inauguration Day. Before that, he was deputy director for several years, according to his official biography.
In a tweet, ICE made it clear he's staying with the agency:
Homan has been ICE's executive associate director of enforcement and removal operations since 2013, DHS Secretary John Kelly said in a statement. "In this capacity, he led ICE's efforts to identify, arrest, detain, and remove illegal aliens, including those who present a danger to national security or are a risk to public safety, as well as those who enter the United States illegally or otherwise undermine the integrity of our immigration laws and our border control efforts," the statement reads.
Thanks for reading CBS NEWS.
Create your free account or log in
for more features.