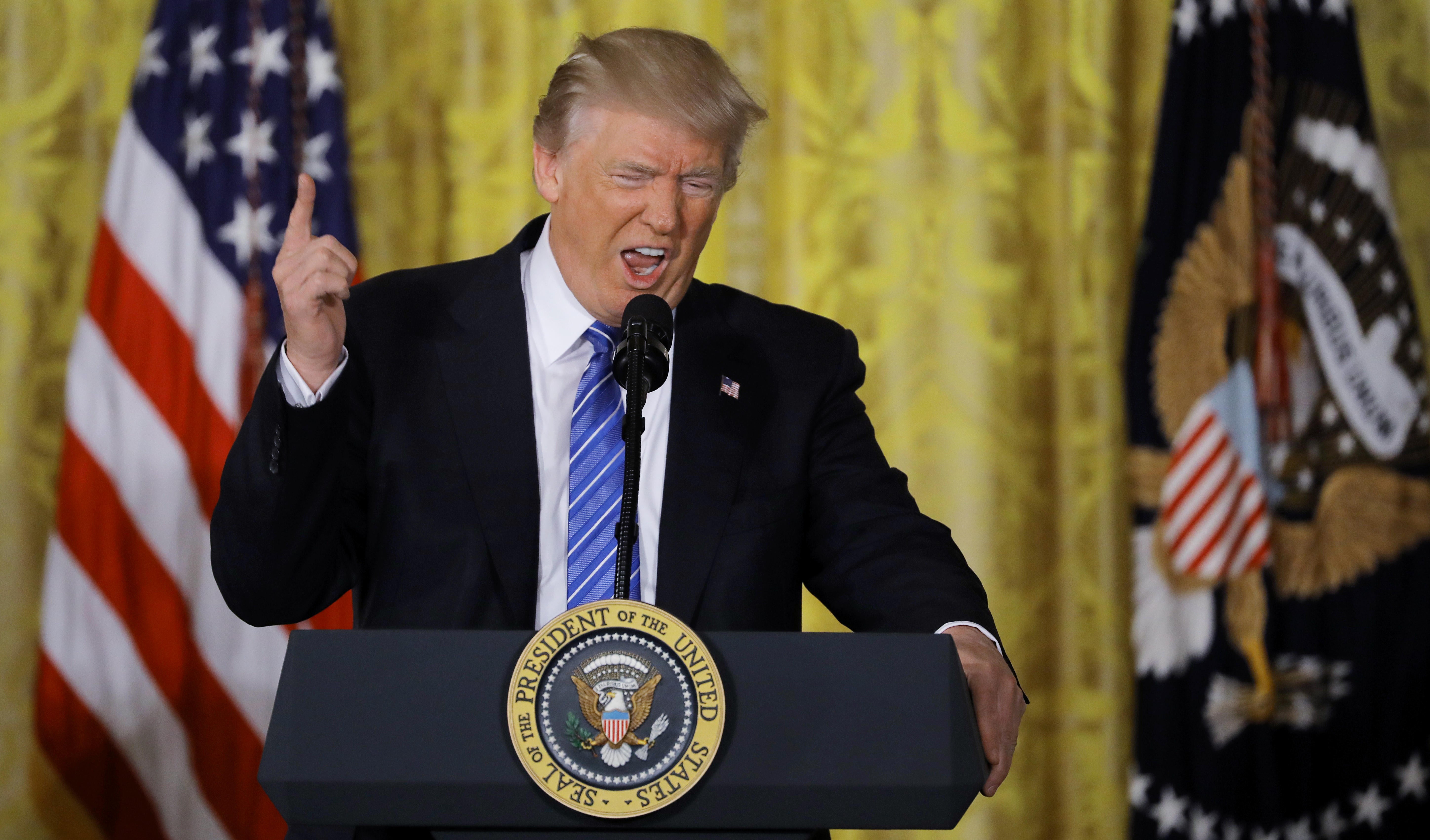 Trump signs bill making it easier to fire bad VA employees
President Trump signed a bill into law Friday that will make it easier to fire bad employees at the Department of Veterans Affairs, and give more protection to employees who bring misconduct to light.
The Department of Veterans Affairs Accountability and Whistleblower Whistleblower Protection Act gives VA Secretary David Shulkin more authority to fire misbehaving or underperforming employees, shorten the appeals process for that firing, and prohibits employees from being paid while they pursue the appeals process. It also includes new protections against retaliation for workers who file complaints with the VA general counsel's office, and shortens the process for hiring new employees to fill a workforce shortage at the VA.
"Our veterans have fulfilled our duty to this nation and now we must fulfill our duty to them," Mr. Trump said.
"Many veterans died waiting for a simple doctor's appointment," the president added, bringing up the VA wait time scandal that emerged in 2014. "What happened was a national disgrace, and yet some of the employees involved in these scandals remained on the payrolls. Our dated laws kept the government from holding those who failed our veterans accountable. Today we are changing those laws."
Mr. Trump in April signed an executive order to create the Office of Accountability and Whistleblower Protection within the VA, intended to weed out bad employees and outdated policies that keep them there. This legislation empowers that office, Mr. Trump said. The Trump administration has also launched a website that shows wait times at VA facilities.
The VA has been a particularly scrutinized department ever since 2014, when reports -- made possible by whistleblowers within the VA -- revealed some veterans died after being placed on long and hushed-up waiting lists. But the increased focus on the VA has also revealed a number of misbehaving VA employees, as well as insufficient laws and policies in place to reprimand or remove them for violating ethical or legal standards.
"There's nothing more demoralizing to our workforce and to our veterans than when the VA is forced to take employees back who have deviated from those values," Shulkin said.
Last month in a press briefing, Shulkin said that under the current process, it takes a minimum of 51 days for an action by a manager to suspend, demote or remove an employee to take effect.
In recent years, employees accused or convicted of misconduct who return to work have made splashy headlines.
An employee at a VA facility in Memphis, Tennessee, returned to work after three DUI convictions, Shulkin noted.
Another employee at a VA facility in Puerto Rico was involved in an armed robbery, but returned to work as a clerk at the facility after pleading guilty to two misdemeanors.
Shulkin also referred to a psychiatrist at a facility in Puerto Rico who was seen on video watching pornography while with a patient and a top administrator.
The bipartisan legislation Mr. Trump signed Friday was introduced by Sen. Marco Rubio (R-Florida), Jon Tester (D-Montana), and Johnny Isakson (R-Georgia).
"We will not rest until the job is 100 percent complete for our great veterans," Mr. Trump said.
Thanks for reading CBS NEWS.
Create your free account or log in
for more features.