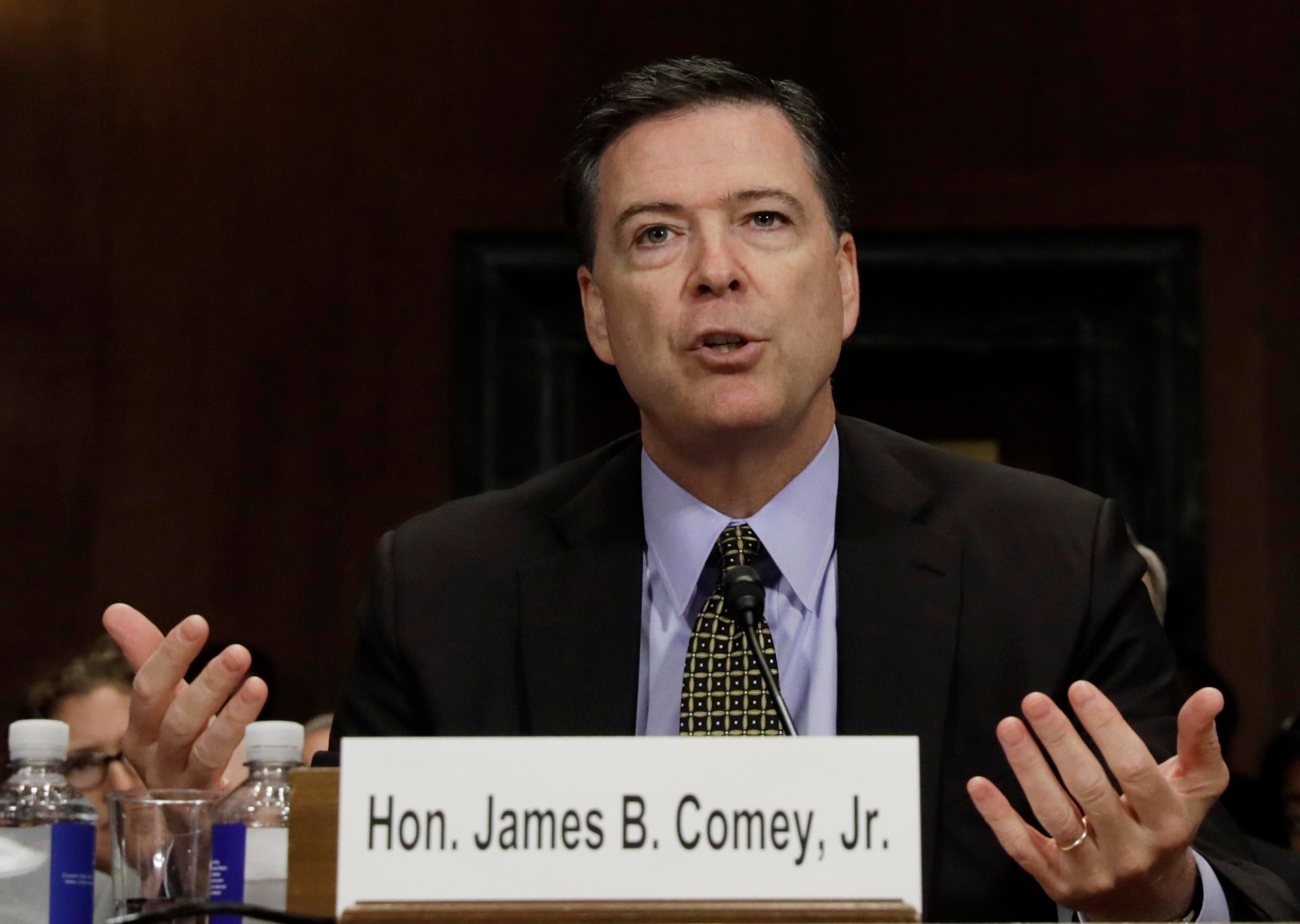 Trump says he thought of "made-up" Russia ties when he decided to fire Comey
President Trump said Thursday that when he decided to fire FBI Director James Comey, he thought of the "made up" story about ties between Russia and himself.
Mr. Trump made the remarks in an interview with NBC News on Thursday, the first interview he's givien since firing the man leading the FBI's investigation into Russian interference. Mr. Trump said he was going to dismiss Comey "regardless" of the recommendation from Deputy Attorney General Rod Rosenstein and Attorney General Jeff Sessions, "knowing there was no good time to do it."
"And in fact when I decided to just do it, I said to myself, I said you know, this Russia thing with Trump and Russia is a made-up story, it's an excuse by the Democrats for having lost an election that they should have won," he said. "And the reason they should have won it is the electoral college is almost impossible for a Republican to win. Very hard. Because you start off at such a disadvantage. So everybody was thinking, they should have won the election. This was an excuse for having lost an election."
Mr. Trump didn't expand on whether the Russia investigation influenced his decision to dismiss the FBI director, although in his letter firing Comey, Mr. Trump thanked him for claiming three times that he is not under investigation. Mr. Trump said he wants to "find out if there was a problem in the election having to do with Russia."
"As far as I'm concerned, I want that thing to be absolutely done properly," Mr. Trump said. "Maybe I'll expand that, you know, lengthen the time (of the Russia probe) because it should be over with, in my opinion, should have been over with a long time ago. 'Cause all it is, is an excuse but I said to myself, I might even lengthen out the investigation, but I have to do the right thing for the American people."
Mr. Trump also said in the NBC interview he "never thought about" the optics of welcoming Russian Foreign Minister Sergey Lavrov to the White House the day after he fired Comey.
Mr. Trump's closed-door Oval Office meeting with Lavrov hours after firing Comey added to the shockwaves already reverberating in Washington, D.C. The White House compounded that shock by denying U.S. press access to the area surrounding the president's meeting with the Russian official, forcing American media to use images from Kremlin media. Mr. Trump told NBC the meeting with Lavrov was set up "a while ago."
"I never thought about it," Mr. Trump told NBC News. "It was set up a while ago, and frankly, I could have waited but what difference does it make? I'm not looking for cosmetics. I'm looking to do a great job for the country. "
"I think it's really a good thing that I meet with people," Mr. Trump continued. "Now, this is a public meeting because you know when you cover this the people watching may say, oh, he met with Lavrov, well this was announced that I'm meeting with Lavrov. Just like a number of days ago, I spoke, I had a very good conversation, very public in the sense that everybody knew this was taking place."
Mr. Trump's claim that he was going to fire Comey "regardless" of any Justice Department recommendation contradicts previous statements from Deputy White House Press Secretary Sarah Huckabee Sanders and Vice President Mike Pence, who said the president made the decision Tuesday, only after receiving the DOJ recommendation and justification. Mr. Trump also contradicted his own letter firing Comey, which claimed he was doing so at the recommendation of Sessions and Rosenstein.
Mr. Trump told NBC nobody from the White House asked Comey to drop the investigation.
Mr. Trump called Comey a "showboater," and, "not my man." The president raised eyebrows when he said he directly asked Comey whether he was under investigation.
Pressure is building for Mr. Trump's administration to reveal more details about the Russia investigation, and appoint a special prosecutor to handle the investigation into Russian election meddling.
House Oversight and Government Reform Chairman and Utah Republican Rep. Jason Chaffetz asked DOJ Inspector General Michael Horowitz to expand an ongoing investigation into how the FBI and DOJ handled the Clinton email investigation to also include the decision to fire Comey, a request Democrats on the Senate Judiciary Committee echoed Thursday.
Thanks for reading CBS NEWS.
Create your free account or log in
for more features.