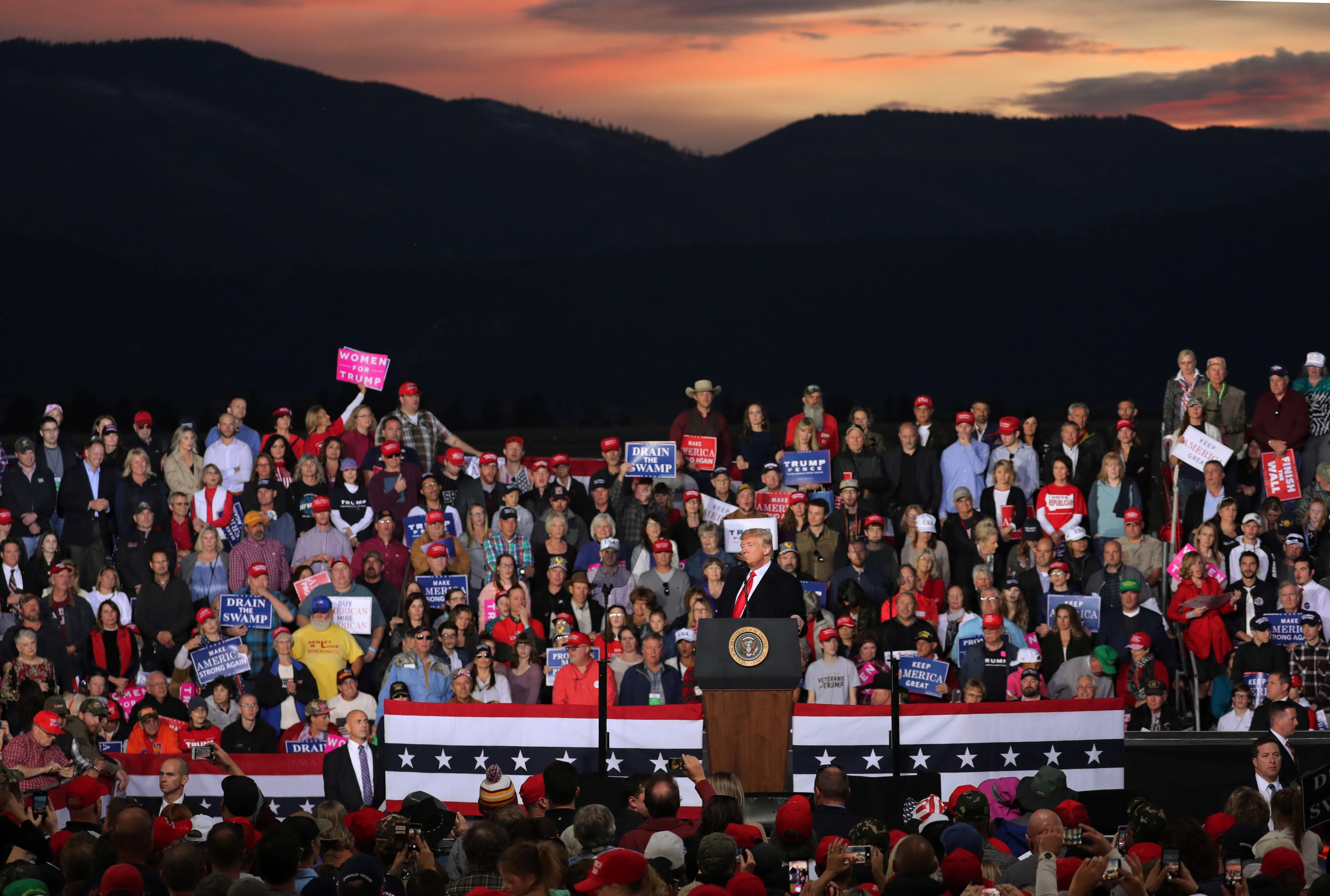 Trump at Montana rally praises congressman who body slammed reporter
At a rally in Montana Thursday, President Trump praised Republican Rep. Greg Gianforte for body slamming a reporter in 2016 while also continuing his line of attack that voting for Democrats is voting for a "mob." Mr. Trump's Thursday rally was his first of three consecutive days of rallies.
"Any guy who can do a body slam, he's my candidate, he's my guy," Mr. Trump said about freshman Republican Rep. Greg Gianforte. Gianforte pleaded guilty to assaulting a Guardian reporter in June 2017, the day before the state's special election. Mr. Trump's comment elicited cheers from the crowd.
Speaking to reporters on Friday, Mr. Trump said he did regret praising Gianforte for assaulting a reporter.
"That was a different world. that was a different league, different world," Mr. Trump said, presumably about the rally. "He's just a great guy, and you know Greg very well right? It was, that was a tremendous success last night in Montana, and Greg is a tremendous person."
Mr. Trump was also rallying support for Republican Senate candidate Matt Rosendale, who is challenging Democratic Sen. Jon Tester. Although Mr. Trump won Montana by 20 points, a September CBS News Battleground Tracker poll showed Tester leading Rosendale by two points.The CBS News Battleground Tracker rates the race as "Edge Democrat."
Mr. Trump began the rally by ruminating on his victory in the 2016 election, and discussing his recent accomplishments, such as the confirmation of Supreme Court Justice Brett Kavanaugh. Mr. Trump has taken to discussing Democratic opposition to Kavanaugh – who was accused of sexual assault – as further evidence that Democrats are unfit to take majorities in Congress. He also called the allegations against Kavanaugh were a Democratic "con job."
"This will be an election of Kavanaugh, the caravan, law and order and common sense," Mr. Trump said, referring to a caravan of migrants from Honduras on their way to the American border. "As you know, I'm willing to send the military to protect our southern border if necessary."
Mr. Trump, who often discusses immigration in his rallies, focused on criminals entering the country illegally and building a border wall between the U.S. and Mexico. He tied the issue of illegal immigration to Democrats, saying that they are the party of "open borders" and of "crime."
"They figure everyone coming in is going to vote Democrat," Mr. Trump said. "They're not so stupid when you think about it, right?"
He also jokingly said that it was his fault that so many people wanted to migrate to the U.S., because the economy was so strong under his administration.
"Democrats produce mobs, Republicans produce jobs," Mr. Trump said.
Mr. Trump painted Gianforte's opponent, Democrat Kathleen Williams, as a radical left-wing Democrats who support "open borders" and "sanctuary cities" -- lumping together the relatively moderate Montana Democrats with the more progressive wing of the party. This is a pattern Mr. Trump follows when attacking the Democratic opponents of the Republicans for whom he is campaigning.
Mr. Trump also has personal animosity towards Tester, as the senator was instrumental in torpedoing the nomination of Dr. Ronny Jackson for secretary for Veterans Affairs, due to allegations of substance abuse while working. He brought up Jackson during the rally. However, he acknowledged that Jackson "didn't really want it. And he might not have been qualified."
Thursday morning, Mr. Trump sent a series of tweets in which he threatened to close the U.S.-Mexico border and cut off payments to Latin American countries if they do not do a better job of preventing their citizens from entering the U.S. illegally.
"In addition to stopping all payments to these countries, which seem to have almost no control over their population, I must, in the strongest of terms, ask Mexico to stop this onslaught — and if unable to do so I will call up the U.S. Military and CLOSE OUR SOUTHERN BORDER!" Mr. Trump said in one tweet. In another, he said that the "onslaught" of immigrants at the border was more important to him than the recently approved U.S. Mexico Canada Agreement.
Thanks for reading CBS NEWS.
Create your free account or log in
for more features.