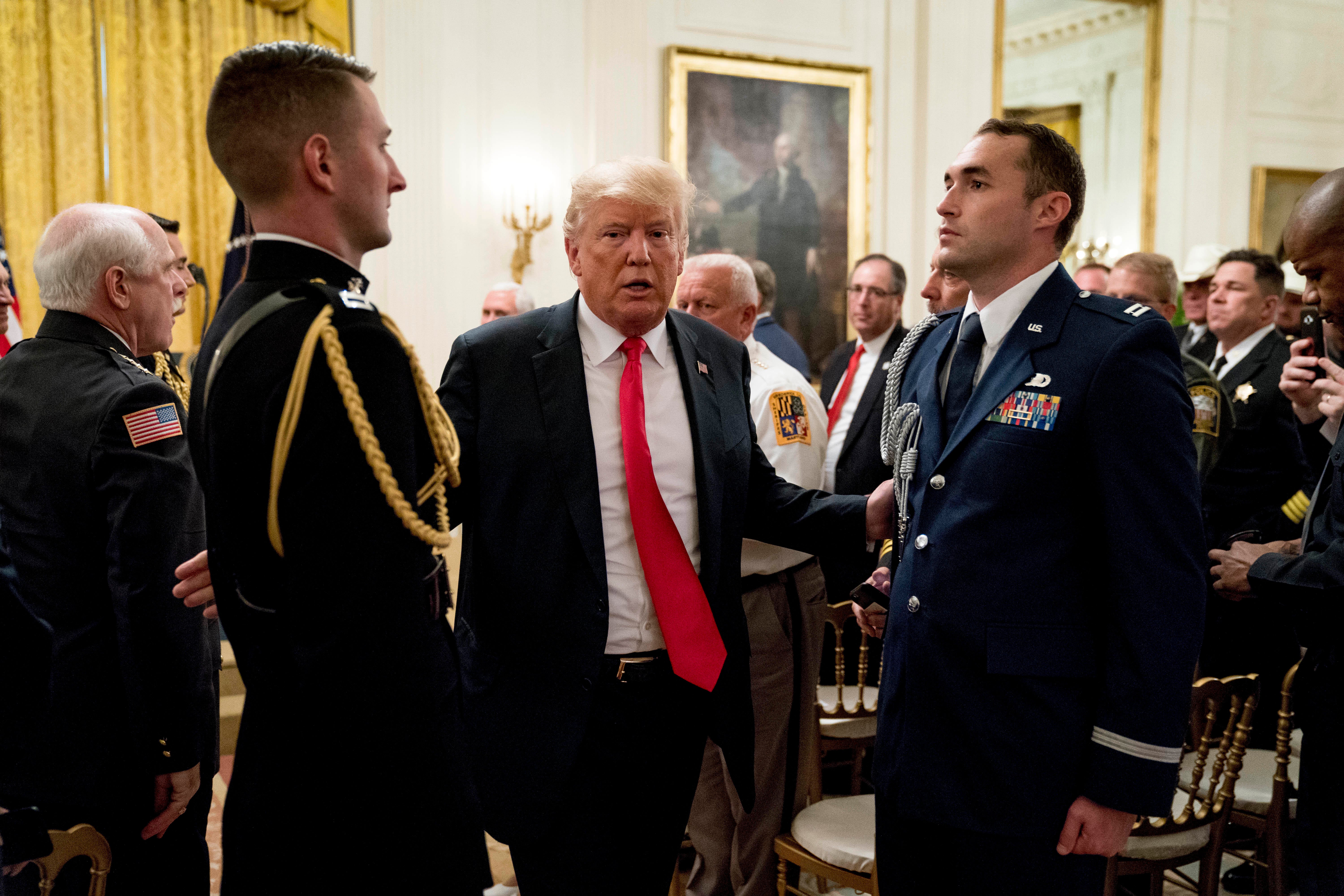 Trump attacks Democrats' "radical policies" on immigration
During an event honoring Immigration and Customs Enforcement (ICE) and Customs and Border Protection (CBP) officers at the White House Monday, President Trump attacked Democrats' "radical policies" on immigration, blaming all immigration-related crime on the party's collective "lack of knowledge, lack of understanding, or just plain stupidity."
"This new wave of anti-borders, anti-law enforcement extremism and— shameful, dangerous, it's horrible in every way. And it's going to stop. It's going to stop right now. It's going to stop today. We slowed it down, now we're stopping it," Mr. Trump said, apparently in response to progressive Democrats' push to "abolish ICE."
"It's just a small group that gets a lot of publicity because they have no courage, they have no guts. They just have big, loud mouths. And we don't want to put up with that," he said.
Mr. Trump claimed Americans are dying because of these so-called open border extremists.
"The extremists who attack ICE and CBC [SIC] like to portray themselves as champions of social justice. They are not. But their radical polices are the ultimate injustice, hurting innocent Americans and spilling innocent blood. People are dying because of their-- either lack of knowledge, lack of understanding or just plain stupidity."
The event honoring about 150 ICE officers, CBP agents, and law enforcement officials comes as the government continues its family reunification efforts for children who were separated from their parents at the border as a result of the Trump administration's zero-tolerance policy.
Last week, a report said that more than 500 children are still in custody of the United States.
Mr. Trump identified Democrats as "the opposition" to the increased border enforcement under his administration.
"We will never surrender our nation to the forces of anarchy and chaos and crime. We will not allow our communities to be consumed by deadly poisons and violent predators," Mr. Trump said. "The poisons are flowing across our border and we're hitting it from every angle, but we need new laws. We need border laws, we need immigrations laws, we need them fast, we're going to get them."
He praised ICE, CBP, and DHS for protecting the country from immigrants, who he called "horrible people."
"Leading members of the Democrat Party have even launched a campaign to abolish ICE. In other words they want to abolish America's borders," Mr. Trump said.
At one point during the event, Mr. Trump commended an officer from the Laredo Sector Border Patrol. The president praised him for saving the lives of 78 migrants and asked him to recount the rescue mission.
"You're not nervous are you?" Mr. Trump called to the official from his podium. "Speaks perfect English."
Mr. Trump also called for increased funding of up to $5 billion for the border wall and encouraged voters in the midterm elections to cast their ballot for Republican candidates.
"Blue wave means crime, it means open borders. Not good," the president said of Democrats' midterm election aspirations.
Thanks for reading CBS NEWS.
Create your free account or log in
for more features.