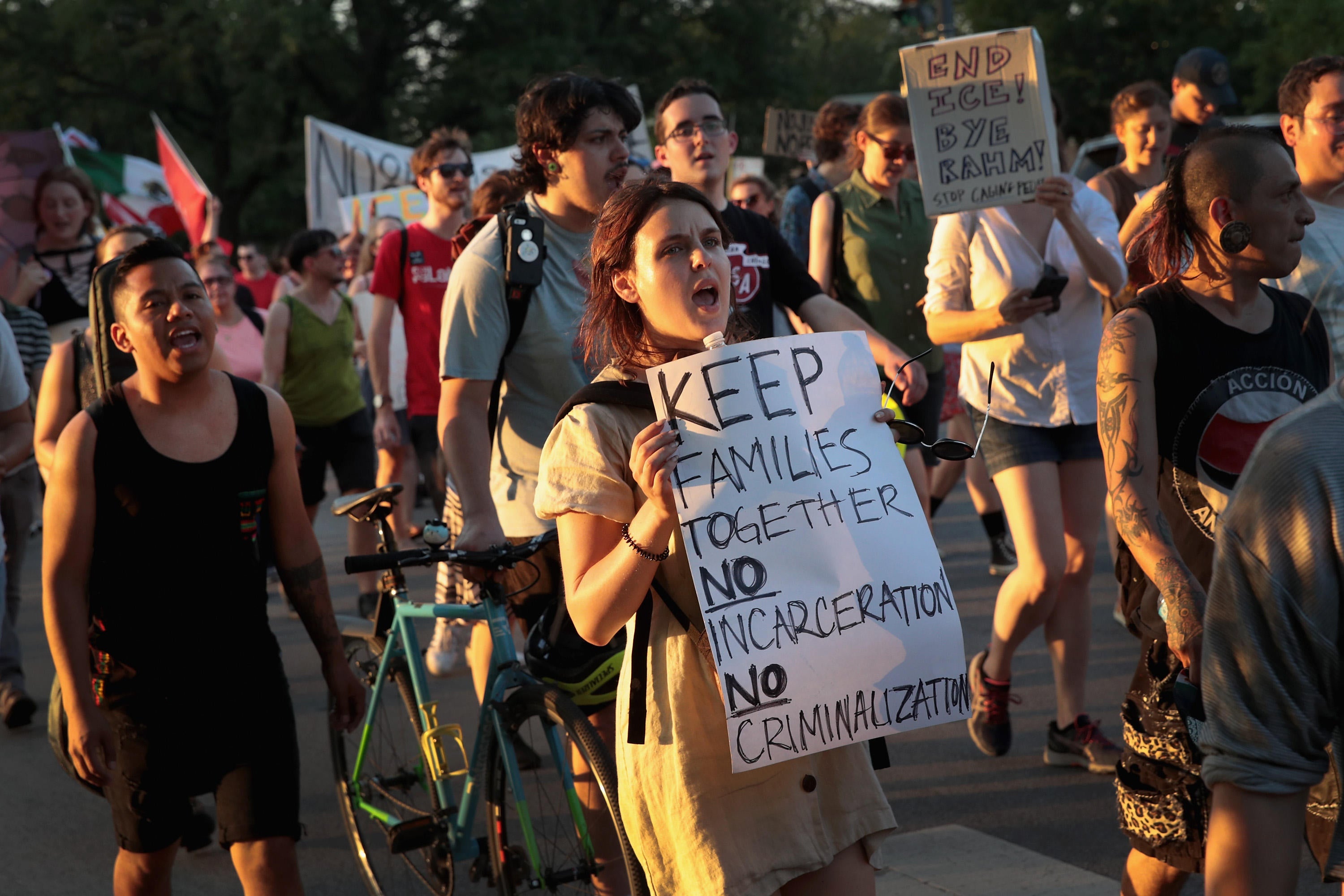 Push by liberal Democrats' to abolish ICE delights GOP
Liberal Democrats have unveiled doomed legislation aimed at abolishing Immigration and Customs Enforcement, their eyes focused on galvanizing voters for the midterm elections.
The House's top Republican scoffed that the measure makes him "feel very good" about November. GOP leaders moved toward scheduling a vote on the measure in hopes of embarrassing and dividing Democrats.
The dueling views of the bill's potential impact are the latest example of how immigration looms as a vote-moving issue this fall, when Democrats hope to wrest control of the House and perhaps the Senate from the GOP. Public concern over the problem shows no signs of receding soon, as the Trump administration struggles to reunite more than 2,000 migrant children they've separated from parents caught entering the U.S. illegally.
"It's the craziest position I've ever seen, and they are just tripping over themselves to move too far to the left," House Speaker Paul Ryan, R-Wisconsin, told reporters Thursday about Democrats' bill. "They're out of the mainstream of America, and that's one of the reasons why I feel very good about this fall."
The measure unveiled Thursday erasing ICE has no chance of going anywhere in the GOP-run House. A Republican aide said No. 3 party leader Rep. Steve Scalise of Louisiana got a strongly favorable reaction from other top Republicans on Thursday when he suggested holding a vote on the measure. The staffer spoke on condition of anonymity to describe private conversations.
For liberal Democratic activists, the agency has become a symbol of President Donald Trump's aggressive enforcement of immigration laws, and abolishing it has morphed into a campaign rallying cry.
"The president is using ICE as a mass-deportation force to rip apart the moral fabric of our nation," said Rep. Mark Pocan, D-Wis., the lead sponsor. A day earlier, he said in a brief interview, "This is where the grassroots are."
While many liberals say ICE has terrified the immigrant community by abusively conducting roundups outside schools and job sites, Republicans say it helps curb crime and illegal drugs. Republicans and some Democrats see abolition as political overreach that will help the GOP paint Democratic candidates as extremists.
Underscoring its limited appeal, just eight other Democrats initially signed onto the measure with Pocan. One who didn't, Rep. Gerald Connolly, D-Va., said it could distract from the focus on separating families, which polls show is highly unpopular.
"Just when something is working overwhelmingly, why would we decide to take a different course?" Connolly said.
Rep. Pramila Jayapal, D-Wash., another sponsor, said backers would join other Democrats and oppose their own bill. She said the legislation was aimed at focusing attention on Trump's policies and was "not a serious attempt to do anything." Voting "no," however, could alienate liberal voters.
Under the bill, a commission would assign ICE's duties to other agencies and it would cease to exist within a year.
The immigration fight also flared at the House Appropriations Committee, where the two parties clashed this week over Trump's policy of separating families.
Republicans on that panel batted down Democratic proposals that undercut the administration's zero tolerance policy of prosecuting and detaining migrants caught entering the U.S. illegally. One Democratic plan would have blocked money for tent cities to house unaccompanied children.
But in a tacit admission that Trump's actions have left them politically vulnerable, members of the Republican-controlled committee accepted other Democratic proposals. One requires a government plan for tracking and reuniting children separated from their families and imposes a small daily fine if it doesn't produce one.
Republicans also won party-line approval of language letting federal officials hold children for more than 20 days when their parents face legal action for unauthorized entry to the U.S. The Trump administration wants to eliminate that 20-day limit so it can detain entire families as it enforces its zero tolerance policy.
"All it does is keep families together while we're in the process of adjudication," said Rep. Tom Cole, R-Okla., the measure's sponsor.
Democrats say the administration should let such families go until they must appear in court. Some Republicans have also opposed the idea of holding families until their cases are resolved.
The House committee fight was over amendments to a massive spending bill financing health, education and labor programs, a perpetually controversial measure that gets delayed every year. The immigration provisions would only further complicate passage.
The House rejected two GOP immigration bills last month, and the Senate rejected three plans in February. Congress' prospects for approving anything soon are bleak.
Senators have been seeking to craft a bipartisan measure addressing family separation, but they haven't reported an agreement. House Republicans have failed to reach compromise on their own plan.
The government is holding around 2,000 children apart from their families and in some cases is struggling to reunite them.
Thanks for reading CBS NEWS.
Create your free account or log in
for more features.