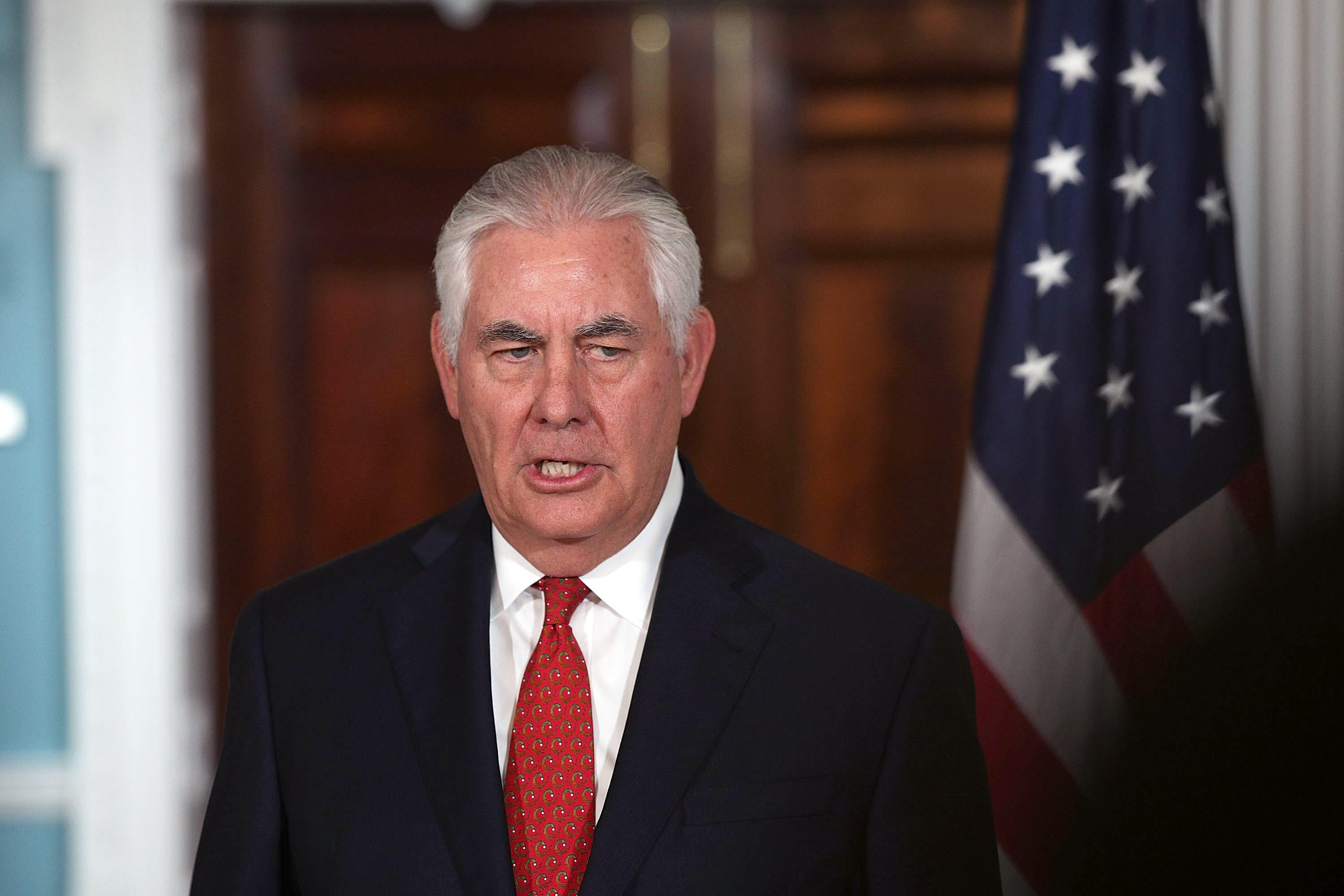 Trump fires Steve Goldstein, a top Tillerson deputy, in State Department shake-up
The White House has fired State Department Under Secretary Steve Goldstein just hours after his boss, now-former Secretary of State Rex Tillerson, was let go Wednesday morning.
The White House called Goldstein to tell him he is no longer needed. Goldstein was then called up to Tillerson's office for a meeting. Tillerson spent the morning at home -- after flying in from Africa early Wednesday morning -- but he is now at the department. It is unclear if Tillerson will talk to the press today or not.
Goldstein has largely fallen into the role as Tillerson's spokesperson, and was unanimously confirmed by the senate last year. He has been on the job for less than three months and is known for being loyal to Tillerson. He has encouraged Tillerson to speak more to the press.
Goldstein did attend many meetings at the White House, and consistently said Tillerson was going to bring foreign policy decision-making back to the State Department.
"The Secretary had every intention of staying because of the critical progress made in national security," Goldstein said in a statement before his own dismissal and after President Trump tweeted that Tillerson was being replaced as Secretary of State by Mike Pompeo, who had been serving as CIA director. "He will miss his colleagues at the Department of State and the foreign ministers he has worked with throughout the world. The secretary did not speak to the president and is unaware of the reason, but he is grateful for the opportunity to serve, and still believes strongly that public service is a noble calling."
Tillerson got into hot water with the White House earlier this year when he said that Trump's comments question Latin American countries' efforts on the illicit drug trade were "not helpful." At the time, Tillerson was on a trip to Latin America, and Mr. Trump's comments were challenging his efforts to work with those countries on combating the illicit drug trade.
Goldstein recently did an interview with the BBC, and was asked about how U.S. allies can depend on Tillerson given questions as to whether he would remain at the State Department.
"The secretary will be here. As a matter of fact I know there was a period of time last year when people euphemistically referred to the Secretary of State as 'Rexit,' a play on Brexit, and with a belief that he was leaving. He was never leaving the post. He serves at the pleasure of the president and I think...I'd like to let people know that he is the secretary of stay," Goldstein responded.
Thanks for reading CBS NEWS.
Create your free account or log in
for more features.