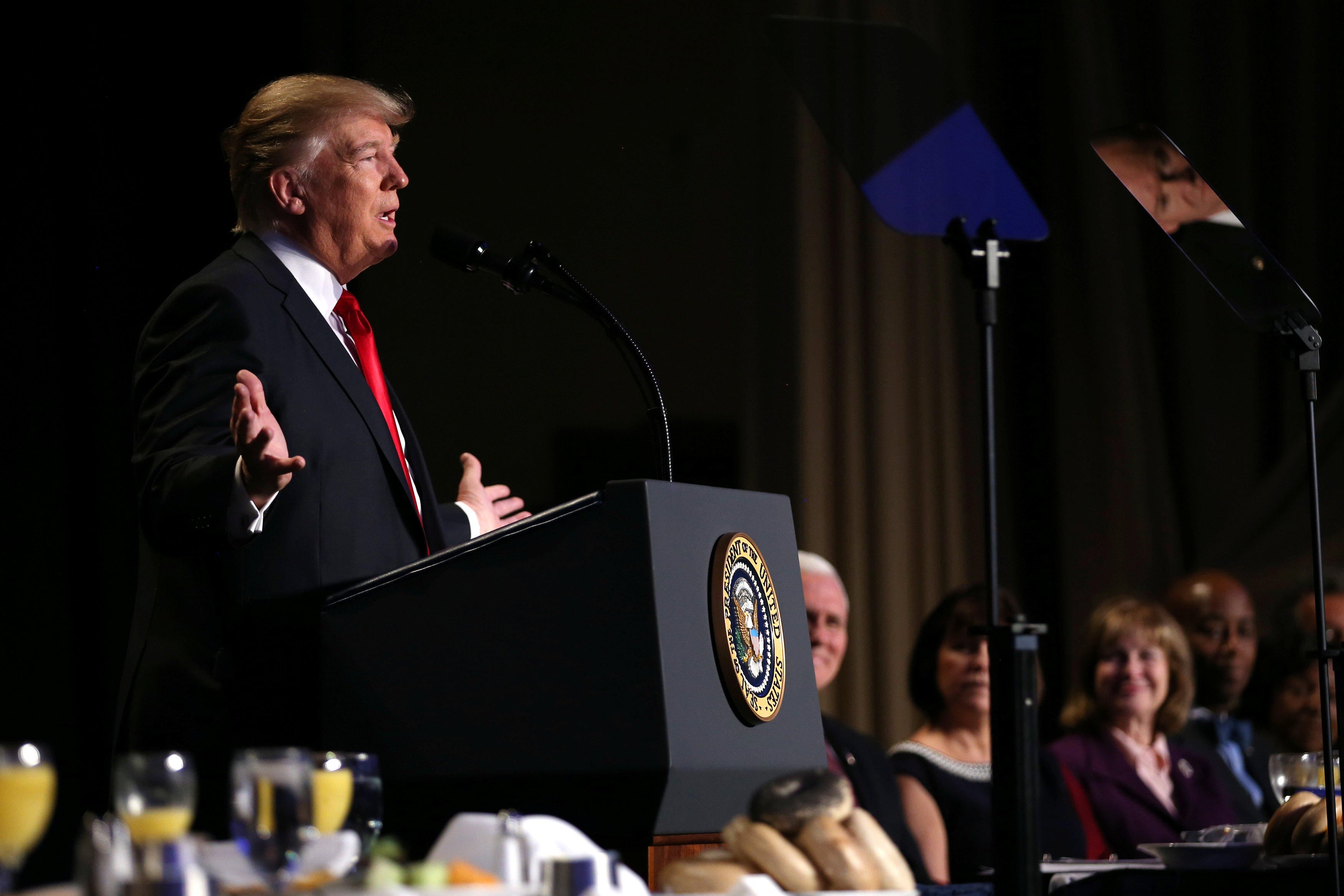 Trump boasts of television ratings at National Prayer Breakfast
At the National Prayer Breakfast Thursday, President Trump boasted of his television ratings during his time hosting "The Apprentice" reality show and urged attendees to "pray" for his successor, former California governor and Hollywood macho man Arnold Schwarzenegger.
Mr. Trump addressed the group of faith leaders early Thursday in the nation's capital, following an introduction by television executive Mark Burnett.
"They hired a big, big movie star, Arnold Schwarzenegger, to take my place," said Mr. Trump, who still has an executive producer credit on the "Celebrity Apprentice." "And we know how that turned out. The ratings went right down the tubes."
"It's been a total disaster," he went on. "And I want to just pray for Arnold for those ratings, ok?"
It's been a sticking point between the two celebrities in recent weeks.
Mr. Trump blasted his "Celebrity Apprentice" successor over Twitter at the start of the new year, claiming that Schwarzenegger got "swamped" in ratings compared to his own tenure on the show.
But now Schwarzenegger, the original "Terminator" star, hit back soon after Mr. Trump's early Thursday remarks.
In a tweet asking "The National Prayer Breakfast?" the former California governor proposed a "Freaky Friday"-style job switch.
"You take over TV since you're such an expert in ratings," Schwarzenegger said. "And I take over your job and then people can finally sleep comfortably again."
Watch the video below:
Addressing religious concerns at the breakfast, Mr. Trump also vowed that he would repeal the so-called Johnson Amendment, which prohibits tax-exempt organizations like churches from political advocacy activities.
"I will get rid of and totally destroy the Johnson Amendment and allow our representatives of faith to speak freely and without fear of retribution," Mr. Trump promised. "I will do that. Remember."
In his wide-ranging remarks, the president also seemed to address recent reports of a contentious phone call he had with Australian Prime Minister Malcolm Turnbull over Muslim refugees.
According to the Washington Post, Mr. Trump abruptly cut short his phone call with the prime minister after discussing the agreement over the weekend. And on Wednesday evening, the president lamented a deal between the Obama administration and Australia that would allow mostly Muslim refugees rejected by Australia to resettle on U.S. soil.
On Twitter he slammed the deal with exaggerated figures of how many refugees were affected, wrongly calling them "illegal immigrants." (The agreement was only about 1,200 refugees.)
But on Thursday morning, Mr. Trump appeared to dismiss worries that the U.S. relationship with other world leaders had grown tense.
"The world is in trouble, but we're gonna straighten it out, ok? That's what I do. I fix things," he told religious leaders. "When you hear about the tough phone calls I'm having, don't worry about it. Just don't worry about it."
"They're tough," he added. "We have to be tough. It's time we're gonna be a little tough, folks."
Thanks for reading CBS NEWS.
Create your free account or log in
for more features.