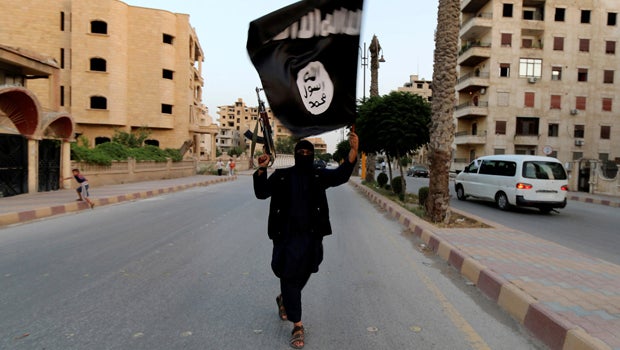 Trump authorizes Pentagon to arm Kurds to fight ISIS, over Turkish objections
President Trump on Monday authorized the Department of Defense to equip Kurdish elements of the Syrian Democratic Forces to defeat the Islamic State of Iraq and Syria (ISIS) in its default capital of Raqqa, Syria, despite objections from Turkey.
U.S. officials acknowledge the move will unsettle NATO ally Turkey, which views some Kurdish groups as terrorists. The announcement comes after Secretary of State Rex Tillerson met with Turkish officials last week in Ankara, Turkey, and discussed possible strategies for defeating ISIS in Syria.
"The SDF, partnered with enabling support from U.S. and coalition forces, are the only force on the ground that can successfully seize Raqqa in the near future," chief Pentagon spokesperson Dana W. White said in a statement.
"We are keenly aware of the security concerns of our coalition partner Turkey," White continued. "We want to reassure the people and government of Turkey that the U.S. is committed to preventing additional security risks and protecting our NATO ally."
With relatively few American soldiers on the ground in Syria, the U.S. is relying on local groups to fight ISIS -- including a Kurdish militia known as the YPG. Last month in Washington, Turkish Foreign Minister Mevlet Cavusoglu told CBS News that U.S. support for that group crosses a red line.
The SDF is currently battling for Tabqa, an ISIS command center 30 miles from Raqqa.
The plan to take Raqqa from ISIS with Kurdish forces is actually a tactic from the Obama administration playbook. Kurdish forces have long been considered among the most reliable groups in the fight against ISIS.
"The fight for Raqqa will be long and difficult, but will ultimately be yet another defeat for ISIS, and another step toward eliminating the ISIS threat to peace and security in the region and the world," White said.
Tillerson told CBS News' "Face he Nation" last month, after the U.S. released an air strike against a Syrian air base in response to a chemical weapons attack, that the U.S. will focus on ISIS first before addressing the other problems of war-ravaged Syria.
"By defeating ISIS and removing their caliphate from their control, we've now eliminated at least or minimized a particular threat not just to the United States, but to the whole stability in the region." Tillerson said. "Once the ISIS threat has been reduced or eliminated, I think we can turn our attention directly to stabilizing the situation in Syria."
CBS News' Alana Anyse contributed to this story
Thanks for reading CBS NEWS.
Create your free account or log in
for more features.