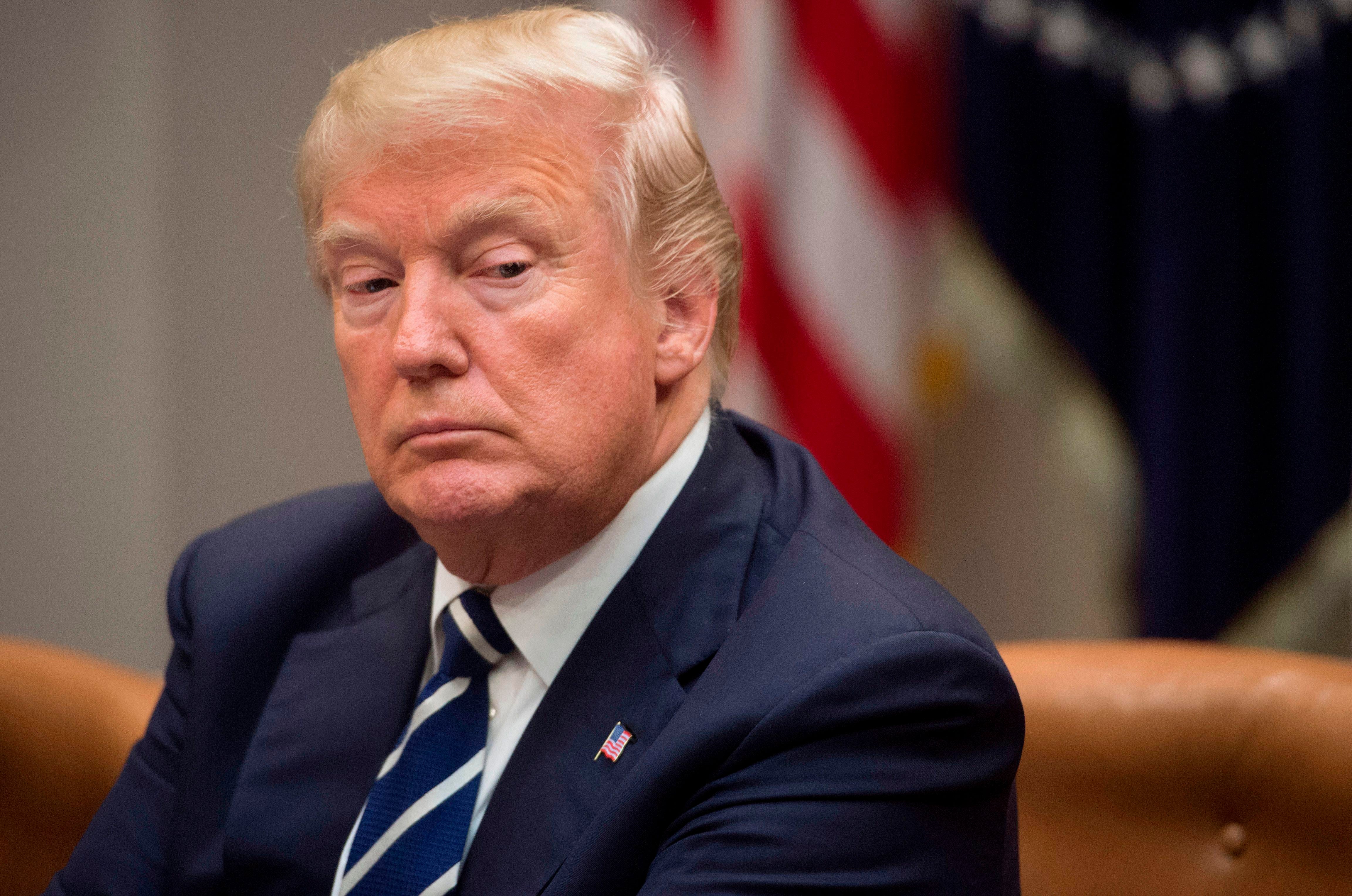 Trump at one year: Low job approval, but economy is good - CBS News poll
By Jennifer De Pinto, Fred Backus, Kabir Khanna and Anthony Salvanto
A year after President Donald Trump was sworn into office, he continues to receive historically low and highly partisan approval ratings, despite widely positive views of the economy. He gets at least some credit for the economy, but most Americans don't feel they've personally benefitted from his policies – only 22 percent think they've been directly helped.
As he prepares to give his first State of the Union address, thirty-seven percent of Americans approve of the job Mr. Trump is doing as president. He has lower ratings at the one-year mark than past presidents -- 58 percent now disapprove.
Americans overall are feeling upbeat about the economy and the President gets some credit for that. Sixty-seven percent say the economy is very or fair good – a figure that has been at the 60 percent level or higher since Mr. Trump became president. Even half of Democrats give him at least some credit.
But most Americans don't feel they have benefited directly from the president's policies. Feelings on this are largely driven by partisanship. Also, blacks and Hispanics are more likely than whites to say they have been hurt by his policies.
In the history of CBS News polling, Trump's approval rating has varied the least of any president during a first year going back to Ronald Reagan, when the poll began routinely tracking job approval. The partisan splits have proved as durable as they are wide.
President Trump's first approval rating of his presidency was 40 percent, which ticked up to 43 percent in April after the U.S. launched airstrikes against Syrian military targets. That was his highest approval to date. In September, Mr. Trump got his lowest approval rating of this first year, at 35 percent.
The percentage of Americans who disapprove of Mr. Trump's job performance has risen ten points since February of last year, suggesting that many who were undecided at the start of his presidency now disapprove of him.
President Trump's ratings are low among most demographic groups, with majorities of both men and women, and most Americans of all racial backgrounds and age groups disapproving. Only a majority of Republicans, conservatives, and white evangelicals approve. Whites without a college degree – whose votes helped Mr. Trump win the presidency - are divided today.
Going in, Americans had largely negative expectations about the kind of President Donald Trump would be, and their assessments are now even more negative. Last year, one third of Americans expected Trump to be a "Poor" president, and 53 percent give him a grade of "Poor" today.
It's largely Democrats who have become more negative about the Trump presidency. Republicans are mostly positive about the president's first year: Eight in 10 Republicans approve of the job Donald Trump is doing and most are just as optimistic with him in office now as they were right before he was sworn in as president. Seven in 10 say he has been a very good or good president.
During the campaign, candidate Trump said he would help America win again. Right now, more than half of Americans (55 percent) feel America is losing at the things it tries to do. Three in four Republicans see a country that is winning, but most Democrats and independents do not.
On specific issues, Trump is relatively strongest on the economy (46 percent) and terrorism (45 percent). He gets lower marks on tax policy (38 percent), immigration (34 percent) and the situation with North Korea (34 percent). Most Republicans approve of his handling of these issues, while most Democrats don't.
Republicans feel Trump has made more progress on some of his campaign promises than others. At least four in 10 see a lot of progress on bringing jobs back to the U.S., cutting taxes for the middle class, defeating ISIS, and reducing regulations on business. Fewer Republicans see a lot of progress on repealing Obamacare and only one in 10 think Trump has made a lot of progress in building a border wall.
Overall, there are dramatic partisan splits on just about every measure, including both the President and the direction of the country overall.
---
This poll was conducted by telephone January 13-16, 2018 among a random sample of 1,225 adults nationwide. Data collection was conducted on behalf of CBS News by SSRS of Glen Mills, PA. Phone numbers were dialed from samples of both standard land-line and cell phones.
The poll employed a random digit dial methodology. For the landline sample, a respondent was randomly selected from all adults in the household. For the cell sample, interviews were conducted with the person who answered the phone.
Interviews were conducted in English and Spanish using live interviewers. The data have been weighted to reflect U.S. Census figures on demographic variables.
The error due to sampling for results based on the entire sample could be plus or minus three percentage points. The error for subgroups may be higher and is available by request. The margin of error includes the effects of standard weighting procedures which enlarge sampling error slightly.
This poll release conforms to the Standards of Disclosure of the National Council on Public Polls.
Thanks for reading CBS NEWS.
Create your free account or log in
for more features.