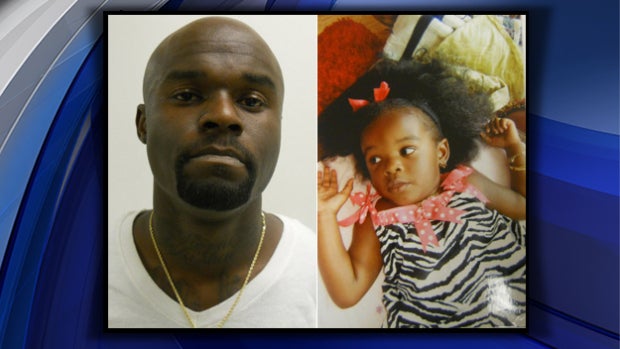 Trial begins for dad accused in daughter's creek-toss death
FREEHOLD, N.J. - The murder trial of a New Jersey man charged with tossing his 2-year-old daughter into a creek while she was still strapped into her car seat began Wednesday.
Arthur Morgan III of Eatontown is accused of killing his daughter, Tierra Morgan-Glover. Morgan allegedly weighed down the car seat with a tire-changing jack so it would sink.
The little girl's body was found partially submerged in a creek at Shark River Park in Wall Township, about 20 miles north of her Lakehurst home, on Nov. 22, 2011. Prosecutors say Morgan had asked the girl's mother if he could take Tierra to see a movie about dancing penguins. When he didn't return her after a few hours, the mother, Imani Benton, called police.
In addition to the murder charge, Morgan is charged with interference with custody and child endangerment. He faces a maximum sentence of life without parole, plus 15 years to be served consecutively, if convicted.
According to prosecutors, Morgan tossed the car seat, with his daughter strapped snugly inside its protective belts, from an overpass into the chilly water of the creek. To ensure that it sank, he had attached a car jack, the heavy metal contraption used to raise a car's chassis to change a flat tire, prosecutors said.
The child's cause of death was listed as "homicidal violence, including submersion in water." An autopsy determined that the child was alive when she hit the water.
Morgan fled to California following the child's death and was found in San Diego by a fugitive recovery task force. He was the subject of a nationwide manhunt and was featured on the website of "America's Most Wanted" after Tierra's body was found.
Thanks for reading CBS NEWS.
Create your free account or log in
for more features.