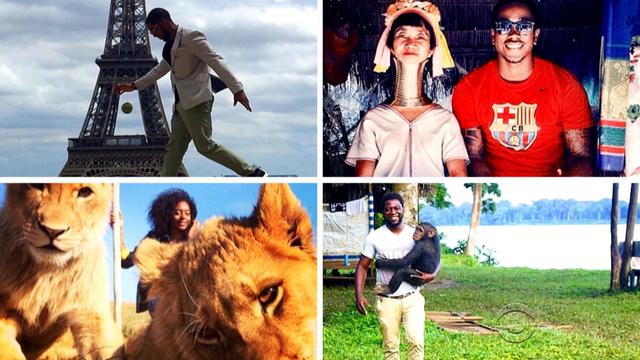 Online community targets jet-setting black millennials
An online global community called Travel Noire has become one of the go-to sites for black travelers in search of ideas of where to go, where to stay and deals to get there.
Since launching in 2013, it has sought to appeal to young black millennials with some cash to spend and a desire to see the world, reports CBS News correspondent Vladimir Duthiers.
"I thought about creating a community of people who looked like me, who loved to travel," Travel Noire founder and CEO Zim Ugochukwu said.
The 27-year-old said the idea for site came to her while she was living in India three years ago.
"I just didn't see anybody who looked like me. I had traveled to almost every country in Asia and we were still in a minority. And so I wondered why that was, I wondered why brands weren't spending money in this very influential market," Ugochukwu said.
She created Travel Noire to show travelers how to fly to destinations abroad without breaking the bank. African Americans spend $48 billion dollars a year on domestic travel, but Ugochukwu said that money is usually spent on the same vacation spots every year.
"To see myself in a destination that I wouldn't normally expect to see myself in, that's a trigger. And that means that same $5,000 that I was going to spend in the same destination I've been going to for 10 years, is going to be spent on this new destination," Ugochukwu said.
She said her site is different from others like Priceline or Orbitz.
"They sell tickets. They're a means to an end. So if you have the funds, then you purchase your ticket. What Travel Noire is offering is the difference between one vacation and seven vacations a year. We're teaching people about how to permanently integrate travel into their own lives," Ugochukwu said.
The company uses Instagram to reach a wider audience. Vacationers post photos with #TravelNoire and the account has more than 100,000 followers. In addition to photos from every corner of the globe, visitors on the website can find articles and videos on everything from how to pack properly or rack up airline miles.
The site also has a subscription service. For $9 a month, users can access Travel Noire District and seek advice through chat rooms with experienced travelers on every continent. District users are also able to take advantage of glitch fare notifications.
"Every day you get about 15 or so glitch or low fares," she said.
Errors, or glitches, in an airline's computer system can produce low ticket fares.
"Travel Noire has also taught me how to travel for a lot cheaper, a lot cheaper, let me tell you," subscriber Modupe Sonuyi said.
She received a glitch fare notification on Christmas Eve that she said she couldn't pass up.
"There was a glitch fare could take you to Abu Dhabi, Dubai, or Manila, Philippines. I decided to definitely capitalize on these glitch fares and bought a couple of tickets," Sonuyi said.
A round-trip ticket to the Philippines cost $280, she said.
"Since Travel Noire I have found so many different ways to travel," she said. "I'm not afraid to pick up and go."
They plan to launch a new product this week called Travel Noire Experiences that will offer guided tours in several destinations around the world.
Thanks for reading CBS NEWS.
Create your free account or log in
for more features.