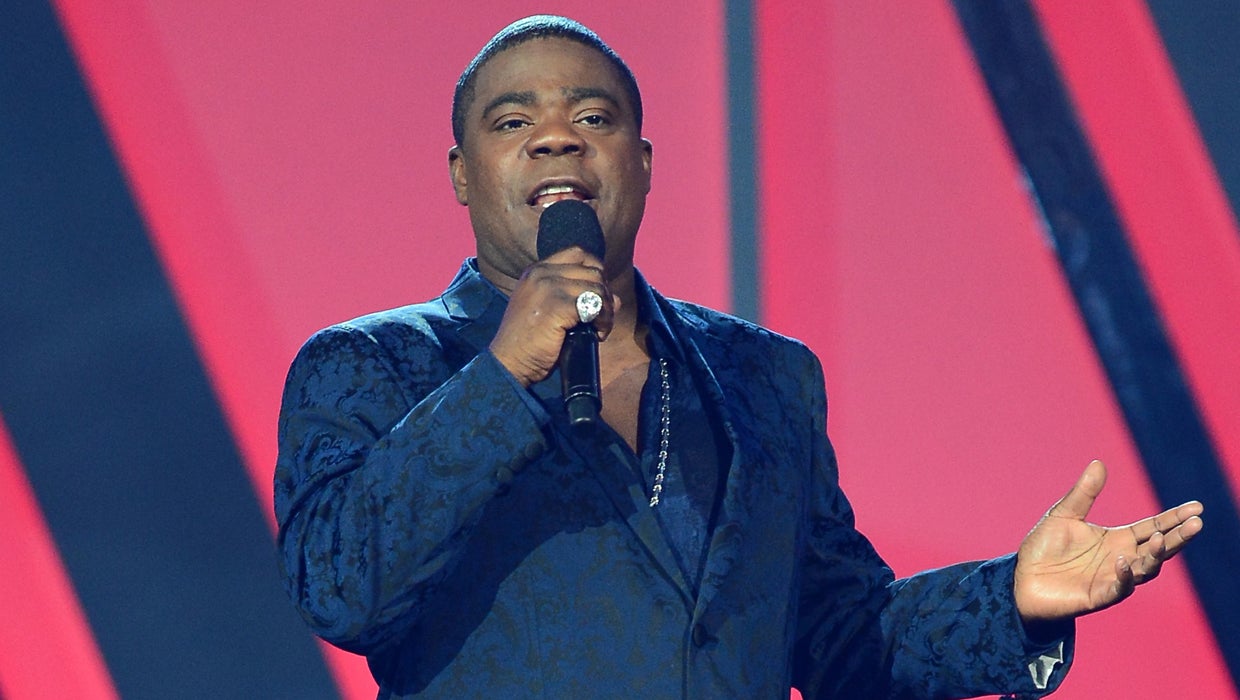 Tracy Morgan still recovering from brain injury, says lawyer
A lawyer for Tracy Morgan said Tuesday the actor-comedian is still recovering from a brain injury sustained in a highway crash in New Jersey more than five months ago.
Lawyer Benedict Morelli said Tuesday the former "Saturday Night Live" and "30 Rock" star suffered a traumatic brain injury in the June 7 crash on the New Jersey Turnpike, in addition to a broken leg, nose and ribs.
"He's fighting to get better, and if there's a chance for him to be back to the Tracy Morgan he once was, he's going to try to do that," Morelli said. "But we just don't know because of the severity of the injuries that he sustained and the fact that he had such a severe brain injury."
Lawyers were in court in New Jersey for a scheduling conference in Morgan's lawsuit against Wal-Mart.
A Wal-Mart truck slammed into the back of a limo van that was carrying Morgan and several friends on their way from a show in Delaware. One person was killed, and three others were injured, two seriously. Morgan spent several weeks in the hospital and in rehab.
Morelli didn't discuss specific aspects of Morgan's condition but said he hasn't fully recovered.
"When you have a traumatic brain injury it takes a very long time to find out how you're going to do and how much you're going to recover," Morelli said. "You just don't know. So that's where he is. He's still fighting and trying to live his life at the same time and trying to get better, and he's just not better. We're hoping and praying to get him back to where he was. But the jury's out."
Morgan sued for punitive and compensatory damages. In a response to the lawsuit filed in late September, Wal-Mart contended the victims' injuries were partly due to the fact that they weren't wearing seatbelts.
Morgan responded with the following statement: "After I heard what Walmart said in court I felt I had to speak out. I can't believe Walmart is blaming me for an accident that they caused. My friends and I were doing nothing wrong. I want to thank my fans for sticking with me during this difficult time. I love you all. I'm fighting hard every day to get back."
Morgan wasn't at Tuesday's proceeding, which was convened to settle on a schedule.
Truck driver Kevin Roper, who is not named in Morgan's lawsuit, was charged with death by auto and four counts of assault by auto in state court. Last Friday, he filed to have Morgan's lawsuit delayed while that case proceeds. A hearing on the matter is scheduled for mid-December.
A preliminary investigation by the National Transportation Safety Board released in June said Roper was driving 65 mph in the 60 seconds before he slammed into the van. The speed limit on that stretch of the New Jersey Turnpike is 55 mph and was lowered to 45 mph that night because of construction.
Thanks for reading CBS NEWS.
Create your free account or log in
for more features.