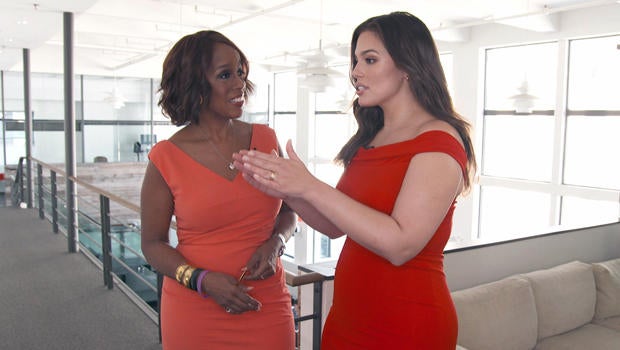 Top model Ashley Graham calls the term "plus-size" divisive to women
Ashley Graham, known throughout the world as a model who has gotten the industry to look at women's bodies differently, says she doesn't like the term "plus-size" to describe full-figured women, she tells CBS' "Sunday Morning," in an interview with "CBS This Morning" Co-Host Gayle King to be broadcast Dec. 3.
Graham, a businesswoman, model and author, was told early on she didn't fit into a modeling world known for stick-thin women. She tells King that agents told her she would never be on the cover of a magazine -- that she was "too fat." Graham was lumped into the catch-all "plus-size" category for models who didn't fit the usual mold.
"I think the word 'plus-size' is so divisive to women," she said. "I think that when you use the word 'plus-size' you're putting all these women into a category: 'You don't eat well.' 'You don't work out.' 'You could care less about your body.' 'You're insecure.' 'You have no confidence.'
"And that is none of this," she added, pointing proudly to her own body.
Graham opens up to King about her childhood in Nebraska; being bullied by schoolmates because of her body; how her mother taught her to love her body; and her marriage to cinematographer Justin Ervin.
The 30-year-old model, who has her own Barbie Doll and lingerie collection, believes she has struck a chord with women around the world, and cites being featured on one of the covers for the 2016 Sports Illustrated swimsuit edition as a significant mile-marker.
"Sports Illustrated decided to have curvy women not only in their magazine but on the cover of their magazine," Graham said. "Now that means size diversity is here and it's real and it's not a trend."
Still, despite her success in a field some said she'd never survive, Graham has an interesting response when she's asked by others how they, too, can become models:
"And I say to them, 'Why would you want to become a model? Why would you want to be picked apart all the time? Why don't you go be the editor?'" Graham told King. "Why not just strive to be, like, Anna Wintour? Or why not be a designer and tell models what to do all day!"
The Emmy Award-winning "CBS Sunday Morning," hosted by Jane Pauley, is broadcast on CBS Sundays beginning at 9:00 a.m. ET. Executive producer is Rand Morrison.
Be sure to follow the program on Twitter (@CBSSunday), Facebook, Instagram (#CBSSundayMorning) and at cbssundaymorning.com. "Sunday Morning" also streams on CBSN beginning at 9:30 a.m. ET, and is available on cbs.com, CBS All Access, and On Demand. You can also listen to "Sunday Morning" audio podcasts at Play.it.
For more info:
Thanks for reading CBS NEWS.
Create your free account or log in
for more features.