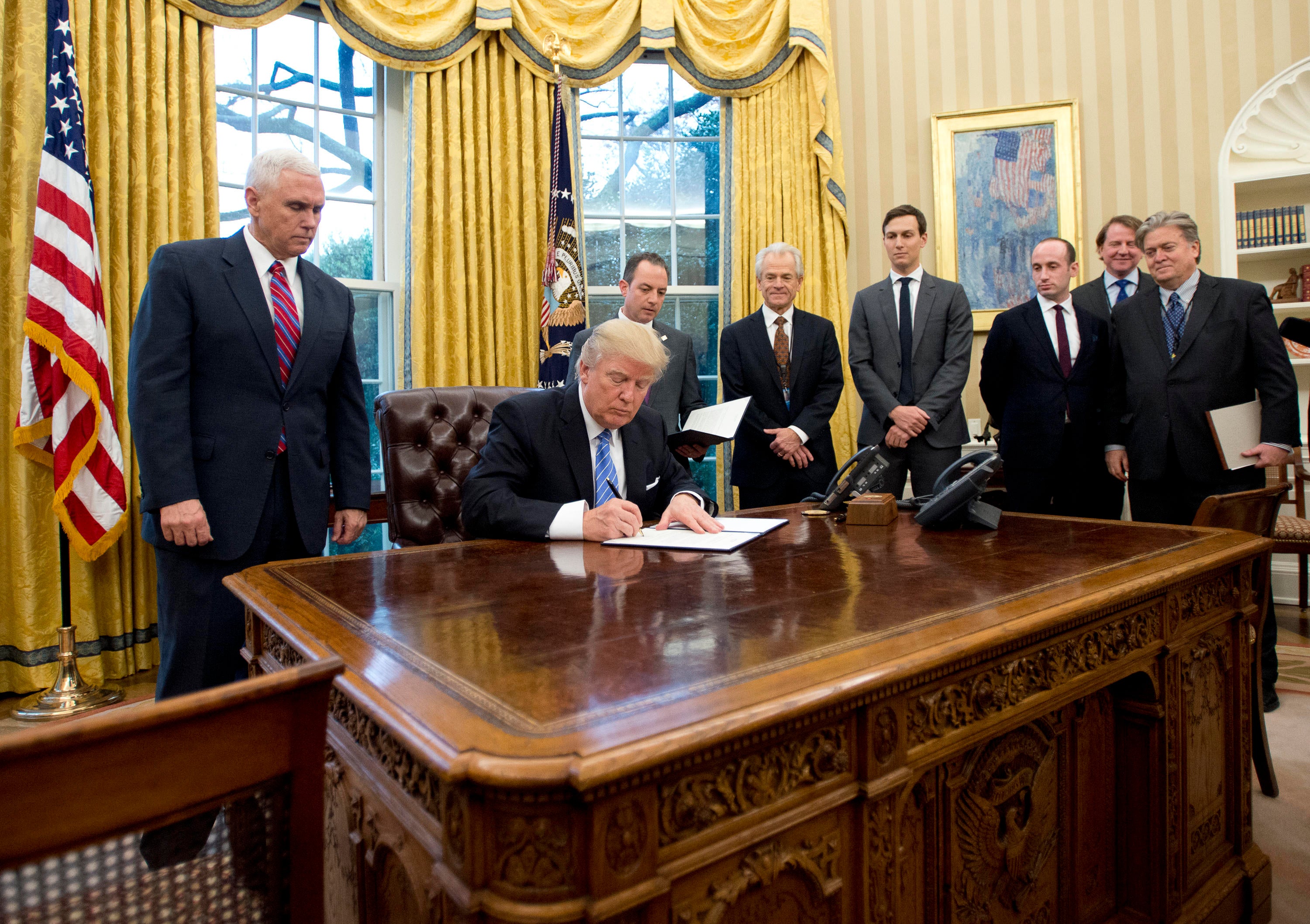 Top China expert: U.S.' "biggest strategic mistake" was exiting TPP
President Trump may have committed his biggest strategic blunder vis a vis China during his first full week in office, when, with a quick signature, he withdrew the United States from the Trans-Pacific Partnership trade deal, says top China expert Christopher Johnson.
"The TPP was the way to get China to address a lot of what we're now trying to get them to address with tariffs," said Johnson, who was for years a senior China analyst at the Central Intelligence Agency, and who now holds the Freeman Chair in China Studies at the Center for Strategic and International Studies.
"It may be the biggest strategic mistake the United States has ever made," he said.
The TPP, a signature policy achievement of former President Barack Obama, would have interconnected 12 nations – while excluding China – in an intricate set of trade rules meant to minimize regional dependence on Beijing while slashing tariffs. Congress never approved the accord – which President Trump, as a candidate, called a "horrible deal."
In an interview with Intelligence Matters host and CBS senior national security contributor Michael Morell, Johnson said senior Chinese officials were actively discussing opening up market access when they learned Japan was serious about TPP. "And then it went away in a moment," he said. "And that's why they have not moved forward in the ensuing couple of years."
The administration has, in the past several months, ordered successive rounds of tariffs on Chinese goods worth billions of dollars, each met with comparable retaliation from Beijing.
The increasingly competitive – and increasingly less complementary – economic relationship between the United States and China, Johnson said, is at the crux of tensions that are likely to escalate. "[The] economic relationship acted as a ballast," he told Morell. "[A]s a sort of stabilizer, shock absorber."
With the relationship now competitive, "China needs to go exactly where we need to go for their future economic benefit and competitiveness," Johnson said, including by achieving dominance in the industries and technologies of the future. "That's a fundamental change," he told Morell.
Growing economic tensions have also hardened the Beltway's security perceptions of Beijing, Johnson said, and in some corners may have provoked overreaction. "[T]here's definitely been a pronounced ground shift," he said, acknowledging that concerns about Chinese activities that range from intellectual property theft to traditional espionage efforts and influence operations are serious.
"But how do we react?" he asked. "Do we react with a freak-out, which I think is sort of what's happening in Washington right now? Or do we react calmly, define what our red line should be, operationalize those red lines, and get down to the business of executing policy?"
Johnson said the approach the United States ultimately opts to take toward China comes at a defining moment in the relationship, nearly 40 years after the diplomatic relationship was reestablished, and just as "gears are starting to lock into place in both leaderships' minds."
Whether perceptions that China is a Cold War-style, "implacable enemy" persist, or compromise is reached, he said, will depend on two main factors: first, that the existing trade deficit can be addressed to mutual satisfaction; and second, whether the two countries' battle for dominance in the 21st century 'knowledge economy' finds an equilibrium.
"There's no question that the relationship is going to go in one of two directions," Johnson said, adding that a crossroads was likely unavoidable even under a Clinton presidency – but at which the U.S. may have arrived more quickly under Trump.
"President Trump has undoubtedly been an accelerant for that process. And I think Xi Jinping, on his end, has been an accelerant for that process," Johnson said.
"In some ways it's intriguing how much the two of them are alike."
---
For much more from Michael Morell's conversation with Christopher Johnson, you can listen to the new episode and subscribe to Intelligence Matters here.
Thanks for reading CBS NEWS.
Create your free account or log in
for more features.