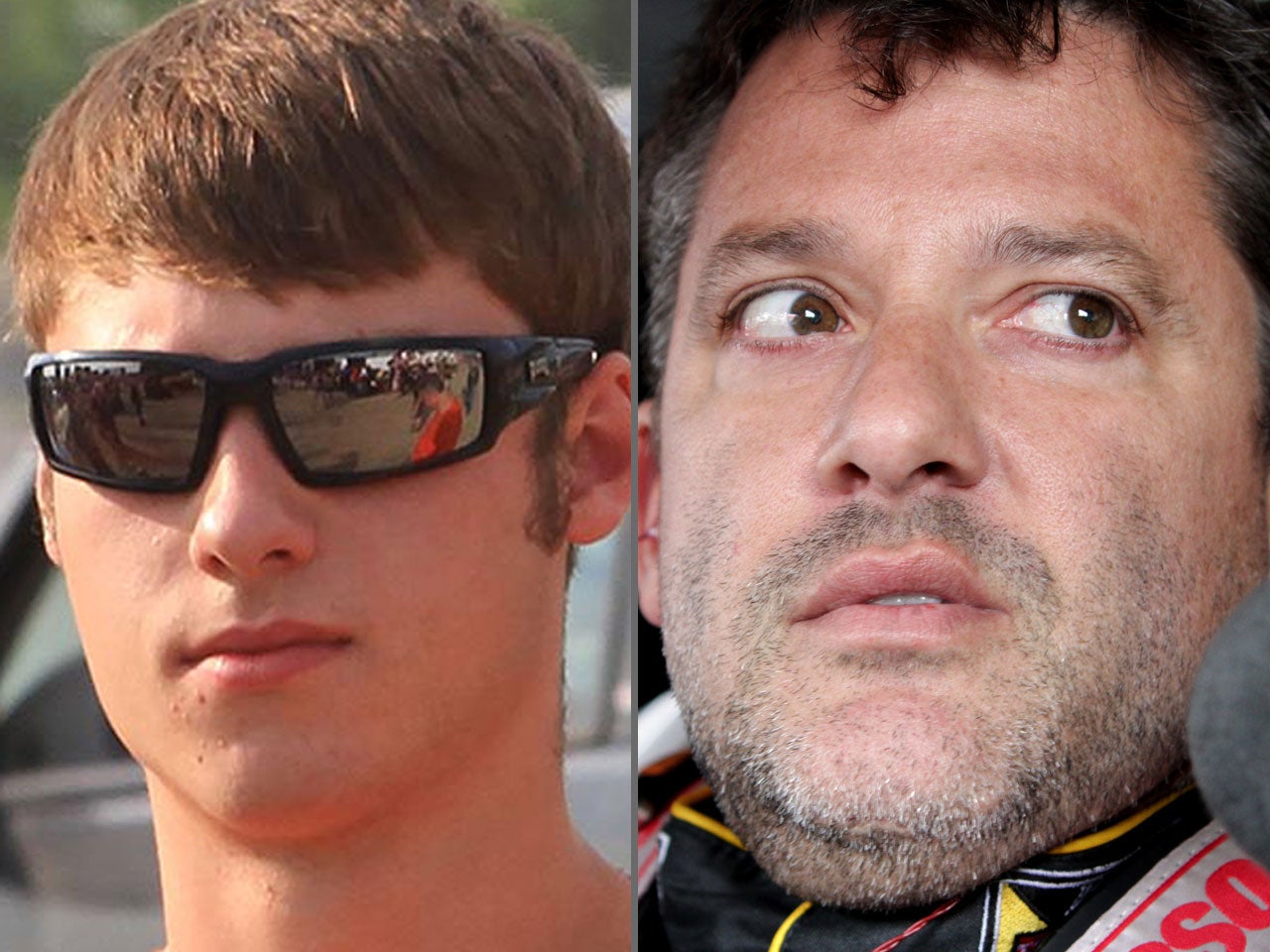 Tony Stewart questioned twice in criminal probe into fatal crash
CANANDAIGUA, N.Y. - The collision was as common as any in racing. Kevin Ward Jr.'s car spun twice like a top, wheels hugging the wall, before it plopped backward on the dimly lit dirt track.
In a sport steeped with bravado, what happened next was another familiar, but treacherous, move: Wearing a black firesuit and black helmet, the 20-year-old Ward unbuckled himself, climbed out of the winged car into the night and defiantly walked onto the track at Canandaigua Motorsports Park.
He gestured, making his disgust evident with the driver who triggered the wreck with a bump: three-time NASCAR champion Tony Stewart.
Ward, a relative unknown compared to NASCAR's noted swashbuckler, was nearly hit by another passing car as he pointed with his right arm in Stewart's direction. As he confronted Stewart in his passing car, disaster struck.
Ward was standing to the right of Stewart's familiar No. 14 car, which seemed to fishtail from the rear and hit him. According to video and witness accounts, Ward's body was sucked underneath the car and hurtled through the air before landing on his back as fans looked on in horror.
(WARNING: Video of the incident at left may contain images some viewers find upsetting.)
One eyewitness described the event to CBS affiliate WROC in Rochester as "surreal."
"You could see the driver, running down the track. And then after Tony went by, he wasn't there," Elton Smith said. "It took a few seconds to really understand what was going on."
Ward, who had been sprint car racing since 2010, was killed. Stewart, considered one of the most proficient drivers in racing, dropped out of Sunday's NASCAR race at Watkins Glen, hours after Saturday's crash. And the sport was left reeling from a tragedy that could have ripple effects from the biggest stock car series down to weeknight dirt track racing.
"There aren't words to describe the sadness I feel about the accident that took the life of Kevin Ward Jr.," Stewart said in a statement.
Ward's family also released a statement Sunday afternoon, according to ESPN, that read: "We appreciate the prayers and support we are receiving from the community, but we need time to grieve and wrap our heads around all of this."
Authorities questioned the 43-year-old Stewart once on Saturday night and went to Watkins Glen to talk to him again Sunday. They described him as "visibly shaken" after the crash and said he was cooperative.
On Sunday, Ontario County Sheriff Philip Povero said that investigators also don't have any evidence at this point in the investigation to support criminal intent. But he also said that criminal charges have not been ruled out.
The crash raised several questions: Will Ward's death cause drivers to think twice about on-track confrontations? Did Stewart try and send his own message by buzzing Ward, the young driver, only to have his risky move turn fatal? Or did Ward simply take his life into his own hands by stepping into traffic in a black firesuit on a dark track?
The only one who may have that answer is Stewart.
David S. Weinsten, a former state and federal prosecutor in Miami who is now in private practice, said it would be difficult to prove criminal intent.
"I think even with the video, it's going to be tough to prove that this was more than just an accident and that it was even culpable negligence, which he should've known or should've believed that by getting close to this guy, that it was going to cause the accident," he said.
The sheriff renewed a plea for spectators to turn over photos and videos of the crash. Investigators were reconstructing the accident and looking into everything from the dim lighting on a portion of the track to how muddy it was, as well as if Ward's dark firesuit played a role in his death, given the conditions.
Driver Cory Sparks, a friend of Ward's, was a few cars back when Ward was killed.
"The timing was unsafe," he said of Ward's decision to get out of his car to confront Stewart. "When your adrenaline is going, and you're taken out of a race, your emotions flare."
It's often just a part of racing. Drivers from mild-mannered Jeff Gordon to ladylike Danica Patrick have erupted in anger on the track at another driver. The confrontations are part of the sport's allure: Fans love it and cheer wildly from the stands. Stewart, who has a reputation for being a hothead nicknamed "Smoke," once wound up like a pitcher and tossed his helmet like a fastball at Matt Kenseth's windshield.
"I've seen it many times in NASCAR, where a driver will confront the other one, and a lot of times they'll try to speed past them. And that's what it appeared to me as if what Tony Stewart did, he tried to speed past Ward," witness Michael Messerly said. "And the next thing I could see, I didn't see Ward any more. It just seemed like he was suddenly gone."
The crash also raised questions about whether Stewart will continue with his hobby of racing on small tracks on the side of the big-money NASCAR races. He has long defended his participation in racing on tracks like the one where the crash happened, even as accidents and injury have put his day job in NASCAR at risk.
Saturday's crash came almost exactly a year after Stewart suffered a compound fracture to his right leg in a sprint car race in Iowa. The injury cost him the second half of the NASCAR season and sidelined him during NASCAR's important Chase for the Sprint Cup Championship. Stewart only returned to sprint track racing last month.
The crash site is the same track where Stewart was involved in a July 2013 accident that seriously injured a 19-year-old driver. He later took responsibility for his car making contact with another and triggering the 15-car accident that left Alysha Ruggles with a compression fracture in her back.
"Everybody has hobbies," he said last month, adding that "there are a lot of other things I could be doing that are a lot more dangerous and a lot bigger waste of time with my time off do than doing that."
Greg Zipadelli, competition director for Stewart-Haas Racing, said Stewart felt strongly he should not race after the wreck. Regan Smith replaced him in his car.
"We're racing with heavy hearts," Smith said.
Thanks for reading CBS NEWS.
Create your free account or log in
for more features.