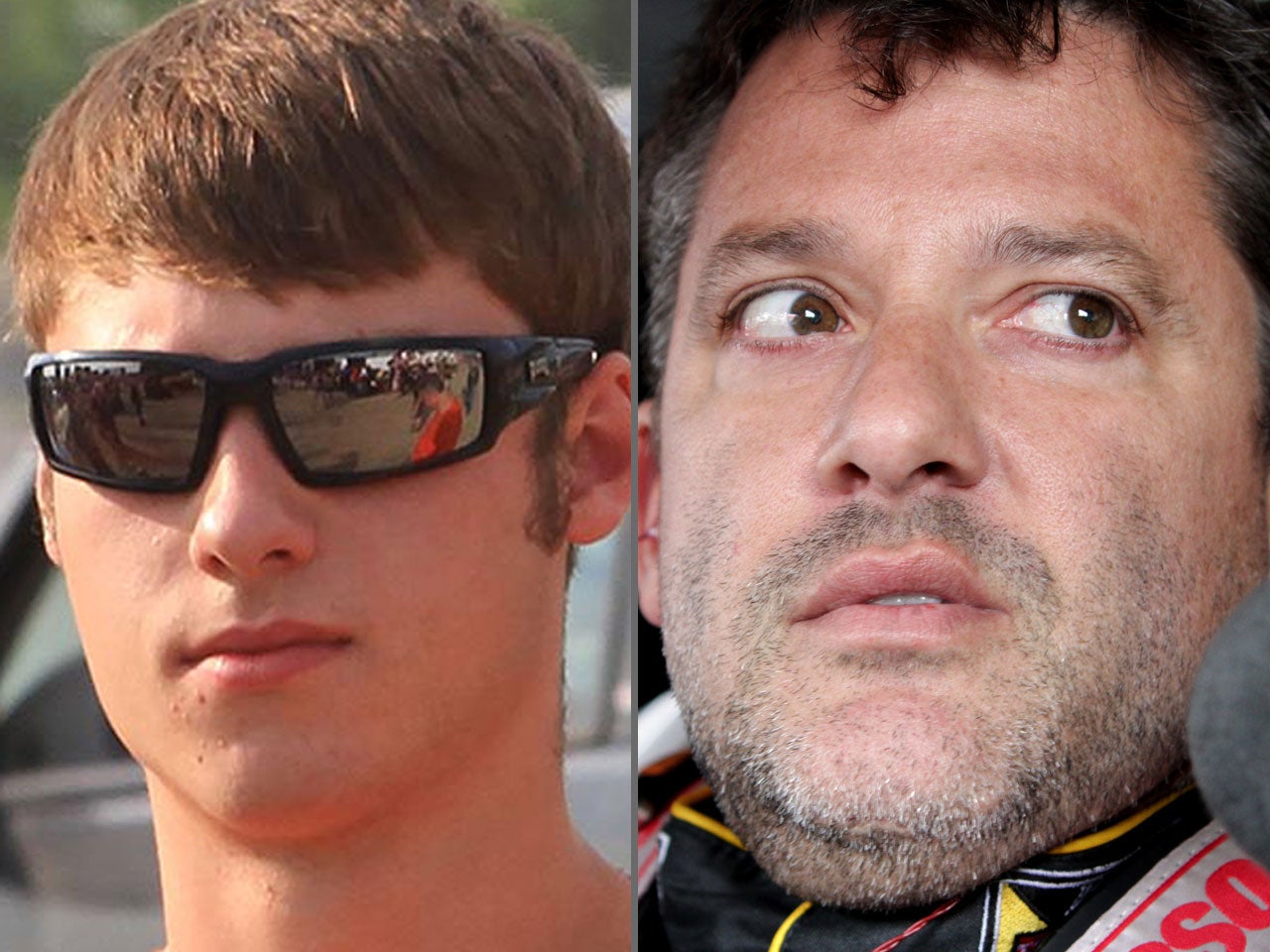 Tony Stewart again assailed by family of Kevin Ward Jr.
The aunt of the driver run over and killed by Tony Stewart last month in upstate New York said her nephew was not impaired before the fatal accident and again criticized the NASCAR star's actions that led to the crash.
Kevin Ward Jr. was sent into the wall when his car was bumped by Stewart's in a dirt-track race last month in Canandaigua. Ward got out of the car and walked onto the track, where he was hit by Stewart. The three-time NASCAR champ will not faces charges, prosecutors said last week in disclosing for the first time that Ward had enough marijuana in his system the night he died to impair his judgment.
In an open letter read to USA Today, Wendi Ward was critical of Stewart's actions after a caution was issued when Ward's car crashed.
"Tell me how a NASCAR star totally forgot what caution means," Ward wrote. "Maybe he should get a different headset so he is able to hear on the radio that the car in caution is up high, so go low. Or was he low until he rounded the corner and saw Kevin Jr. standing up for himself?"
Ward also dismissed the toxicology report that showed her nephew had marijuana in his system, saying it should not be an issue.
"It's known to mellow a person," she wrote. "We understand that the report showed marijuana, but we as a family don't believe he was under the influence or impaired at the time due to the 10 hours prior to the race that he spent with the family."
Although Stewart was cleared of criminal charges, he may still face a civil lawsuit. After the grand jury decision, Ward's mother released a statement to CBS News, saying the family "will pursue all remedies in fairness to Kevin."
"Our son got out of his car during caution while the race was suspended, all other vehicles were reducing speed and not accelerating, except for Tony Stewart who intentionally tried to intimidate Kevin but accelerating and sliding his car towards him causing this tragedy," Pamela Ward said.
Last month, Ward's father also lashed out at Stewart, telling a newspaper that "Tony Stewart was the best damn driver by far on the track that night. Why he had to go up as high as he did and hog my son, there's no reason for it."
On Monday, Stewart said that he has replayed the incident in his head every day but repeated that it was "100 percent an accident."
Stewart said he is disappointed that people are "picking sides" in the wake of the fatal crash.
"Picking sides doesn't solve or fix anything," he said. "It's a waste of time, instead of honoring a young man with a promising sprint car career. It's like watching people throw darts at each other. It's dividing people that on a daily basis would help each other. At the end of the day, it won't help people."
Thanks for reading CBS NEWS.
Create your free account or log in
for more features.