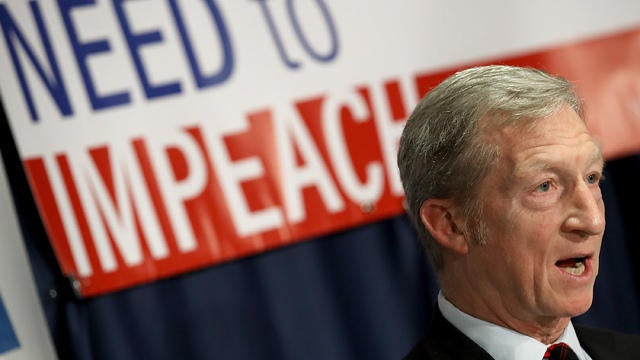 Tom Steyer announces $10 million drive to help Democrats
In an effort to help Democrats win control of the House of Representatives, billionaire liberal activist Tom Steyer and his "Need to Impeach" campaign announced a $10 million initiative to help mobilize members to vote Democratic in the upcoming 2018 midterm elections. Democrats need to flip 23 seats in order to gain the majority.
In a statement provided to CBS News, the campaign said that the $10 million "Need to Vote" initiative will be allocated to hire on-the-ground volunteer coordinators and run digital and letter-writing campaigns. The funds will also be used in a local and national television ad campaign that will run through Election Day.
Some of the funds will also be dedicated to organizing house parties and other events that Steyer will attend. Need to Impeach claims that it already has 5.5 million members.
"Midterm elections are about turning out your votes and making a statement," Steyer said in the statement. "That starts with more than 5.5 million people voting like never before. Our goal is to win and to send a message to Congress and Donald Trump alike that no one is above the law."
Steyer, who made the announcement in Lansing, Michigan via video conference, said many of the resources through the initiative will be distributed to competitive races across the nation.
"On average, we have 10,000 supporters in the country's most competitive House districts," Steyer said. "We expect many of these races will be decided by a few thousand, if not hundreds, of votes. That means that if our movement shows up in November, we can change who controls the House."
Kevin Mack, Need to Impeach's lead strategist, said this initiative is a "fifty state movement" aimed at every congressional district, but noted more resources will be available in the competitive districts.
"Winning the House is our top priority," Mack said. "We will have extra efforts in the 63 most competitive districts listed by the Cook Report and the national campaign committees."
Matt Gorman, the communications director at the National Republican Congressional Committee (NRCC), responded to the announcement saying impeachment, single-payer healthcare and immigration are issues that serve as a "litmus test" for the Democrats.
"Along with single-payer healthcare and abolishing ICE, impeachment is quickly a litmus test among Democrats. If voters want more dysfunction in Congress, then voting for Nancy Pelosi and Tom Steyer is the way to get it," Gorman said.
Thanks for reading CBS NEWS.
Create your free account or log in
for more features.