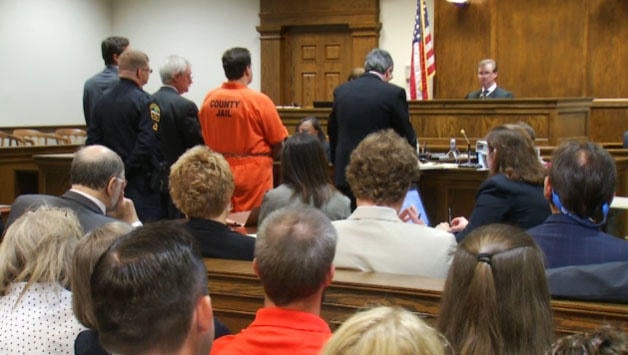 Todd Kohlhepp pleads guilty in 7 South Carolina slayings
SPARTANBURG, Va. -- A man who admitted killing seven people over nearly 13 years in South Carolina while running a successful real estate business has pleaded guilty to seven counts of murder and a number of other charges.
Todd Kohlhepp admitted his role in the deaths of seven people less than seven months after he was arrested when investigators checking on a missing couple rescued a woman "chained like a dog" inside a shipping container on his Spartanburg County property. "48 Hours" investigated the case in the episode, "Buried Truth."
The woman, Kala Brown, had been raped and locked inside the container for more than two months after Kohlhepp shot and killed her boyfriend, authorities said. Charles David Carter, 32, was the last of the seven murder victims.
CBS News does not normally identify victims of sexual assault, but Brown has spoken publicly about her ordeal. She said on the "Dr. Phil" show in February that Kohlhepp raped her daily during her captivity and bragged that he was good at killing, claiming that his victims numbered nearly 100.
Brown said she did what she had to do to survive.
"He told me as long as I served my purpose, I was safe," Brown told host Phillip McGraw.
According to the plea agreement signed by the 44-year-old Kohlhepp, he will serve seven consecutive life terms plus 60 years on kidnapping, sexual assault and other charges. He agreed not to appeal the sentence and will not be eligible for parole.
Kohlhepp admitted Friday that he killed four workers at Superbike Motorsports motorcycle store in Chesnee in 2003 after the manager made him angry. The victims were the owner, Scott Ponder, 30; Beverly Guy, 52; Brian Lucas, 30; and Chris Sherbert, 26. Guy was Ponder's mother and worked as a bookkeeper. Lucas was a service manager, and Sherbert was a mechanic at the shop.
Kohlhepp also admitted guilt in the deaths of a husband and wife who disappeared in December 2015. The bodies of 29-year-old Johnny Joe Coxie and 26-year-old Meagan Leigh McCraw-Coxie were found on Kohlhepp's land after his arrest. The couple had been hired to do work on Kohlhepp's property.
Kohlhepp was eligible for the death penalty, but the plea deal took that off the table.
No one has been executed in South Carolina in more than six years because the state lacks the drugs needed for lethal injections.
More than 50 family members and friends of the seven victims filled the courtroom Friday. About a dozen of them spoke, standing just feet from Kohlhepp. He didn't look at them, and many ignored him as well.
Johnny Coxie's mother said his 7-year-old son held out hope that his father was alive for months after he disappeared. Cindy Coxie said the worst day of her life came when she had to tell the boy that his father was dead.
"He hates you with his little heart," she told Kohlhepp.
Kohlhepp's lawyer, Shane Goranson, said his client hopes the plea agreement begins to bring the victims' families peace.
Brown didn't come to court. Her lawyer said she didn't want to see Kohlhepp. But she supported the plea deal because the death of another human being would give her no satisfaction or justice.
"As [Brown] said in one of her first meetings with the solicitor - he's the killer, not me," attorney Alex Stalvey said.
Lorraine Lucas, whose son's killing, along with three others, was unsolved for 13 years before deputies discovered Brown chained, also spoke.
"I just want him to go away," Lucas said.
Kohlhepp moved to South Carolina in 2001 after serving 14 years in prison after pleading guilty to kidnapping in Arizona. Authorities there said the then 15-year-old forced a 14-year-old neighbor back to his home at gunpoint, tied her up and raped her.
Kohlhepp had to register on South Carolina's sex offender registry, but told people it was a trumped up charge after a girl's father was angry about a joyride. Kohlhepp also lied about the felony conviction so he could get his real estate license in the state.
Friends and co-workers at Kohlhepp's real estate business said he was a hard worker with some strange habits. He would watch pornographic videos during work and joked on his firm's website that he motivated workers by not feeding them.
Kohlhepp's mother Regina Tague, in an emotional interview with "48 Hours," insisted her son is "not a monster."
Tague was found dead in her home last month. Her cause of death has not been released, but authorities have said no foul play is suspected.
Thanks for reading CBS NEWS.
Create your free account or log in
for more features.