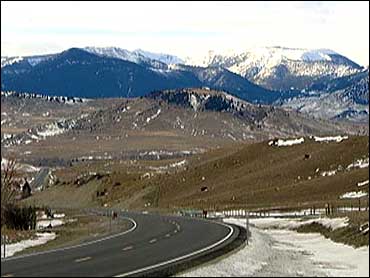 Nye, Montana.

Population 200.

A speck of a town so small, a highway sign says, "Entering and leaving Nye, Montana."

But Nye is as big on natural beauty as it is miniscule in size, as co-anchor Rene Syler discovered when

The Early Show series, "Tour My Town."

A tiny place in the south-central part of the state, some 30 miles north of Yellowstone National Park, Nye is nestled in the foothills of the Beartooth Mountains.

Surrounded by majestic mountains and with gorgeous waterways adding to the splendor, locals will tell you Nye isn't even a town, it's a community.

Former resident Danielle Mudd invited The Early Show to visit, saying even though she doesn't live there anymore, Nye is "the town where my heart lives."

"The grandeur of the mountains, the Stillwater river, there's nothing like it, it's beautiful," remarked one resident to Syler.

Nye's population may be sparse but, Syler observes, its history is rich. Crow Indians lived there until the late 1800s, when homesteaders arrived to stake their claim to the Wild West. Nye was a mining town before ranchers headed west.

It still has a mine owned by the Stillwater Mining Company, one of the world's leading producers of platinum group metals and the only significant primary producer of palladium in the Western Hemisphere.

Nye's one store is a trading post locals call "The Nye Mall," where you can get almost anything: popcorn and a movie, that missing screw, even a snowshoe.

Nye, Syler says, really is the middle of nowhere.

It has one saloon, and only one "pop" (soda) machine. Also, no cell service and certainly no Blackberry capability, Syler notes.Its school is a one-room schoolhouse built in 1931.

The teacher, Kathy Currie, had been doing that in Michigan for 28 years when she decided to head west, in search of adventure. What she found was the old-fashioned school, about to celebrate its 75th anniversary.

"I quit my job on a Friday in Michigan, and on Tuesday morning, I had the house, the job, the whole thing," she told Syler.

Only four students, all girls, attend Nye Elementary School: three third-graders and a kindergartner.

The only boy is Charley, the schoolhouse dog, and even he doesn't get that much attention: The girls have way more pets at home than they do classmates.

Nye's wide-open spaces are exactly what Keith Martin likes about living there. The land cast a spell on him. Despite his struggles as a rancher to make ends meet, he's there to stay.

What's his favorite time of year?

"I think springtime. Calving's over, and the green grass is coming. Of course, they always claim, if you make it to green grass, you'll make it the rest of the year, you know."

Working the land gets harder every day for a man who's 71, and it would be tempting to move away where life is easier. In fact, Martin tried that once but, "I mean, who could want to leave? Once you know where it is, you know."

A footnote: Syler says Danielle Mudd, who wrote urging The Early Show to come, got married last month and is now Ms. Danielle Watson.

Thanks for reading CBS NEWS.
Create your free account or log in
for more features.