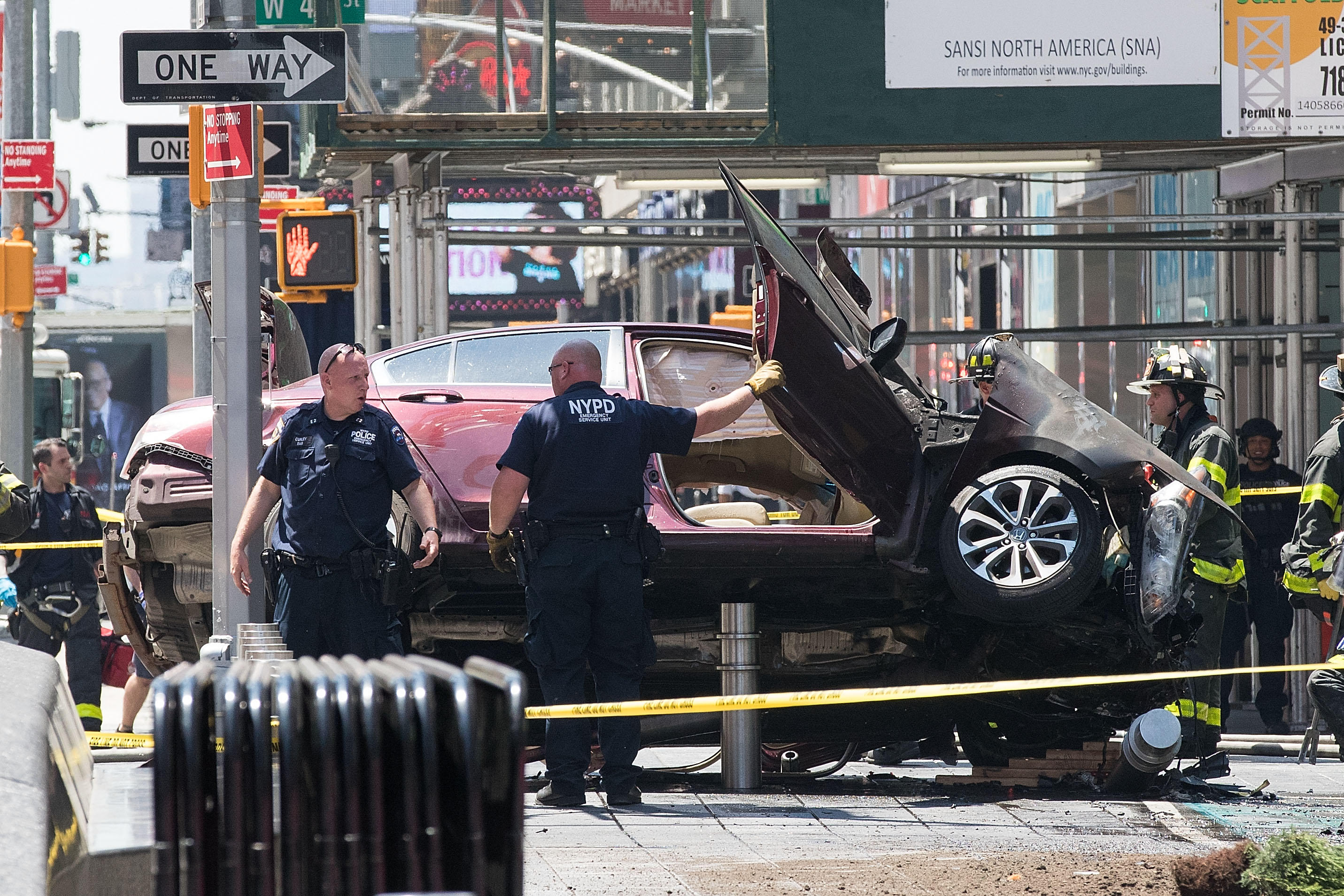 Car slams into pedestrians in Times Square, killing 18-year-old woman
NEW YORK -- At least one person was killed and 22 others injured after a car drove through a crowd of pedestrians in Times Square just before noon Thursday.
The driver, 26-year-old Richard Rojas from the Bronx, is in custody and has two prior arrests for driving while intoxicated, officials said. Rojas was charged Thursday night with one count of murder in the second-degree and 20 counts of attempted murder, NYPD Commissioner James P. O'Neill said in a statement.
Rojas made a U-turn onto a sidewalk in Times Square, William Aubry from the New York Police Department said. The car traveled on the sidewalk for three blocks, striking and killing Alyssa Elsman, an 18-year-old woman from Michigan.
Public school officials and a member of the Elsman family confirmed to CBS News that Elsman was killed in the crash. She graduated from Portage Central High School in Portage, Michigan, in 2016. Her 13-year-old sister was injured in the incident.
Speaking to reporters Thursday afternoon, Mayor Bill de Blasio said the crash was not an act of terror.
"Based on the information we have at this moment, there is no indication this was an act of terror," de Blasio said.
Rojas had been arrested in 2008 in Queens and 2015 in Manhattan for drunk driving, officials said at the press conference.
Rojas is a U.S. citizen and former member of the armed services. He served in the Navy from July 2011 to March 2014, CBS News correspondent David Martin reports. He spent two months in military prison in Charleston, South Carolina, after being court martialed.
He was transported to a facility to be tested for drugs and alcohol.
"Today's events at Times Square were nothing short of horrific," Gov. Andrew Cuomo said. "As facts continue to emerge, my heart goes out to the victims of this terrible tragedy, as well as their families."
President Trump has been briefed on the situation, White House press secretary Sean Spicer said.
The car, a red Honda, came to a stop after slamming into a row of security barriers. Rojas allegedly emerged from the car and was tackled by bystanders and police officers and taken into custody.
"The driver tried to run from the scene, and the bouncer from Planet Hollywood hit him, so we jumped on top of him and ripped his shirt, wanted to make sure he had no gun or knife on him," a ticket agent told CBS New York.
The area was packed with New Yorkers and tourists enjoying unseasonably warm temperatures at lunch hour. The car came to rest on top of the security barriers that protect pedestrian plazas in Times Square, which is open to limited vehicle traffic.
"The car just came and hit the pole out of nowhere," a witness told CBS New York. "Everybody was just running. Everybody was concerned for their lives."
"We saw that the car was up on its side and there was smoke and flames coming out of the top of the roof and it was coming out of the bottom also and the police rushed over here and pushed us all back across the street they said it could be a possible bomb or the car could explode, but they had it under control pretty quickly," Val Ashton from Atlanta who saw the aftermath told CBS New York.
Thanks for reading CBS NEWS.
Create your free account or log in
for more features.