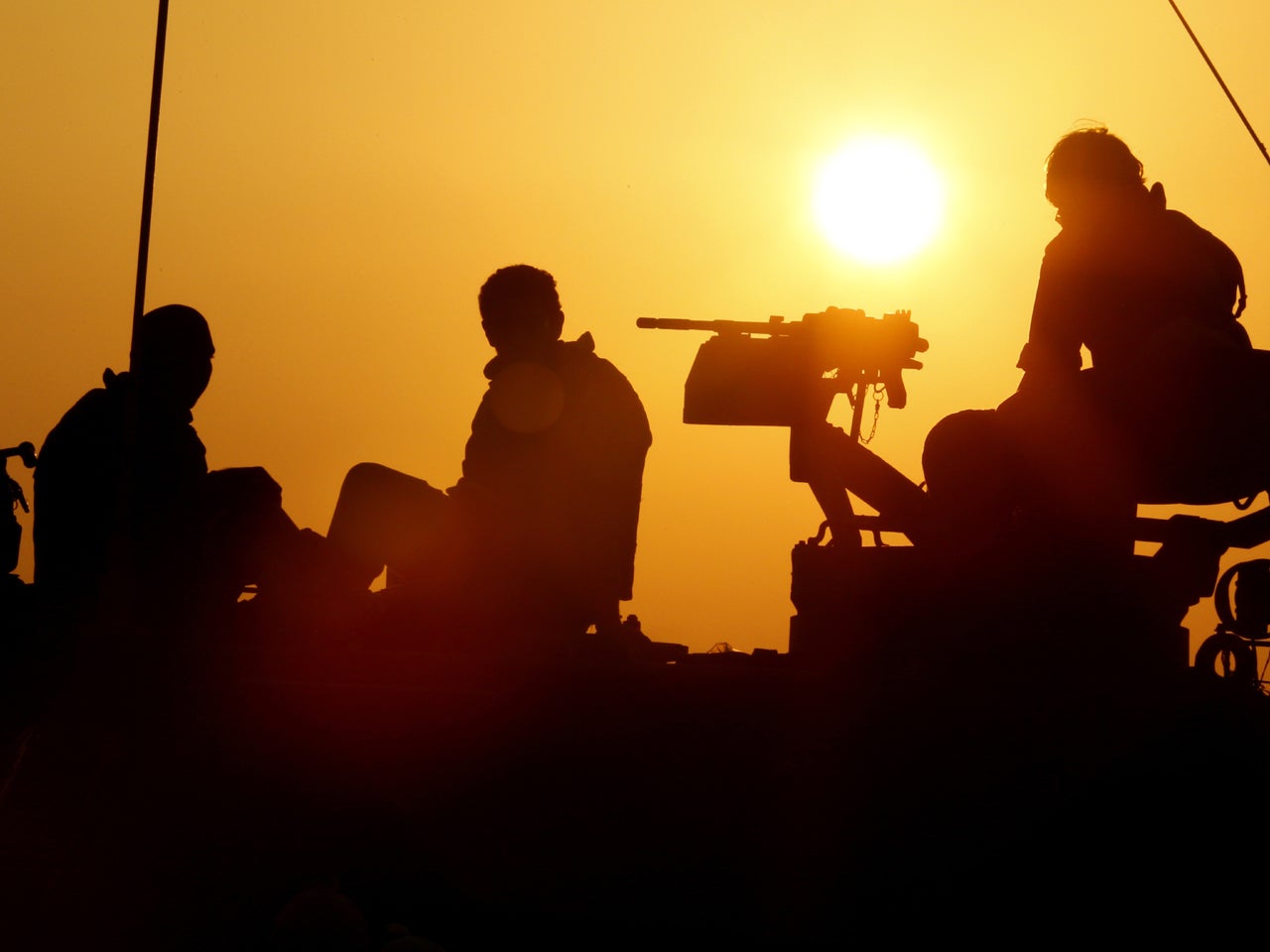 Timeline of recent Israel-Gaza violence
While violence between Israel and the Gaza Strip has escalated in recent days, tensions between the Jewish State and the Palestinian territories have long existed. The Israel Ministry of Foreign Affairs says that over 830 rockets launched into southern Israel from Jan. 2011 - Nov. 2012. According to the Israeli human rights organization B'tselem, 319 Palestinians were killed between January 2009 (the conclusion of Israel's last major operation, "Cast Lead") and October 2012. Fifteen Israeli civilians and 5 security forces were killed by Palestinians in the same time period, the organization reports.

This timeline is about Israel's Operation Pillar of Defense and begins with the assassination of Ahmed Jabari, head of Hamas' military wing. Jabari's death comes after weeks of rocket launches, border confrontations, casualties and tit-for-tat violence from both sides, although the killing of a high-profile Palestinian official brought Israel and Gaza's longtime dispute into the international spotlight. Since Israel's military operation began on Nov. 14, 5 Israelis and 161 Palestinians were killed.

Here's a look at the most recent developments:

Nov. 14, 2012: Israel launches Operation Pillar of Defense in response to days of rocket fire out of Hamas-ruled Gaza. The offensive, which included 20 airstrikes, resulted in the assassination of Ahmad Jabari, the military commander of Hamas; he had been long on Israel's most wanted list for several deadly attacks and the kidnapping of Israeli soldier Gilad Schalit in 2006.

Gaza's health minister said 10 were killed and 45 wounded. The United States lent its support to Israel's right to defend itself. Egypt's president Mohammad Morsi responded by recalling the country's ambassador and asked the Arab League's secretary general to convene an emergency ministerial meeting

Nov. 15, 2012: Israeli aircraft, tanks and naval gunboats pounded the Hamas-ruled Gaza strip and rocket salvoes thudded from Gaza into southern Israel, as terrified residents on both sides of the frontier holed up at home in anticipation of heavy fighting on the second day of Israel's offensive against Islamic militants.

Fighting between the two sides escalated sharply after militants launched rockets into the Tel Aviv area, menacing Israel's heartland and demonstrating Hamas' long-range missile capabilities. At least one rocket never made it to the ground -- Israeli officials said they believe it went into the sea -- and another hit an open area in Rishon Lezion, south of Israel's commercial capital. No casualties were reported in those attacks, but three Israelis died in the country's rocket-scarred south when a projectile slammed into an apartment building. Militants aimed over 400 rockets into the south.

The death toll in the densely populated Palestinian territory climbed to 19. Israel reported it struck over 350 targets since the operation began. Israeli Prime Minister Benjamin Netanyahu said the army was hitting Hamas hard with what he called surgical strikes, and warned of a "significant widening" of the Gaza operation.

Nov. 16, 2012: For the first time in the three days of intense clashes, air raid sirens sounded in Jerusalem. Hamas claimed to have fired three rockets from Gaza toward the city, which is home to both Jews and Israeli-Arabs. Israeli officials said a rocket had landed in Gush Etzion, an area about 10 miles south of Jerusalem, but caused no injuries. Nonetheless, the attack shows the escalating clashes getting closer to the city. A rocket has yet to hit the heart of Jerusalem.

Earlier that day, hopes for a three-hour ceasefire were dashed when Israel said its air force had bombed the house of a Hamas commander in the Gaza Strip. The bombing came after militants fired more than a dozen rockets toward southern Israel during a brief visit by Egypt's premier to the Palestinian territory. Meanwhile, an Israeli Defense Force spokesman said that a Hamas militant program to build and launch drone aircraft has been destroyed. That same day Defense Minister Ehud Barak sought approval to mobilize up to 75,000 reservists, Reuters reported

.

Nov. 17, 2012: Israel expanded its fierce air assault on rocket operations in the Gaza Strip, striking Hamas government and security compounds, smuggling tunnels and electricity sources. It slowly expanded its operation beyond military targets and before dawn, the Gaza Interior Ministry reported, missiles smashed into two small Hamas security facilities as well as the massive Hamas police headquarters in Gaza City, setting off a huge blaze that engulfed nearby houses and civilian cars parked outside. No one was inside the buildings at the time.

By now, Israel has carried out 750 airstrikes since the campaign began on Nov. 14, while militants unleashed 500 rockets against Israel. Eight Israelis, including five civilians, were lightly wounded Saturday, the Israeli army said. On that same time, Israel's "Iron Dome" rocket-defense system knocked down a rocket headed toward Tel Aviv.

Nov. 18, 2012:Civilian casualties in Gaza began to shoot up, after Israel said it was stepping up attacks on the homes of suspected Hamas activists. After that warning, an Israeli missile flatted a two-story house in a residential area of Gaza City, killing at least 11 civilians, most of them women and children. the new tactic ushered in a risky phase of the operation, given the likelihood of civilian casualties in the crowded territory of 1.6 million Palestinians.

Meanwhile, an Israeli envoy was whisked from the tarmac at Cairo's international airport to talks with senior Egyptian security officials. The top Hamas leader in exile Khaled Mashaal held talks with Egyptian President Mohammed Morsi, who also spoke by phone with the Hamas prime minister in Gaza, Ismail Haniyeh.

Nov. 19, 2012: Israel and Gaza's Hamas rulers traded fire and tough cease-fire proposals, and threatened to escalate their border conflict if diplomacy fails, but no deal appeared near. An Israeli airstrike targeting a Gaza media center killed a senior militant and engulfed the building in flames, while Gaza fighters fired 95 rockets at Israel, nearly one-third of them intercepted by an Israeli missile shield. A total of 38 Palestinians were killed, bringing the death toll since the start of Israel's offensive to 111, including 56 civilians.

Egypt was at the center of a flurry of diplomatic activity as Egyptian intelligence officials met separately in Cairo with an Israeli envoy and with Khaled Mashaal, the top Hamas leader in exile. U.N. chief Ban Ki-moon arrived in Cairo and was to meet with Israeli President Shimon Peres on Tuesday. Also, President Barack Obama called Egyptian President Mohammad Morsi and Israeli Prime Minister Benjamin Netanyahu on Monday to discuss the ongoing violence in the Middle East. The White House said Obama also expressed regret for the deaths of Israeli and Palestinian civilians in his calls with both leaders

Nov. 20, 2012: U.S. Secretary of State Hillary Clinton rushes to Jerusalem from Cambodia for a late-night meeting with Israeli Prime Minister Benjamin Netanyahu, where she calls for a "durable outcome." Netanyahu said that he preferred a diplomatic solution to the conflict between his country and Hamas militants, but also said that Israel would "take whatever action is necessary to protect its people."

There were mixed reports of a truce announcement throughout the day. Earlier Tuesday, an unnamed adviser to Egyptian President Morsi told CBS News correspondent Clarissa Ward he believed some agreement would be reached Tuesday evening, but it never came. Another spokesperson for Morsi later said the delay was due to an Israeli request to postpone the announcement until Wednesday. A source close to Hamas said Israel wants Hamas to stop rocket fire for an initial 24 hours, and then the Jewish state would theoretically meet some of the militant group's demands. But Israel is wary of Hamas' key demand -- uplifting a blockade -- because it fears an influx of weapons into the hands of militants.

A Palestinian rocket hit a house in the central Israeli city of Rishon Lezion, wounding two people and badly damaging the top two floors of the building. In a separate attack in the south, and Israeli soldier and civilian contractor were killed. An Israeli airstrike late in the day killed two journalists who work for the Hamas TV station, Al-Aqsa, according to a statement from the channel.

CBS News correspondent Charlie D'Agata reported from Gaza that militants shot dead six Palestinians suspected of collaborating with Israel. One body was dragged through the street as people cheered. D'Agata also reported that Israel dropped leaflets onto neighborhoods warning civilians to leave ahead of a strike, but Hamas called it "psychological warfare" and urged residents not to leave.

Of the 135 Palestinians killed so far, Gaza health officials said 54 were civilians. Some 840 people have been wounded, including 225 children, in the Israeli air onslaught that has so far included nearly 1,500 strikes.

Nov. 21, 2012:

Israel and the Hamas militant group agreed to a cease-fire Wednesday to end eight days of the fiercest fighting in nearly four years, promising to halt attacks on each other and ease an Israeli blockade constricting the Gaza Strip. The deal was brokered by the new Islamist government of Egypt. Under the agreement, Egypt will play a key role in maintaining the peace.

In Jerusalem, Israeli Prime Minister Benjamin Netanyahu confirmed the deal, saying he had agreed after consulting with President Barack Obama. The White House said that President Obama praised Netanyahu for agreeing to the Egyptian cease-fire plan "while reiterating that Israel maintains the right to defend itself." It also said the United States will use the opportunity offered by a ceasefire to intensify efforts to help Israel address its security needs, especially the smuggling of weapons and explosives into Gaza.

According to a copy of the agreement obtained by The Associated Press, Israel and all Palestinian militant groups agreed to halt "all hostilities." For the Palestinians, that means an end to Israeli airstrikes and assassinations of wanted militants. For Israel, it brings a halt to rocket fire and attempts at cross-border incursions from Gaza.

The announcement comes hours after a bomb exploded aboard an Israeli bus near the nation's military headquarters in Tel Aviv on Wednesday, wounding 27 people. The blast, which left the bus charred and its windows blown out, was the first bombing in Tel Aviv since 2006. It appeared aimed at sparking Israeli fears of a return to the violence of the Palestinian uprising last decade, which killed more than 1,000 Israelis in bombings and shooting attacks and left more than 5,000 Palestinians dead as well.

The relentless bombing of Gaza overnight completely destroyed the Hamas interior ministry. One of the strikes, at 2 a.m. local time, blew the windows out of CBS News correspondent Charlie D'Agata's hotel room. He writes here about the challenges of covering this conflict from inside Gaza.
Thanks for reading CBS NEWS.
Create your free account or log in
for more features.