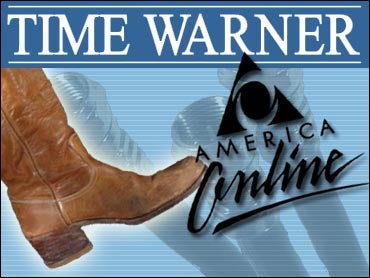 Time Warner Drops AOL Name
Acknowledging the failures of the largest merger in U.S. history, the board of AOL Time Warner Inc. voted Thursday to remove "AOL" from the company's name.
The largest media and entertainment company in the world will now be called Time Warner Inc., as it was before the merger announced in January 2000 that was billed as a way to jump-start a media revolution by combining "old" and "new" media companies.
"We believe that our new name better reflects the portfolio of our valuable businesses and ends any confusion between our corporate name and the America Online brand name for our investors, partners and the public," chief executive Richard Parsons said in a statement.
The name change will be phased in over the next several weeks, and will affect the company's logos, the way promotes its brands and even its ticker symbol. It is currently "AOL" but will revert to "TWX."
The change will also affect the name on the company's new headquarters building, a gleaming 80-story structure in Manhattan's Columbus Circle currently known as AOL Time Warner Center. The building is nearly complete and will be opened to its first occupant, the Mandarin Oriental Hotel, in the fall. Time Warner plans to move in next spring.
The pioneering Internet company America Online was once seen as a catalyst to breathe new life into the various media properties of Time Warner, including HBO, Time magazine and the nation's No. 2 cable company, Time Warner Cable.
Now, AOL is the company's biggest embarrassment. AOL is still profitable, on track to make nearly $1 billion this year, but it's facing a host of problems, including a regulatory inquiry into its accounting and an eroding subscriber base as users drop AOL for faster connections to the Internet.
With hopes for a media revolution now a distant memory, the company will focus on simplifying its tangled corporate structure, cleaning up its balance sheet, and selling off businesses in order to pay down debt and allow more attention to be paid to its core businesses.
This week the company announced its latest asset sale, a deal to sell two Atlanta teams, the NBA's Hawks and the NHL's Thrashers, to a Boston businessman for $250 million. AOL has also sold off a DVD manufacturing facility and its half-interest in the Comedy Central cable channel.
AOL Time Warner first indicated that it was considering a name change last month.
Since the $112 billion merger took place in January 2001, AOL has been damaged by what proved to be grossly overvalued stock, a huge debt and an ongoing federal probe of allegations that the online giant artificially inflated revenue and profits. It also faces more than 30 shareholder lawsuits.
AOL's woes have been a major drag on the combined company, and executives at the "old" Time Warner have pressed Parsons to get rid of the AOL name.
The Washington Post reported that senior executives decided to minimize the embarrassment of dropping the AOL name by having AOL chief executive Jonathan F. Miller call for the change.
"Dick Parsons and senior management are considering a name change as a result of the America Online request," Mia Carbonell, a spokeswoman for AOL Time Warner, said last month.
Having the corporate name shortened to Time Warner would also "make it less confusing for AOL members," she said, because they would then be able to separate America Online from the parent entity.
The Post quoted Time Warner sources as saying the name change was not the prelude to an effort to sell AOL.

Thanks for reading CBS NEWS.
Create your free account or log in
for more features.