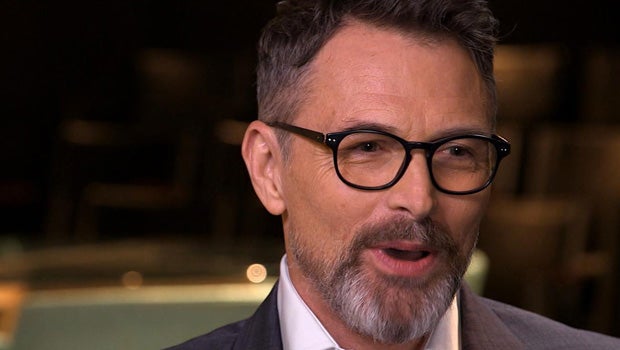 ​Tim Daly's most important role: Father
Tim Daly's role as the Secretary of State's husband on "Madam Secretary" is only the most recent in a career that started 50 years ago -- when he was only 10. Anna Werner has our Sunday Profile:
On the CBS series "Madam Secretary," Tim Daly plays a professor-turned-intelligence officer, and the husband to Tea Leoni's Secretary of State ... a role Daly says he likes because his character is honest, funny and above all, not subservient.
"I have guys come up to me all the time and say, 'Thank God you are playing a competent man. Thank you for being someone who's, you know, strong and can fix stuff where the house doesn't burn down if his wife goes away," he said.
It's a complex character, and one that suits this veteran actor from a family of actors.
Tim's father, James, co-starred in the 1970s series "Medical Center." His mother, Hope, was a respected stage actress. And big sis Tyne Daly? She won fame playing Lacey in "Cagney and Lacey."
It was only natural then that Tim's first TV role in 1966, at age 10, was a family affair -- a job with his dad in a production of "An Enemy of the People."
"I had no idea what I was doing. You can see me looking right into the camera!" he laughed. "And they apparently didn't have enough money or something to edit me out."
He says growing up in an acting family definitely shaped his outlook. "When you're in the third grade play, most of the time your parents or grandparents are squeezing your cheeks and saying, 'Oh, you were so cute! You were adorable! I love you!' And for me, I got notes, right? It was like, 'Listen, if you hold that line until you walk downstage, you're gonna get a laugh.'"
Daly's real career began in theatre, but his big break came when he snagged a key role in the classic buddy film, "Diner," where he joined a few other "unknowns" including Mickey Rourke and Kevin Bacon.
"It was the beginning of a lot of people's careers. It was terrifying for me because I didn't know anything about film."
But that didn't stop him from becoming a major success in the 1990s television series "Wings."
"As I run into it now when I'm flipping channels late at night, I watch it and I think, this show is freakin' hilarious!" he said. "All the ink and all the attention and all the adulation went to 'Seinfeld' and 'Cheers' and 'Friends' and all these other shows. So we sort of felt like the red-headed stepchild."
A stepchild "Madam Secretary" definitely is not -- and that on-screen marriage has also led to an off-screen romance with his co-star.
Daly: "When I tell you I'll take care of it, I'll take care of it. I'm going to back to bed."
Leoni: "... I can be a few minutes late today."
Werner asked, "Do you get tired of the questions about your relationship with Tea Leoni?"
"Well, I don't get asked that often, I think 'cause people are scared."
"I guess I'm not scared!"
"Well, people have been scared, but this is the thing: my romantic successes and failures, both, are private, and I would like you and whoever else out there who cares to just be really happy for me."
He's not only uncomfortable with these questions; he says he can also be uncomfortable around others.
Werner said, "Meeting you in person, you don't seem shy. But you've said that you are very shy."
"I'm very shy. I deal with it by being an actor, by putting myself in public, but inside I am shy. and I feel sort of embarrassed about myself, I guess."
"Embarrassed about?"
"Yeah. You know, we all have feelings of inadequacy, and I struggle with that."
And it is acting that pulled Daly through his other personal struggles as well. He battled alcoholism in his 20s, remaining sober ever since. And although his parents divorced when he was nine, there was one secret he found out about years later that still affects him:
"My dad left when I was a very young man, a young boy, and I didn't see him very much. You know, my parents had a long and difficult marriage, mostly because my father was gay. Not many people know this.
"But given the wisdom of that era -- the medical, psychological and societal wisdom of that time, which was all false -- being homosexual was a disease, right, that could be cured," Daly said. "My father worked very hard to try to 'cure' himself of something that was incurable, and so did my mom. And it was very sad.
"So when he left, my parents made a mutual decision based on all this false information that they would limit my exposure to my father so that I would not contract this 'disease.' And it was a tragedy, as I look back on it, because my father had the means and the desire to see me, and I loved him desperately. And I saw him maybe a couple weeks a year."
It wasn't until he was 19, Daly says, that his father told him the truth. And just two years later --
"We were about to do a play together, a summer stock tour. And my father died on the day we were going to begin rehearsals. So it felt like this momentous point in my life where I was about to really get to know him as a man, and the universe intervened, and there was this moment where the torch was passed, and I was now the man. So, you know, I was sort of robbed of the opportunity to really get to know my dad."
Werner said, "So I bet with your own son that it's been really important to you to be close to him."
"Oh, gosh, I mean, both my kids."
And so involved with his kids, Sam and Emelyn -- also actors -- that he and his son even have a web series together called, what else? "The Daly Show."

"We have an inordinate amount of fun -- we laugh like maniacs," Daly said of the series, which he described as "this bizarre alternate universe version of our own life."
And daughter Emelyn should be joining the family business soon; she just graduated acting school.
So what's Tim Daly's favorite role? "If there's anything I wanna be known for, it's hopefully for being a good dad to my kids, 'cause there's nothing more important to me."

For more info:
Thanks for reading CBS NEWS.
Create your free account or log in
for more features.