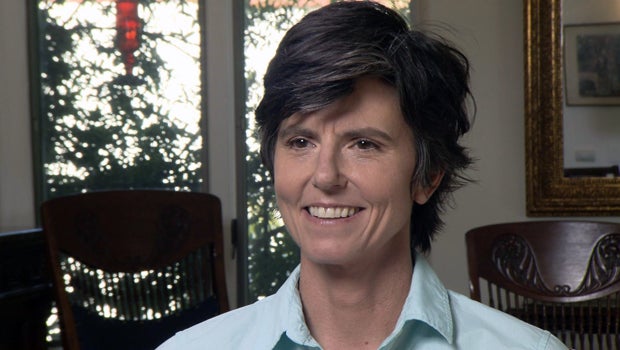 ​Tig Notaro, the luckiest unlucky person
From comedy clubs to her own TV series, Tig Notaro is baring all, finding the humor in some of the worst personal experiences anyone can imagine. With Luke Burbank this morning we'll give her a listen:
It's the little things that seem to fascinate Tig Notaro...
"I'm originally from Mississippi ... Settle down, everyone. My favorite laugh noise is, um, the sigh after the laugh. The (sigh). 'Cause it's like you're reminiscing about one second ago."
Notaro has been reminiscing a lot lately, with a new memoir out, and an Amazon TV show based largely on her life.
So, who first called her "Tig"?
"My brother came up with the name Tig when I was two," she said. "He couldn't say my real name, which is Matille."
"It's so strange because you seem like a Tig -- I don't even know what a Tig is," Burbank said.
"What would be my other name if there had to be?"
"Gary?"
"Yeah. Not only is my real name weird, but my nickname is weird. And there's nothing normal."
Her mother was far from the norm in the Houston suburb where Tig grew up. She was a free-spirit who reveled in having adventures, like the time she drove an 11-year-old Tig and her friend home on the hood of the car.
"There was this guy at a stop sign in, like, a muscle car," Notaro recalled. "She pulled up next to him and had her window down, with two little girls on her hood, and she said, 'Hey! Wanna drag?' That's who raised me. It's hard to be in society and be like, 'I'm sorry, what are the rules?'"
Notaro followed her own rules through life, dropping out of high school and ending up in L.A., where she found her way into standup. Honing her craft over 20 years, she'd become a successful touring comic and TV actor.
But that was when everything starting falling apart.
"I could not ingest any food without it coming out of my body," she said. "So I was losing half-a-pound a day."
She'd contracted C. Diff., a life-threatening bacterial infection. Notaro hovered in and out of consciousness in the hospital.
Finally, she was released, which should have been cause to celebrate, except for the call she got from her stepfather: After a fall, her mother was given zero chance of recovery by her doctors. "So we took her off life support."
Notaro's mother was just 66.
Then, two months later, as if C. Diff. and her mother's sudden death weren't enough, Notaro was diagnosed with bilateral breast cancer.
"I made so many jokes over the years about how flat-chested I was," she said in one standup routine:
"I started to think that, maybe my boobs overheard me, and were just like: 'You know what? We are sick of this. Let's KILL her!'"
Burbank asked, "How long had you known that you had lumps in your breast before you actually went and got it checked out??
"I had different levels of awareness, maybe a couple of years before," she replied. "So I just ignored it. I mean, I get waves of, like, Ohmygod! Just the fact that I let that go."
The diagnosis was grim: Stage-2 invasive cancer. But this is where Tig Notaro did something most of us would think was crazy. In the midst of her grief and shock and fear, she decided to go back on stage at L.A.'s famed club, Largo:
"Hello, good evening and hello. I have cancer. How are you? Is everybody having a good time?"
"Would it be accurate to say that you felt like this could possibly be your last comedy show?" Burbank asked.
"I absolutely thought it could be my last comedy show," she said. "Because I didn't trust where things were going."
What followed was raw, uneven, brutally honest, and unbelievably funny.
"I mean, it obviously changed my career in a way that I actually never imagined for myself."
But despite her new found success, Notaro says she struggled to adjust to her new body after her double mastectomy. For a long time, she wouldn't even look in the mirror. Eventually though, that changed, too. She performed much of her HBO special topless.
Burbank asked, "Why did you do that?"
"You sound angry at me!" she laughed. "This is our bodies. What is the big deal. Why is this taboo?"
Before that epiphany, though, back when Tig was being very private about her health problems, she'd met someone on the set of a movie, actress and writer Stephanie Allyne.

"She was hiding the fact that she was very, very ill," Allyne said. "I really did think she had a cold, 'cause I remember going, 'Oh, you should have a tea. But even in all of that, you were still making jokes."
Their paths crossed again a year later at the film's premiere, and they hit it off -- so much so, that Notaro soon realized she was falling in love.
"I reached a point where I was like, oh, I want to be with this person," Notaro said. "And then she said no."
Did she actually say no? "Yeah," said Allyne. "I just couldn't identify it, because I hadn't been with women. And I really had an identity crisis because I felt like I needed to know this about myself before I could then say, 'OK, yes.'"
They married last year, and, any day now, are expecting twins, being carried by a surrogate.
"Two boys!" said Notaro.
Bubank asked, "Do you guys have names pick out yet?"
"Itsy and Bitsy! People also ask what we're gonna be called. Well, 'cause there's two moms, you know? So my suggestion has been: the pretty one and the funny one. But I want to be the pretty one, and I want Stephanie to be the funny one."
Notaro says she never actually thought she'd be famous, never expected to have cancer -- which she says in now in remission -- and certainly could have never guessed that her darkest days would lead her to a light-filled house full of love and promise.
Tig Notaro: The luckiest unlucky person you might ever meet.
"What I'm most proud of and most excited about is my personal life," she said, "and the fact that I'm alive and happy and thriving. That's what I wanna talk about. That's what excites me."
For more info:
Thanks for reading CBS NEWS.
Create your free account or log in
for more features.